Ankaa Freescale i.MX6 Development Board
eSOMiMX6 Reference Design


iMX6 Development Board, Ankaa is a dual board solution that features eSOMiMX6 - Computer on Module & carrier board. The iMX6 development board runs Linux/Android.
eSOMiMX6 is based on Single/Dual/Quad core ARM® Cortex®-A9 processor. Our i.MX6 Development Board has DDR3L SDRAM configurable up to 2GB and eMMC flash with capacity configurable up to 32GB. The eSOMiMX6 module also has the Wireless LAN and Bluetooth module.
i.MX6 Development Board comes with HDMI to HDMI Cable, USB to serial port cable, 9V Power Supply and 7 inch LCD with Capacitive touch. This iMX6 board is used in the various applications like Automation, Medical Imaging, etc.
NXP-Freescale ARM® Cortex®-A9 i.MX6 processor
64 bit 1 GB DDR3L
32 GB eMMC flash
Power Management IC
Part No: eSOMiMX6-CS-P1G-F4G-R1G-WB-E

Camera

MIPI - 4 lane interface
Parallel interface 1 - 10 bit
Parallel interface 2 - 20 bit (Dual & Quad processor only)

Display

HDMI (x1)
LVDS (x2)

Networking

WIFI 802.11 b/g/n & Bluetooth 4.0 BLE
1 Gig Ethernet

Serial Ports

1 RS232, 1 Debug Port

USB

1 USB Host (2.0)
USB OTG (2.0)

Digital Audio

Audio Codec with Mic and Stereo headset support

Miscellaneous

I2C
SPI
CAN

SD/MMC Card Support

Mini PCIe slot
SATA
One 4bit SD Card interface

Dimension - 135mm (L) x 90mm (B)
Power Supply: 9V @ 2.5A rated
Commercial Temperature - 0°C to 70°C
Linux / Android Support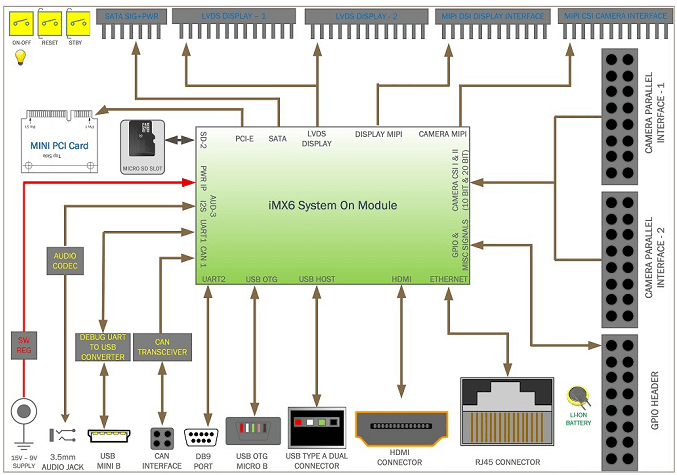 Ankaa i.MX6 development board
Download Ankaa i.MX6 development board documents:

Ankaa Hardware and Software documents
Ankaa i.MX6 development board kit contents:
eSOMiMX6 – iMX6 evaluation Kit with Linux: (Doesn't include LCD)

Hardware:

eSOMiMX6 Module
Carrier board (Ankaa)
HDMI to HDMI Cable
USB to serial port cable
9V Power Supply

Software(Linux):

Preinstalled uboot
Preinstalled Linux Image
Linux BSP

eSOMiMX6 – iMX6 evaluation Kit with Android: (With LCD)

Hardware:

eSOMiMX6 Module
Carrier board (Ankaa)
HDMI to HDMI Cable
USB to serial port cable
9V Power Supply
7 inch LCD with Capacitive touch

Software(Android):

Preinstalled uboot
Preinstalled Android Image
Android BSP