Unlock the real potential of vision in
Autonomous Mobile Robots
Vision solutions are transforming the way in which Autonomous Mobile Robots (AMRs) see in various applications such as warehouse management, perimeter security, and patrol robots. Adding vision to AMRs helps to automate numerous tasks like material handling, in-house transportation tasks, and security monitoring with no or minimal human intervention.

To observe the surroundings for navigation and perform multiple tasks, AMRs require a well-designed, compatible, high-quality camera. Considering this, e-con Systems offers reliable camera solutions meeting the imaging needs of autonomous mobile robots.

Excellent performance in both
visible and IR lighting

High-quality and
sharp images

Global
shutter

Synchronization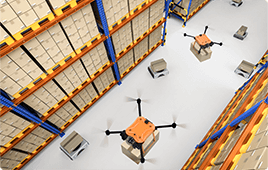 To learn more about how e-con helped a leading Europe based Autonomous Mobile Robots manufacturer to improve automation using our stereo vision camera
What e-con Systems™ offers
Leverage e-con Systems' cameras to offer superior vision capabilities to your automated forklifts, autonomous security robots, autonomous delivery robots, and autonomous smart vehicles.
Markets we serve in the industrial segment