e-CAMView - Windows UVC USB Camera Software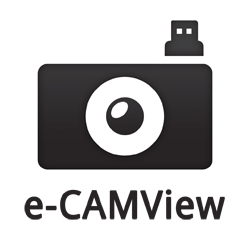 e-CAMView is a Windows DirectShow UVC USB camera software for video streaming and still capturing from the camera device with user friendly Graphical User Interface. e-CAMView comes with a set of features that can be used to attain the full functionality of the USB cameras. All the connected USB video & audio devices are enumerated and listed in the e-CAMView menu to choose one of the USB cameras and start streaming. e-CAMView USB Camera Viewer while running displays the current preview resolution and the frame rate in the lower status bar.

The USB cameras have some or all the UVC camera controls (specific to each USB cameras) such as, Brightness, Contrast, Saturation, Sharpness, Gamma, White Balance (manual/automatic), Backlight compensation, Focus(Auto/Manual), Gain and Exposure (manual/automatic).
The e-CAMView enables to set these supported UVC camera controls, to switch between preview resolutions, to choose the output format, capturing still image and operating modes that are specific to the USB camera connected.
e-CAMView Camera Features

Image Quality Settings - Users can adjust brightness, contrast and camera supported UVC controls.
Still Capture Settings - Users can select image type (JPG, PNG, RAW, BMP) and the location to save the image.
Video Capture Settings - Users can change the preview based on the selected format and resolution. Allow users to view number of frames played and get FPS information.
Supported Image types: JPG, PNG, RAW, BMP.
Supported encoder formats: YUV, MJPEG
Extension settings available for selected e-con cameras.
The key differentiators of this Windows camera application are - it has 10+ image control settings(Brightness, Exposure, White Balance, etc), frame rate (FPS) display and extension settings for select cameras.
Supported Cameras
e-con's USB 2.0 and USB 3.0 cameras are compatible with the e-CAMView direct show application which helps them to perform various operating modes. Also, e-CAMView provides support to access UVC controls.