Cameras for Medical and Life Science
e-con Systems is a global leader in providing OEM camera solutions for the Medtech industry. We are committed to delivering high quality imaging that meet the demanding requirements of the medical and life science applications. Our series of medical cameras are designed with the best CMOS image sensors and offer a range of features ideal for a variety of medical applications, including microscopy, point of care devices, IVD diagnostic devices, fundus imaging, remote patient monitoring, surgical cameras, and more.
Why choose e-con as your imaging partner for medical and Life science?

Million+
Cameras shipped across countries

Years
Average customer span

Products
Deployed with e-con cameras

Man Years
Overall engineering experience
We specialize in providing imaging expertise, offering services such as ISP tuning, optics integration with active alignment, and interface support for MIPI, USB, Ethernet, GMSL, and more.
We prioritize manufacturing quality by following a robust QMS process and are proud to offer a 3-year warranty for our products. In addition, we provide product lifetime and sustenance support for up to 8-10 years to ensure long-term satisfaction for our customers.
We offer a wide range of off-the-shelf camera solutions and a strong partner ecosystem with industry leaders such as Socionext, onsemi, and more. Additionally, our expertise in algorithm, BSP, and carrier board development with Nvidia, NXP, Rockchip, FPGA, and other technologies allows us to provide customized solutions tailored to your specific needs.
Our support and services include customization of off-the-shelf solutions with options such as form factor, firmware, and driver development, as well as new camera development to meet your unique requirements.
We prioritize product reliability and regulatory compliance through rigorous HALT/HASS testing and adherence to industry standards such as FCC, CE, and UL.
An overview of Medical Camera Series
Latest CMOS sensors from SONY Pregius, Starvis, Onsemi, Omnivision, etc.
Sensor size upto 2/3"
Pixel sizes upto 3.75 µm
Resolutions ranging from 2MP to 18MP
Features like lowlight, HDR, NIR, Binning, zoom, multi-camera synchronization, etc.
QE upto 95% at visible region, 50% at NIR region
Short exposure and long exposure support
Compatible with embedded processors like NVIDIA, NXP, Qualcomm, Rockchip, etc.
Support interfaces USB, MIPI, Parallel, GMSL, Ethernet, FPD Link III, etc.
Enclosures with IP ratings
Demo sample application with source code
V4L2 Linux driver with source code
3-year warranty and 8-10 years lifetime support
Find the suitable camera for your Medical and Life Science needs
All
USB Cameras
Camera Modules
Smart Camera
Depth Cameras
* - Maximum frame rate achieved by the camera
Our cameras in Medical and Life Science Applications
Leverage a world-class
partnership ecosystem
e-con Systems acts as a bridge between the high-volume demanding sensor vendors and customers with moderate volumes. Our strong partnership with companies like Socionext, onsemi, and others helps us provide ISP solutions based on application goals.
We're the world's first company to launch USB 3.0 UVC-compliant cameras - thanks to our partnership with Cypress.
As NVIDIA's elite partner, we have access to its in-built ISPs - allowing us to create a portfolio of products and custom-develop cameras
We partner with Torodex and Variscite to provide i.MX8 solutions - with their SoMs, rapid prototyping, and faster time-to-market.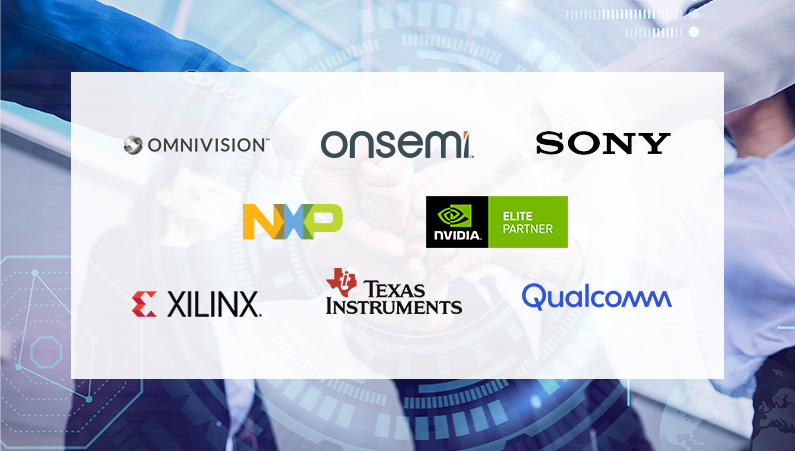 Our Resources
Please browse through our comprehensive resource hub to decipher the world of embedded vision technology. You can unearth the wealth of knowledge that the brightest minds of e-con Systems have internally built over the years.