About us
Established in 2003, e-con Systems has grown into a leading OEM camera solution provider with a wide global footprint. We provide end-to-end camera solutions like MIPI camera modules, GMSL cameras, USB 3.1 Gen 1 cameras, stereo cameras, and more. Over the years, we have reimagined how they are used in applications such as retail, medical, industrial, agriculture, smart city, etc.
We are also powered by a strong partner ecosystem to offer end-to-end vision solutions, including sensor partners, ISP partners, carrier board partners, etc.
So far, we have built 350+ product solutions - shipping over 2 million cameras to the United States, Europe, Japan, South Korea and many more countries.

MIPI Cameras
Camera modules with wide platform support including NVIDIA Jetson, Qualcomm, NXP i.MX series, Raspberry Pi 4, Google Coral, Xilinx, etc.

USB Cameras
Cameras with resolution up to 20MP using Sony, onsemi, and Omnivision sensors with features such as HDR, autofocus, low light performance, etc.

GMSL Cameras
Cameras for reliable long-distance transmission with 15-meter cable support targeted at applications like robots, smart traffic, autonomous shopping, etc.

2 Million+
Cameras shipped

350+
Customer products in market

Years
of Vision experience

Our Vision
Enabling machines to see and understand
the world better

Our Mission
To combine people, innovation, and embedded vision technology to build world-class OEM products.
We turned 20 in 2023!
The year 2023 marks an incredible milestone moment for e-con Systems. We are officially two decades old! With extensive engineering expertise, e-con Systems has consistently delivered cutting-edge solutions to address complex challenges - revolutionizing the world of embedded vision.
We have been ahead of the curve while helping customers stay two steps ahead of their competitors across industries like retail, smart city, farming, sports broadcasting, medical and life science, etc. We are proud to have left behind an indelible mark that has changed how machines see and understand the world better.
It has also been 20 years of building amazing synergy with our customers, partners, and distributors. Our achievements would not have been possible without this rich ecosystem where innovation thrives - brightly and boldly. We look forward to more collaboration, growth, and shared success.
Two decades of pushing the envelope
Proven track record in developing custom product designs with blazing-fast prototyping and tailored hardware or software customisations.
Full gamut of the latest camera technologies like GMSL, RGB-IR, and Time-of-Flight - with features like LFM, inbuilt ISP, etc.
Multiple design wins that include state-of-art imaging solutions across industries.
Historic launches, such as the world's first UVC-compatible USB 3.0 camera, the world's first standalone stereo camera, the world's fastest GMSL camera, and many more.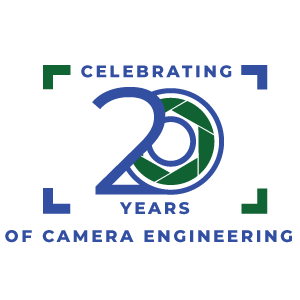 2022
Technology
Launches TOF based 3D Camera for serving autonomous mobile robots, robotic arms
Operations
Sets up R & D labs for Autonomous mobile robots.
2021
Technology
Becomes NVIDIA Elite partner for Jetson.
Operations
Launch of VisAI Labs, a wholly owned subsidiary of e-con Systems which would focus on building AI products.
Completion of more than 250 design wins. These are customer products where e-con camera is embedded in.
Ryoyo becomes additional distributor in Japan.
Appoints full time Director - FAE for US-West.
Employees
2020
Technology
Launch of STURDeCAM. IP67 based products. Camera now with IP67 enclosure.
Operations
Forays expansion into Israel. Announces CRG as Israel distributor for embedded vision camera products.
Opens additional office in Chennai to expand operations. New operations in Special Economic Zone. Total size of operations now at 100,000 sqft!
Appoints full time FAE for Japan.
2019
Operations
Sets up technology labs for lens gluing and focusing.
Accomplished 100 design wins. e-con cameras now embedded in 100 unique products of customers.
2018
Technology
Launches NileCAM series of products. Cameras with GMSL technology that can stream at low latency at the length of 15m.
Develops partnership with Socionext, Japan for using Socionext ISP in embedded vision camera products. Gets ISP support from Socionext.
Launch of first IMX290, Sony sensor based product.
Operations
Forays expansion into Korea. Announces Cythus as Korean distributor for embedded vision camera products.
Employees
2017
Technology
Becomes NVIDIA preferred partner. Builds embedded vision camera products with NVIDIA processor. e-con becomes one of the three companies in the world to get exclusive camera ISP access of NVIDIA.
Launch of HEXCAM - 6 cameras stitched together to represent 180 degree or 360 degree vision. Targeted for autonomous sports broadcasting.
Becomes Xilinx partner. e-con's See3CAM_CU30 is part of Xilinx Revision kit.
Develops Auto white balance , Auto exposure and HDR IP and fine-tuned for FPGA.
2016
Technology
Launches See3CAM_130, 13MP autofocus camera, one of the flag ship products. Only one to have a UVC USB 3.0 high quality AF camera. Most sought after camera till date.
FPGA team formed to integrate IP cores and develop custom IP.
Operations
Forays expansion into Japan. Launches Silicon Device as distributor for camera products in Japan.
2015
Technology
Develops close partnership with sensor maker onsemi (erstwhile Aptina). Gets special access to ISP.
Employees
2014
Operations
e-con redefines the company's direction. e-con to focus only on embedded vision camera products and offer engineering services to customers integrating our cameras in their products.
Expansion of office facility to 25000 sqft in space.
2013
Technology
Becomes partners with Cypress. Launch of Denebola kit.
Launch of the See3CAM Series of cameras. World's first UVC compliant USB 3.0 cameras.
Launches more SOMs based on DM3730 eSOM3730 and eSOMiMX6.
2012
Technology
Launches 5MP USB 2.0 e-CAM51A_USB- Still shipping even after 10 years! More than 150,000 units of this camera shipped as of 2021.
Launches Capella, World's first standalone Stereo vision platform. Starts a decade long research and development of Stereo camera systems.
Develops UVC USB 3.0 IP stack.
2011
Technology
Develops proprietary Autofocus algorithm IP for usage in e-con camera products.
2010
Technology
Launches 2MP USB 2.0 e-CAM20_USB camera module. The first embedded vision camera product of e-con Systems.
Operations
Expansion of office facility to 9000 sqft.
Appoints European representative. Starts German operations.
Employees
2008
Technology
e-con launches the World's first Windows CE embedded vision camera driver for TI OMAP3 platforms.
Launches eSOM270 - PXA270 based System on module.
Operations
Launches operations in United States, opens office in USA. US office is a wholly owned subsidiary of e-con Systems India Private Limited.
2005
Technology
Builds a team of Linux, Windows CE and Android experts. Acknowledged by Microsoft as embedded gold partner.
2003
Operations
Started e-con Systems as an engineering design services company primarily focused on complete product design services with a 4 member team. Shall build products to assist soliciting engineering services. Ashok Babu, Harishankkar Subramanyam, Maharajan Veerabahu as co-founders. Company headquartered in Chennai, India.
Our Values

Entrepreneurial Spirit
In every product we create, manufacture, market or sell , our employees take ownership of what they are doing. At the end of the day, every employee knows that their job is done only when the camera has been integrated successfully into the customer's product.

Value Addition
Every department seeks to see how they can do value addition to the customer. Be it customizing the product according to the customer requirements, designing the complete product for the customer to enable customers to work on their core work, working on manufacturing forecasts and finally providing knowledge about their industry to enable customers to take better decision.

Innovation
At e-con Systems, every product launch has some new innovation. Our engineers are innovators and create patented world class products. For our customers to succeed, we believe in continuous innovation.

Quality
We work with customers who are the best in the world in their industry. Our Quality and Reliability departments ensure that our products meet all the standards at every stage. Quality of our products and service is the reason our customers trust us and that is why we' ve had long-standing relationships with many of our customers.
Our cultural pillars

Freedom to explore
As we work on bleeding edge technology, the engineers are given an environment where they can explore anything new. All the teams work on how to make their processes more efficient and keep experimenting.

Learn & Grow
At e-con Systems, our employees work on bleeding edge technology to create world class camera products. In every department, there is a continuous process of learning something new and the employees grow with it.

Anything is possible
We believe that it is the attitude that defines the altitude. All departments believe that we can create world class products that can compete against the best in the world and be the best.

Technology-First
In every department, we strive to implement the latest technology that is available. We believe in early adopters of the latest technology that will enable increased productivity.
Quality policy
e-con Systems™ designs, manufactures, and delivers quality products to its customers and strives consistently to excel through continual improvement.
Our camera products provide lifetime support to your end applications with state-of-the-art manufacturing, design, and quality processes in place. We also extend a 3-year warranty period on all our camera products, which speaks for our commitment to ensuring product quality and standing by our customers.
As an ISO 9001:2015 certified company, e-con Systems™ is aware of the need for regulatory compliance with regards to its products sold globally. Please visit our Product Compliance Declaration for more details.
Following are the certifications and quality standards e-con follows: