Leverage cutting edge smart traffic cameras
to Manage Pedestrians and Vehicles
Smart cities are all about using sensors to collect data. With insights from that data, assets and resources can be managed to provide better service and experience to citizens. Roads are key infrastructure in the city and managing traffic to reduce commute time, reduce accidents is Smart Traffic Management, a part of Smart City implementation.

Cameras are the important sensing device on the road to gather real time traffic data. These images combined with processing algorithms can help smart diversion of vehicles, special real time route navigation for emergency vehicles and other smart traffic management efficiently.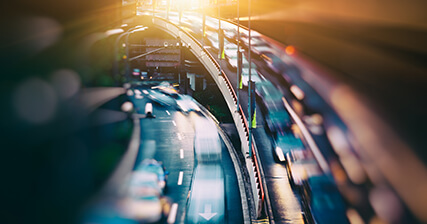 High Dynamic
Range

Full HD-steaming
@ 30 FPS

Multiple camera
synchronization

Adapt to outdoor
lighting conditions
What e-con Systems™ offers
e-con Systems™ offers camera modules with sensors that support high dynamic range and good low light performance together for smart traffic applications.
Having worked extensively with customers/partners who put our cameras in outdoor conditions, e-con Systems™ understands the environmental requirements of such camera modules.
We offer camera modules with casing that can withstand wide temperature range (-40°C to 85°C)
In specific smart traffic applications, there is a need to capture video and process the video at the edge itself to avoid latency, transfer of bulk data, etc. For those applications, e-con Systems™ has a full fledged outdoor camera with an NVIDIA processing engine inside called SmarteCAM.
VisAI Labs - e-con Systems™' Vision AI division, offer interesting vehicle tracking software solutions on top of these cameras. Click to know more.
Explore our smart-cities markets

Cost-effectively monitor and manage hundreds of parking slots, capture records of parked vehicles, and get analysis of license plate information.

Make smart and safe decisions with, multiple synchronized camera support and smooth image stitching capabilities - in both home and office environments.