Vision enabled smart traffic systems to optimize
traffic flow and pedestrian safety
Smart Traffic systems are based on communication and information technologies that helps in improving traffic management and commuting experience in urban planning. Cameras integrated into smart traffic systems provide real time traffic insights and optimizes the traffic flow.
Smart Traffic management has varied applications like ALPR, Traffic Enforcement, Vehicle Detection, Lane Occupancy, Traffic Violation Detection and Traffic Monitoring. Each smart traffic application performs distinctive functions that demand cameras with varied features.
Considering this e-con systems provides cameras which are designed specially to meet the requirements of smart traffic management.
High Resolution

To cover wide area of the intersection in greater detail
HDR

To capture high quality images in challenging lighting conditions
Global Shutter

To capture fast moving objects without rolling shutter artifact & motion blur
Low Light Sensitivity

To capture clear images in
dark environments
How e-con Systems helped a top smart Traffic solution provider to integrate a camera into their Intelligent Transportation System.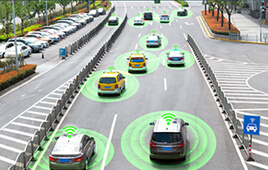 What e-con Systems™ offers
Explore our smart-cities markets

Cost-effectively monitor and manage hundreds of parking slots, capture records of parked vehicles, and get analysis of license plate information.

Make smart and safe decisions with, multiple synchronized camera support and smooth image stitching capabilities - in both home and office environments.