Date: September 19, 2023
As you may be aware, HDR technology is rapidly shaping the future of embedded vision, offering unprecedented imaging capabilities. But what drives this technology, and how does it impact end applications across various industries? What are the likely challenges of using HDR cameras, and how does one overcome them? Join us on September 19th as we go live on LinkedIn to answer these questions. Find out the specific types of HDR technologies and the criteria for choosing a high-performance HDR camera. Discover the crucial role of the Image Signal Processors in achieving superior HDR outcomes and its related challenges.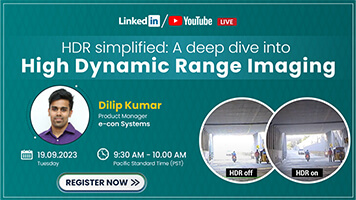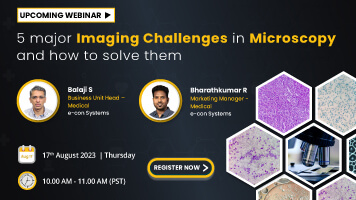 Date: August 17, 2023
Are you seeking expert insights to improve the performance of your microscopic devices? Watch this webinar on the topic "5 Major Imaging Challenges in Microscopy & How To Solve Them?" to delve into the Impact of imaging issues in microscopy, 5 most encountered imaging artifacts in microscopic devices, and how to resolve these challenges and find the perfect vision solution.
Date: June 28, 2023
Want to maximize the power of NVIDIA Jetson Processors for edge AI development? Need help to choose the perfect camera for your embedded vision applications? Watch this webinar in which our camera experts and NVIDIA team sharing their valuable insights on how to optimize your edge AI application using the right combination of Jetson processors and e-con's cameras.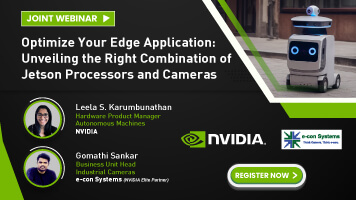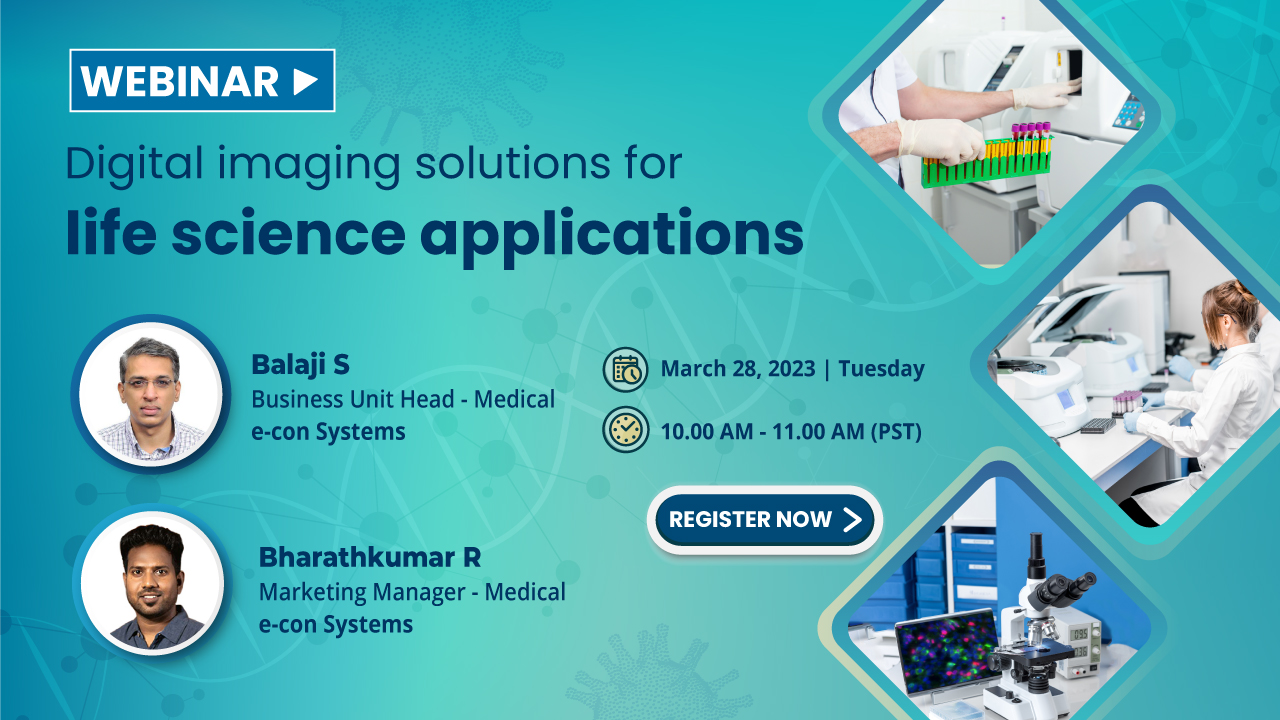 Date: March 28, 2023
Interested in gaining valuable insights on how to choose the right imaging solution for your Medical / Life science application? Watch this webinar in which our camera experts sharing their valuable insights on the role of cameras in life science applications, the 5 key factors involved in choosing an imaging solution, and e-con Systems' cutting edge medical solutions.
Date: February 23, 2023
Are you wondering how to speed up the development of your smart vision product? e-con Systems in collaboration with Texas Instruments is hosting a webinar to walk you through the latest advancements in smart vision technology and how to effectively integrate e-con cameras and TI's SK-TDA4VM kit into your product development process.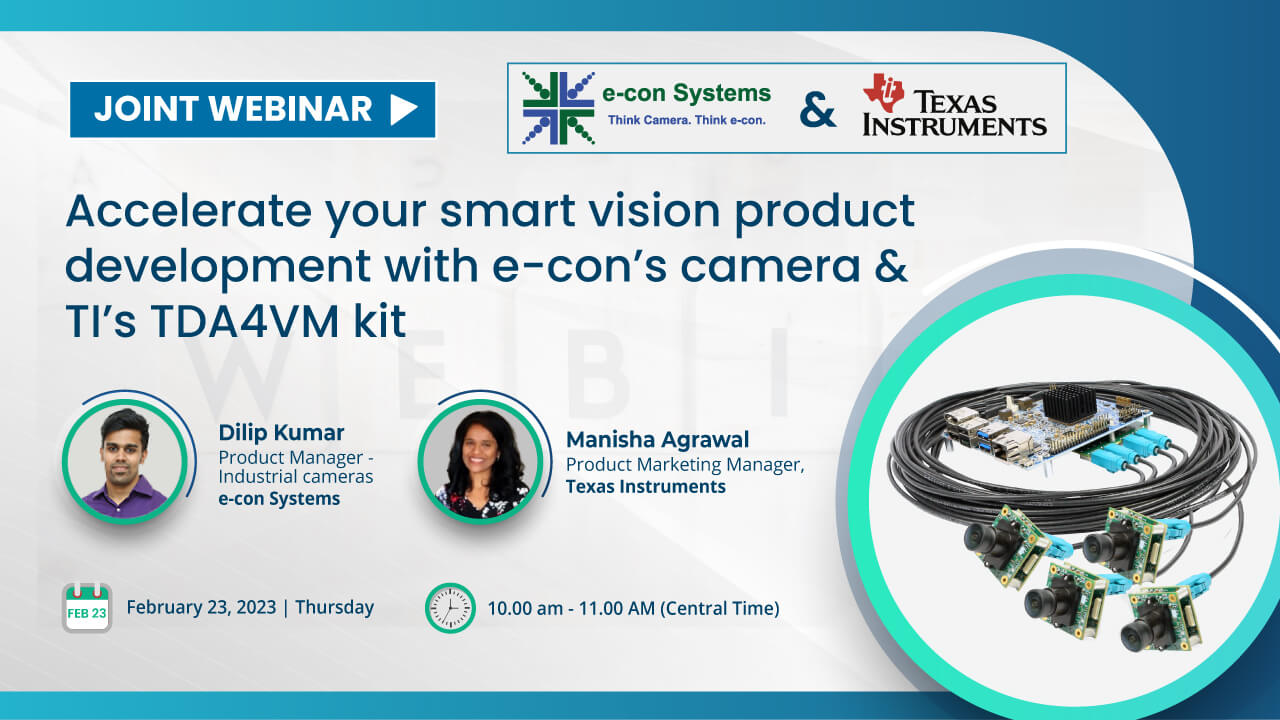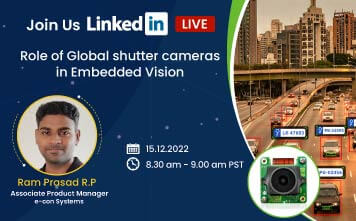 Date: December 15, 2022
Wondering what you should know to choose between a rolling shutter and a global shutter for your camera-based application? Better understand these two sensors, including their advantages and disadvantages, and get equipped to make the right pick. Watch our LinkedIn live event on the topic " Role of Global shutter cameras in Embedded Vision " to better understand the differences between global shutter and rolling shutter and how to choose the one that perfectly fits your application.
Date: September 14, 2022
Wondering how embedded vision and edge AI can come together to ease your product development process? We got you covered. Join our next webinar on the topic 'Simplifying product development by leveraging edge AI cameras' to learn what edge AI is, its benefits, how it has paved the way for new-age embedded vision applications, and finally e-con's latest edge AI camera solutions.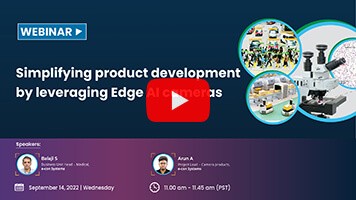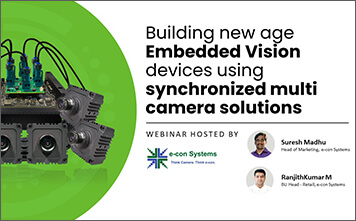 Date: July 28, 2022
Are you wondering how to integrate multi-camera solutions into embedded vision systems? If yes, e-con Systems is organized a webinar which can help you reduce your time to market through seamless multi-camera integration. In this webinar, we'll cover what are the most critical multi-camera integration challenges and how to overcome them.
Date: June 16, 2022
Learn everything you need to know about time of flight cameras from the top 1% in the embedded vision industry - from their working principle to how they enhance depth sensing in various autonomous systems such as robots, AGVs, people counting systems, remote patient monitoring devices, etc. Also, learn why DepthVista - a 3D time of flight camera from e-con Systems with <1% accuracy - is the perfect fit for depth sensing-based embedded vision applications.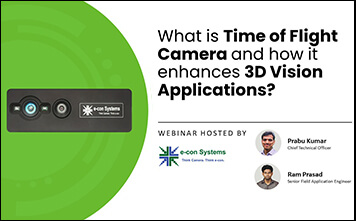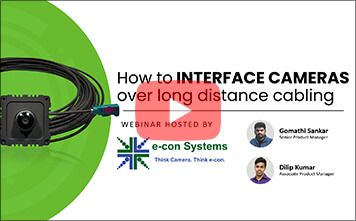 Date: March 30, 2022
In this webinar, we will walk you through how to interface the camera to your desired edge computing device when the distance between the camera and the host is longer than 1m. We'll also talk about different technologies used for long distance transmission in cameras and a detailed comparison of different interface options, their advantages, and limitations. You will also learn how to choose the right long distance cable for your embedded vision application.
Date: March 23, 2022
One of the key challenges in developing medical devices is to choose the best camera with the right processing platform. Most medical devices require a powerful processor that is capable of carrying out adequate image processing to run various medical tests and diagnoses. NXP i.MX8 series of processors is ideal for such devices. In this webinar, our camera experts walk you through the advantages of using NXP i.MX8 series of processors in medical devices. You will also learn how e‑con Systems' cameras are a perfect vision solution for i.MX8 based medical devices.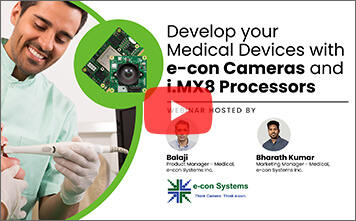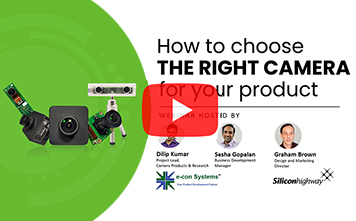 Date: September 29, 2021
We organized a joint webinar in collaboration with Silicon Highway, where we took the audience through the full cycle of integrating a camera into their product. With over 300+ attendees, we covered a lot of aspects - Factors to consider while choosing the image sensor, optics and interface for a vision based application and how to accelerate product development with readily available off-the-shelf camera components. We also shared insights on how to choose the right vision solution to solve common imaging problems for specific use cases including industrial, retail, medical and smart city. Watch this webinar to learn from the top 1% in the embedded vision industry and leverage a combined experience and expertise of more than 3 decades!
Date: February 21, 2021
Intelligent fast failure is the need of the hour in incorporating Intelligence into hardware products. Moving fast requires building quick PoCs to verify the veracity of the idea before taking the solution to production. Within e-con systems and VisAi Labs we have built 1000s of PoCs to validate the ideas, but only around 300 ideas have been taken to market.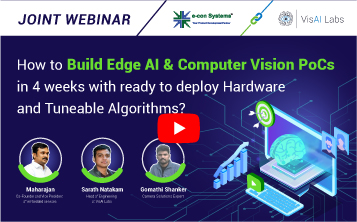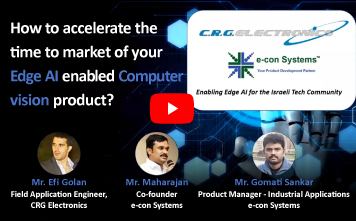 Date: October 16, 2020
In this webinar, we walk you through how the collaboration between e-con Systems and Toradex simplifies the integration of cameras into your products taking into account both hardware and software. We guide you through an out-of-the-box experience to your first simple OpenCV program, and also give you tips and tricks along the way.