See3CAM_130 – 4K Autofocus USB 3.0 Camera Board (Color)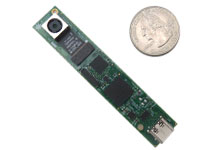 See3CAM_130 is an UVC-compliant AR1335 sensor based 13MP autofocus USB camera with iHDR support. It supports 4K Ultra HD (3840x2160) at 30fps over USB3 in compressed MJPEG format. This See3CAM_130 can also stream Full HD (1920x1080) at 60fps and HD (1280x720) at 60fps in both uncompressed and compressed MJPEG formats. This autofocus USB camera board is also backward compatible with USB 2.0, although in USB 2.0, this camera supports fewer resolutions at lower frame rates.
The 13MP camera has a dedicated, high-performance Image Signal Processor chip (ISP) that performs all the Auto functions (Auto White Balance, Auto Exposure control) in addition to complete image signal processing pipeline that provides best-in-class images and video and the MJPEG compression.
Key Features of 4k Board Camera
Houses e-CAM130_MI1335_MOD - 13 MP AR1335 Color Camera Module
Auto Focus
Electronic Rolling Shutter
Output format: Uncompressed UYVY format and Compressed MJPEG format
Plug-&-Play (UVC compliant - No drivers required)and Backward compatibility with USB2.0 hosts with limited features and capabilities
Frame Rate *:

Resolutions
USB 3.0
USB 2.0
UYVY
MJPEG
UYVY
MJPEG
VGA
120 fps and 60fps
120 fps
60fps and 30 fps
120 fps
HD (720p)
60 fps and 30fps
60 fps
NS
60 fps
Full HD (1080p)
60 fps and 30fps
60 fps
NS
60 fps
4K Ultra HD (3840x2160)
15 fps and 7.5fps
30 fps
NS
30 fps
4K Cinema (4096 x 2160)
15 fps and 7.5fps
30 fps
NS
30 fps
13MP (4208 x 3120)
9 fps and 4.5fps
20 fps
NS
20 fps

NS - Not Supported
* -Frame rate achieved is subject to ambient lighting of the scene and varies with light. Also varies with rendering Software
Supported OS - Windows 10, Windows 8, Windows 7, Linux
USB 3.0 device with CX3 chip - Cypress USB SuperSpeed controller and USB 3.0 Type C connector.
Operating Voltage - 5V +/- 250mV
Operating Temperature Range : -30°C to 70°C
Power requirements - 1.85W
7 pin GPIO header for standard and custom operations
External Hardware Trigger input for 3d sync and External trigger & 13MP still capture with Zero-lag-shutter
iHDR support
Lightweight, versatile, and portable design
Unique ID for each camera
Single Board Solution
Size in mm (l x b x h) - 80 x 15 x 8.07 mm (with module)
ROHS compliant
Camera Module Features:
Sensor:1/3.2" Optical form factor AR1335 sensor with on-board high performance ISP.
Focus Type:Auto focus
Resolution:13MP
Pixel size:1.1μm pixel with BSI technology
Sensor Active Area:4208(H) x 3120(V)
Responsivity:4700 e-/lux-sec
SNR:37 dB
Dynamic Range:69 dB
Output Format:Uncompressed UYVY format and Compressed MJPEG format
Shutter type:Electronic Rolling Shutter
ISP:External ISP
Array Size:The See3CAM_130 supports only up to 4208x3120 pixels for 13MP
DFOV: 13M - 74°, 4K/1080p/720p - 69°, VGA – 74°
Supported OS - Windows 10, Windows 8, Windows 7, Linux
Sample Application:

e-CAMView - Windows Camera application for Video Preview and Still Capture.
QtCAM - Linux Camera application for Video Preview and Still Capture.

Still Image Resolutions:

13MP (both MJPEG and BMP)

Still Capture:

External trigger signal control
Software application control
Software trigger

Zero Shutter Lag Still Capture for 13MP Still image:

13MP still image in compressed JPEG within 500milliseconds
13MP still image in uncompressed BMP format within 1.5 seconds

UVC Controls:

Brightness
Contrast
Sharpness
Saturation control
Gamma control
Gain
White Balance (Manual and Auto)
Autofocus

Continuous Autofocus
Manual focus
Single trigger auto focus
ROI selection by user.

Auto exposure

Auto and Manual exposure control
ROI based exposure control

Denoising ( 5 levels)
Effects

Normal
Black & White
Gray scale
Negative
Sketch

Additional Capabilities:

Support for external trigger
LED Strobe control
GPIO Controls