NileCAM30 - 3.4 MP GMSL Camera Module (supports upto 15 meters)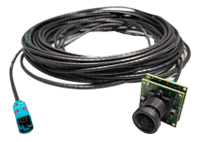 NileCAM30 is a first GMSL camera in the NileCAM camera series. NileCAM30 is a two board solution containing the camera module and serializer board. This camera is based on AR0330 CMOS image sensor from ON Semiconductor®. The NileCAM30 comes with 3 meters or 15 meters coaxial cable with FAKRA connector. The NileCAM30 has an S-mount (M12) lens holder which allows customers to choose and use the lens according to their application requirement.
Key Features
Houses AR0330 3.4 MP Camera Module with S-mount lens holder
1/3" Optical Form-format
S-mount interchangeable lens holder for flexibility to choose a lens as per application requirements
Gigabit Multimedia Serial Link serializer and deserializer (GMSL SERDES) Technology
Shielded coaxial cable for transmission of both power and data for long distance (nup to 15m)
serializer connector : FAKRA neutral Z type (without Deserializers)
Maximum Image Transfer Rate:

| | | |
| --- | --- | --- |
| Resolution | UYVY | MJPEG |
| * 3.4 MP (2304 x 1536) | 24 fps & 12 fps | 48 fps |
| * 3MP (2048 x 1536) | 29 fps & 15 fps | 50 fps |
| FHD (1920 x 1080) | 45 fps, 30 fps & 15 fps | 60 fps |
| HD (1280 x 720) | 60 fps & 30 fps | 60 fps |
| VGA (640 x 480) | 60 fps & 30 fps | 60 fps |

* - Default zoom value is 100 and for other resolutions zoom value will be 102
Small form-factor pluggable camera module with S-mount lens holder
30mm x 30mm size. Height depends on the Lens
RoHS Compliant
Launched on:
Module Features:
ON Semiconductor AR0330 Color 1/3" Optical format CMOS Image sensor
Resolution: 3.4 MP
Sensor Type: 12-Bit RAW format
Pixel Size: 2.2 µm x 2.2 µm
Sensor Active Area: 2304(H) x 1536(V)
Responsivity: 2.0V/lux sec
Signal To Noise Ratio (SNR): 39 dB
Dynamic Range – 69.5 dB
Shutter Type: Electronic Rolling Shutter
Controls: Auto white balance and Auto Exposure
Download NileCAM30 DataSheet:

NileCAM30 Module Datasheet
Evaluation Kit:
1. PC Solution
Customers who own platforms that support USB 3.1 Gen 1 interface and are interested in evaluating the 3.4 MP GMSL camera module, can directly buy the NileCAM30_USB from e-con Systems.
2. ARM Based Solution (NVIDIA TX2 based Jetson DevKit)
Customers who own NVIDIA Jetson TX2 and are interested in utilaizing the MIPI interface to evaluate NileCAM30 - 3.4MP GMSL Camera module , can directly purchase the NileCAM30_TX2 from e-con Systems. Customers can also purchase it with 15 meter cable or 3 meter cable.

Customers interested in customizing the same camera module or planning to use a different camera/sensor module can contact sales@e-consystems.com and explain their requirement.
NileCAM30 - Customization and Porting Services for other Application Processor platforms:
e-con Systems provides camera driver development, customization and porting services for NileCAM30 on any application platform as per customer requirements. For any driver customization or porting services or for using this 3.4 MP GMSL camera with your application processor platform, please contact sales@e-consystems.com along with your requirements details.
NileCAM30 - Customization
e-con provides customization, development and porting services for the following requirements:
PCB form-factor customization for any shape, connector and orientation
Lens holder customization for C/CS mount lens holder
Driver development for any OS: Linux, Android, Windows and MAC Embedded Compact
Interfacing with any Application Processor : Freescale i.MX6, NVIDIA Jetson and any other processor
Camera and ISP features customization based on specific requirements
Please contact sales@e-consystems.com with your customization requirements and we will be glad to happy to work with you!