Vision Vitals: The Podcast
Welcome to Vision Vitals - e-con Systems' exclusive podcast series. It's your one-stop destination in the exciting and extraordinary world of embedded vision, hosted by experts who have been there and done that. Explore various topics, from the basics of camera technologies to cutting-edge innovations transforming industries like medical and life science, manufacturing, robotics, smart agriculture, retail, sports broadcasting, and more. Whether you're a seasoned professional, a newbie, or simply curious about embedded vision technology, plug in and join the conversation!
Episode 01:
September 13, 2023
Uncover the mysterious intricacies of embedded vision technology as we sit down with Suresh Madhu, Head of Product Marketing at Econ Systems. Suresh is a seasoned vet with more than 16 years of experience in embedded product design and product development...
Hosts:

Mr. Suresh Madhu
Head of Product Marketing

Mrs. Suganthi Sugumaran
Director of Marketing
Previous podcast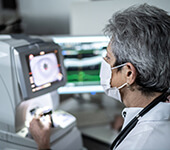 June 02, 2021
Embedded vision has been transforming patient care by helping medical devices perform better by becoming the 'eye' of assistive devices, retina scanners, automated cell counters, loupe cameras, intraoral cameras, and much more.
Host:

Mr. Maharajan Veerabahu
Co-Founder & Vice President