From vision guided robots to camera based medical devices to smart retail devices, embedded vision solutions are helping machines capture, process and analyse images to carry out intelligent tasks. With vision technology conquering new horizons in the areas of industrial automation, retail technology, medical devices and many more segments, the need for sharing knowledge in its space is higher than ever.


Through its podcasts, e-con Systems aims to discuss vision related topics spanning camera technology, applications of embedded vision, trends in vision enabled devices across multiple industries etc. You will learn about the challenges in integrating cameras into end products and how to overcome them, feature set of cameras used in various applications, how to choose the right camera that perfectly fits your application, and much more.
Latest Podcasts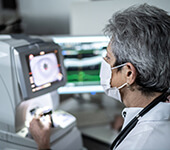 June 02 2021
Learn best practices in integrating vision into medical devices to accelerate prototyping and reduce time to market. Build a vision playbook for developing camera based medical devices such as pill dispensers, retina scanners, fundus cameras, cell imaging systems, patient monitoring systems etc.
Related Case Studies

Popular blogs

How to choose the right image sensor for Automatic Number Plate Recognition (ANPR) applications
Read More

Help

Employee Login

Social

Subscribe for latest updates
We use cookies to ensure that we give you the best experience on our website. You can change your
cookie settings
at any time but our site requires cookies to function properly.
You may not be able to access content or other services correctly without cookies.
Learn more
We use cookies to ensure that we give you the best experience on our website.