e-CAM131_CUMI1335_MOD – 13MP 4K Camera Module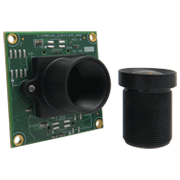 e-CAM131_CUMI1335_MOD is a high performance, 13 MP 4K camera module with S-Mount lens holder and it has better low light performance. This small form factor 4K camera module is based on 1/3.2" AR1335 CMOS image sensor from ON Semiconductor® and has a dedicated, high-performance Image Signal Processor (ISP) that performs the entire Auto functions like auto white balance, auto exposure control in addition to complete image signal processing pipeline that provides best-in-class images and video and the optional MJPEG compression.
13MP Colour camera with 4-lane MIPI CSI-2 interface
1/3.2" Optical Form-factor
Uncompressed UYVY streaming & Compressed MJPEG streaming
S-mount interchangeable lens holder for flexibility to choose a lens as per application requirements
External Trigger input
Face detection capability
Maximum Image Transfer Rate : Uncompressed UYVY Output Format

| | | |
| --- | --- | --- |
| Resolutions | USB 3 Interface For PC solution | 4-lane MIPI (TX2/TX1) |
| VGA | 120 fps | 120 fps |
| HD (720p) | 60 fps | 80 fps |
| Full HD (1080p) | 60 fps | 80 fps |
| 4K Ultra HD (3840x2160) | 15 fps | 30 fps |
| 4K Cinema (4096 x 2160) | 15 fps | 30 fps |
| 13MP (4208 x 3120) | 9 fps | 20 fps |

Power consumption of Camera Module Board : 1.10W (Approx)
Temperature Range

Operation - -30° to 70° C
Stable Image - 0° to 50° C

Small form-factor pluggable camera module with S-mount lens holder
30mm x 30mm size
Board Weight: 6 Grams
2x 20-pin SMT Connectors on two sides of the camera module for better mechanical stability
RoHS Compliant
Launched on:
Sensor:1/3.2" Optical form factor AR1335 CMOS Image sensor
Focus Type:Fixed focus
Resolution:13.0 MP
Pixel size:1.1 µm x1.1 µm
Responsivity:4700 e-/lux-sec
SNR:37 dB
Dynamic Range:69 dB
Output Format:Uncompressed UYVY streaming
Shutter Type:Electronic Rolling Shutter
Array Size:4208 x 3120
FOV :67°(D), 56°(H), 43°(V)
4-lane MIPI CSI-2 interface for video and I2C interface for camera configuration
Dual 20-pin connector on board to plug in to customer boards directly
Extended Flash duration up to start of frame readout
Interlaced multi-exposure readout enabling High Dynamic Range (HDR) still and video applications
Linux V4L2 Capture driver with demo application
Customers can purchase the driver source code from e-con Systems and port the same to their application processor.
Please contact sales@e-consystems.com for customization requirements.
Download e-CAM131_CUMI1335_MOD Documents:

e-CAM131_CUMI1335_MOD - 13MP Custom Lens Camera Module Datasheet
Download Evaluation Kit (See3CAM_CU135) Documents:

See3CAM_CU135 - 13 MP Custom Lens USB 3.0 Camera
Download Evaluation Kit (e-CAM131_CUTX2) Documents:

e-CAM131_CUTX2 - 13 MP MIPI NVIDIA® Jetson TX2 Camera Board
Evaluation Kit:
1. PC Solution
Customers who own platforms that support USB 3.0 and are interested in evaluating the 13 mega pixel USB UHD camera module can directly buy the See3CAM_CU135 from e-con Systems.
Customers interested in customizing the same camera module or planning to use a different camera/sensor module can contact sales@e-consystems.com and explain their requirement.
e-CAM131_CUMI1335_MOD - Customization for other Application Processor platforms:
e-con provides customization for this e-CAM131_CUMI1335_MOD on any application platform as per customer requirements.
e-CAM131_CUMI1335_MOD Customization:
e-con provides customization for the following requirements:
PCB form-factor customization for any shape, connector and orientation
Lens holder customization for C/CS mount lens holder
Driver development for any OS: Linux, Android
Interfacing with any Application Processor : Freescale i.MX6, NVIDIA Tegra K1 and any other processor
Camera and ISP features customization based on specific requirements
Please contact sales@e-consystems.com for customization requirements.