An eye examination can tell a lot about overall human health. For example, an ophthalmologist can spot early signs of diabetes, the risk of heart disease, and even indications that one may have cancer. A complete eye examination involves the use of many pieces of ophthalmic equipment and instruments for the purposes of diagnosis of visual acuity, and measurement of specific ocular parameters (intraocular pressure, corneal thickness, eye biometry, etc.).
Camera based ophthalmic devices
A CMOS camera is a key component for majority of these ophthalmic devices including fundus or retinal cameras, slit lamp microscope, specular microscope, OCT ophthalmoscope, autorefractometer, keratometer, retinoscope, ophthalmic loupes, etc. With e-con Systems' expertise and experience in embedded vision, we've been designing, integrating, and manufacturing camera modules for these ophthalmic devices. As we work with more and more customers, we are constantly adding the latest technological advancements in imaging to our portfolio to help improve ophthalmic diagnosis and treatment.

High NIR spectral
performance

Autofocus

Global
shutter

Large pixel size
for low noise

Low power
consumption

Small form factor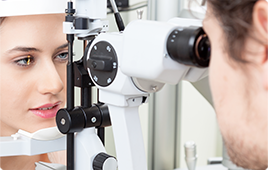 How e-con Systems™' camera perfectly met a client's ophthalmic
imaging requirements.
What e-con Systems™ offers
Easy to use plug and play USB cameras with changeable lens
MIPI camera modules for different processing platforms like NXP i.MX series, NVIDIA Jetson kits, Qualcomm dev kits, etc.
Inbuilt Image Signal Processor (ISP) to finetune the image quality according to the use case
End to end customization
Choose a wide range of cameras from the camera selector
Explore our medical and life sciences markets