Cameras for Ophthalmic Fundus
or Retinal Imaging
Choosing the right camera module for fundus/retinal imaging has to be done meticulously. The quality of the device is highly dependent on the camera used.
With our experience of working with multiple ophthalmic device manufacturers, we understand that a good fundus imaging system requires a camera with optimal resolution and high sensitivity. This is because, it must capture images of the interiors of the human eye (like the retina, macula, fovea, optic disc, and posterior pole) under a limited supply of light. In addition, the camera must be able to produce images with accurate color and sharpness in order to properly diagnose various eye diseases.

NIR sensitivity

Autofocus

Global
shutter

Accurate color reproduction

ISP (Image tuning) expertise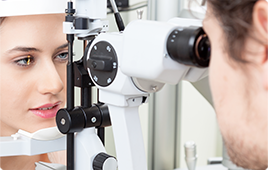 How e-con Systems™' camera perfectly met a client's ophthalmic
imaging requirements.
What e-con Systems™ offers
e-con Systems' cameras with high NIR sensitivity are an ideal choice for any fundus/retinal imaging application. Our portfolio also includes global shutter and autofocus cameras that can be used to capture images of the human eye when the pupil is constantly moving. Moreover, all our cameras come with an inbuilt high-performance Image Signal Processor (ISP) chip that performs all the Auto functions (Auto White Balance, Auto Exposure control). The ISP and sensor settings have been fine-tuned to generate best-in-class images with accurate color reproduction.
Want to talk to our experts
They will help you to find the suitable cameras for your requirement
Explore our medical and life sciences markets