See3CAM_CU55 - 1/2.5" 5.0 MP Low Noise USB Camera (Color)
See3CAM_CU55 is a 5.0MP USB3.1 Gen1 UVC Color Camera with S-mount (also known as M12 board lens) lens holder. It is a two-board solution containing camera sensor board based on 1/2.5" AR0521 image sensor from ON Semiconductor and USB3.1 Gen 1 Interface board. The powerful on-board Image Signal Processor (ISP) brings out the best image quality of this 2.2micron pixel 5MP AR0521 CMOS image sensor making it ideal for next generation of high resolution surveillance, biomedical instruments and biometric authentication applications.
The See3CAM_CU55 is a UVC-compliant USB3.1 Gen 1 SuperSpeed Camera that is also backward compatible with USB2.0 host ports and does not require any special camera drivers to be installed on the host PC. When connected to USB2.0 host ports, the See3CAM_CU55 camera supports all the resolutions and at lower frame rates.

What makes SeeCAM_CU55 as a ideal camera for your application?
Key Features
Houses 5.0 MP AR0521 Color Camera Module
Fixed Focus with M12 lens holder
Electronic Rolling Shutter
Output format: UYVY and MJPEG formats
Plug-and-Play setup (UVC compliant) for Windows 7/ 8/ 8.1/10 and Linux
Frame Rate :

Resolutions
USB3.1 Gen1
USB 2.0
UYVY
MJPEG
UYVY
MJPEG
VGA (640 x 480)
60 fps & 30 fps
60 fps
60 fps & 30 fps
60 fps
HD (1280 x 720)
60 fps & 30 fps
60 fps
16 fps & 8 fps
60 fps
960P (1280 x 960)
60 fps & 30 fps
60 fps
12 fps & 6 fps
60 fps
FHD (1920 x 1080)
60 fps, 30 fps & 15 fps
60 fps
8 fps & 4 fps
60 fps
QHD (2560 x 1440)
32 fps & 16 fps
60 fps
4 fps & 2 fps
60 fps
5MP (2592 x 1944)
24 fps & 12 fps
60 fps
3 fps & 1.5 fps
60 fps

Supported OS - Windows 7/ 8/ 8.1/10 and Linux
USB3.1 Gen1 device with Type C reversible interface connector
Operating Voltage : 5V +/- 5%, Current - 437mA
Operating Temperature Range : -30°C to 70°C (ambient temperature)
Power requirements:
10 pin GPIO Header
Support for External Hardware Trigger Input
Size in mm (L x W x H) - 30 x 30 x 31.3 mm (with lens)
30 x 30 x 30.2 mm (with out lens)
Board Weight - 13.5 Grams (with out lens)
19 Grams (with lens)
RoHS compliant
Lightweight, versatile, and portable two-board solution
Unique ID for each camera
Launched on:
Camera Module Features:
Sensor:AR0521 from ON Semiconductor
Sensor Resolution and Optical Format:5MP CMOS Image Sensor. 1/2.5" Optical format
Sensor type:5MP CMOS Electronic Rolling Shutter Sensor with Bayer RGB Color Filter Array.
Image Signal Processor:On-board high performance ISP
Output Format:Uncompressed UYVY format and Compressed MJPEG format
Sensor Features:
Pixel size:2.2μm x 2.2μm
Sensor Active Area:2592H x 1944V
Responsivity:18.8 ke-/luxsec
SNR:40 dB
Dynamic Range:74.3 dB
Shutter type:Electronic Rolling Shutter
Focus Type:Fixed focus
DFOV: 5MP – 139°(with the lens provided by e-con)
Supported OS - Windows 7/ 8/ 8.1/10 and Linux
Sample Application:

e-CAMView - Windows Camera application for Video Preview and Still Capture.
QtCAM - Linux Camera application for Video Preview and Still Capture.

Still Image Resolutions:

5MP (both MJPEG and UYVY)

Still Capture:

Software application control
Software trigger

UVC Controls:

Digital Zoom(Upto 8x)
Pan
Tilt
Brightness
Contrast
Sharpness
Saturation control
Gamma control
Gain
White Balance (Manual and Auto)

ROI mode

Auto Exposure

Full ROI
Manual ROI
Face ROI

Effects

Normal
Black & White
Gray scale
Negative
Sketch

Additional Capabilities:

Face Detection
Smile Detection
De-Noise
Q-Factor
Flash
Flip
Burst Image Capture
Programmable Frame Rate
JPEG Compression Q-Factor control
Ordering Info:
Customers who own platforms that support USB3.1 Gen1 and are interested in evaluating the 5MP USB camera module can directly buy the See3CAM_CU55 from e-con Systems. Customer can order See3CAM_CU55 with/without lens.
Part No
Description
Sample Price
(1 Unit)
Volume Price
(1000s Pack)
Purchase
See3CAM_CU55_CH_TC
5.0 MP Fixed Focus USB3.1 Gen1 Color Camera Without
Lens Type-C connector
US

$

179
(2s Pack)
US$89
See3CAM_CU55_CHL_TC
5.0 MP Fixed Focus USB3.1 Gen1 Color Camera With
Lens Type-C connector
US

$

199
-
In addition to See3CAM_CU55 , the evaluation kit comes with e-CAMView (Windows) / QtCAM (Linux) - Sample application for Video Preview and Still Capture along with the UVC Extension features (for Windows 7/8/8.1/10 and Linux). For more details, please refer the evaluation kit contents below.
For all enquiries please write to sales@e-consystems.com
Kit Contents: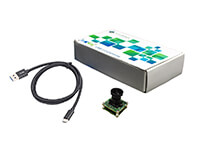 Hardware:

See3CAM_CU55 - 5.0 MP HD USB Camera with M12 Lens (S-Mount) Holder
USB3.1 Gen1 Type-C Cable
Lens (Optional)

Software:

(Customers will have to download the software from e-con Developer Resource)

Supported OS: Windows 7/8/8.1/10 and Linux
e-CAMView (Windows) / QtCAM (Linux) - Video Preview and Still Capture Application

Documents:
See3CAM_CU55 - Customization
Do you need a Support for external mechanical shutter?
Do you need a Custom lens mount (C-mount/CS-Mount)?
Do you want a smaller form factor or single board solution?
Do you need LED flash?
Complete customization of firmware and hardware as per customer requirements. Please contact us for any customization and additional features.