e-CAM20_CU0230_MOD - 2MP Wide temperature Range Industrial grade HDR Camera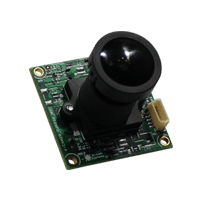 e-CAM20_CU0230_MOD is a 2MP high performance, HDR Camera Module with excellent low light performance. It is based on AR0230AT CMOS Image sensor from ON Semiconductor®. It has an ability to stream seamlessly at wide temperature range (-40 to 105°C) which is suitable for Automotive application. It has S-mount (M12) lens holder which allows customers to choose and use the lens according to their requirement.
e-CAM20_CU0230_MOD has a dedicated, high-performance Image Signal Processor chip (ISP) that performs the entire Auto functions (Auto White Balance, Auto Exposure control).
Key Features of AR0230AT wide temparature range HDR Camera Module
2MP Colour camera with parallel interface
1/2.7" Optical format CMOS Image sensor
16 bits of UYVY data per pixel
S-mount (M12) lens holder for flexibility to choose a lens as per application requirements
LED Control signals and STROBE output signal for firing the illumination LED or mechanical shutter.
Maximum Image Transfer Rate*

| | |
| --- | --- |
| Resolutions | UYVY (NVIDIA Jetson TX2/TX1) |
| 640x480 | 60 fps |
| 1280X720 | 45 fps |
| 1920x1080 | 30 fps |

Operating Temperature Range : -40°C to 105°C (Industrial grade temperature range.)
Power consumption: about 700mW while streaming 1080p @ 30fps
Size : 30mm x 30mm (Height depends on the Lens)
Board Weight: 6.5 Grams
RoHS Compliant
Launched on:
* - The maximum frame rate depends on the application processor ability to read the camera image, decode and display, in addition to the ambient light of the scene
Sensor : 1/2.7" Optical format CMOS Image sensor
Focus Type : Fixed focus
Resolution : 2MP
Sensor type : 16 bits of UYVY data per pixel
Pixel size : 3.0μm x 3.0μm
Sensor Active Area : 1928H x 1088V
Responsivity : 4 V/lux-sec
SNR : 41 dB
Dynamic Range : Max upto 105 dB Output
Format : Uncompressed UYVY format
Shutter Type : Electronic Rolling Shutter
ISP : On-board high performance ISP
Array Size : 1928 x 1088 pixels
FOV : 128°(D) [with the default lens provided by e-con]
Download e-CAM20_CU0230_MOD Documents:

e-CAM20_CU0230_MOD - 2MP Automotive grade HDR Camera module Datasheet
Download Evaluation Kit (See3CAM_CU20) Documents:

See3CAM_CU20 - Wide temperature range HDR USB3.1 Gen1 Camera Board Documents
Download 2MP HDR Jetson TX2/TX1 Camera Board Documents:

e-CAM20_CUTX2 - 2MP HDR Jetson TX2/TX1 Camera Board Documents
Evaluation Kit:
PC Solution
Customers, who own platforms that support USB 3.0 and are interested in evaluating the 2MP USB camera module, can directly buy the See3CAM_CU20 from e-con Systems. Customers can order See3CAM_CU20 with/without lens.
ARM Based Solution (NVIDIA Jetson TX2/TX1 based Development Kit)
The MIPI Camera daughter card (e-CAM20_CUTX2) can be bought by customers choosing to evaluate the e-CAM20_CU0230_MOD camera solution with a direct interface on the NVIDIA Jetson TX2/TX1 Development Kit.
Customers interested in customizing the same camera module or planning to use a different camera/sensor module can contact sales@e-consystems.com and explain their requirement.
e-CAM20_CU0230_MOD - Customization and Porting Services for other Application Processor platforms:
e-con Systems provides camera driver development, customization and porting services for e-CAM20_CU0230_MOD on any application platform as per customer requirements. For any driver customization or porting services or for using this 2MP camera with your application processor platform, please contact sales@e-consystems.com along with your requirements details.
e-CAM20_CU0230_MOD – Customization
e-con provides customization, development and porting services for the following requirements:
PCB form-factor customization for any shape, connector and orientation
Lens holder customization for C/CS mount lens holder
Driver development for OS: Linux
Interfacing with any Application Processor : NVIDIA TX1/TX2, Any other processor with ISP
Additional camera customization based on specific requirement
Please contact sales@e-consystems.com with your customization requirements.