Save precious lives with
Smart Fleet Camera Systems
Fleet Management has become vital for safety, security and also to reduce insurance costs. GPS, wireless connectivity and sensors are the technology backbones over which Fleet Management is built. Cameras play a vital role among the sensors. Cameras are required for monitoring the driver/cabin and to monitor the immediate surroundings of the vehicle in movement. Multiple cameras are used in a single vehicle.

These cameras can provide visual information to the driver and also process and send required information to the Fleet Management Server. Multiple cameras are used in a single vehicle.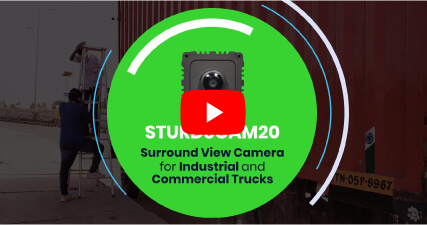 Multi-camera
streaming capability

Performance in dual
lighting (bright/low)

Low in
latency

Upto 15 meter
cable support
What e-con Systems™ offers
e-con Systems™ understands the need of low latency and synchronization of multiple cameras in a fleet management system as its real time and offers camera products that suit such requirements.
e-con Systems™ NileCAM series cameras are designed for ADAS and Fleet Management System.
e-con Systems™ offers that with IP67 rated enclosure so that you can buy the cameras right off our webstore and attach it to your vehicle for evaluation.
The GMSL Co-axial cable will give the distance (upto 15 metres) and durability to connect the host processing system inside the vehicle.
If you are looking to get started quickly then get the NileCAM30_Rogue kit from e-con Systems™. We have built that kit with this use case in mind and it can carry up to 8 cameras covering your vehicle inside and out. There is ready-to-use software and drivers that ship along with the kit that will stream synchronized HD video to the Rogue Carrier Board hosting a Xavier module.
Get this kit, fix the cameras and get a lightning start to the camera part of your Fleet management system.
Explore our industrial markets