How to accelerate the time to market of your
Edge AI enabled computer vision product?
In this webinar we will use the 50+ years of cumulative experience from e-con systems and CRG electronics to give you the definitive guide to developing a successful edge AI enabled computer vision application for Israeli technology community
Presented on
23 Nov 2020
Speakers
Mr. Maharajan, Co-Founder, e-con Systems
Mr. Gomathi Sankar, Product Manager, e-con Systems
Mr. Efi Golan, Field Application Engineer,CRG Electronics
Language
English
Key Points

What are the Key hardware and software parts of an Edge AI enabled Computer Vision product?
What are the Important considerations before you start an Edge AI enabled Computer Vision product development?
How to choose the hardware platform and how to choose the right camera?
How to take advantage of existing development systems to build your product?

18+ years of expertise in helping firms incorporate cameras and edge AI into their products

30+ years of experience in delivering cutting edge technology solutions for Computing, Electronics & SW Industries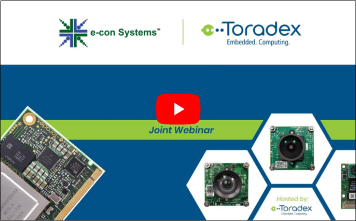 Interactive webinar with our partner Toradex!
Get Started with MIPI-CSI Cameras for Embedded Computer Vision
In this webinar, we will walk you through how the collaboration between e-con Systems and Toradex simplifies the integration of cameras into your products taking into account both hardware and software. We will guide you through an out-of-the-box experience to your first simple OpenCV program and will also give you tips and tricks along the way.