e-CAM80_MI8865_MOD - 8 Mega Pixel Auto Focus MIPI Camera Module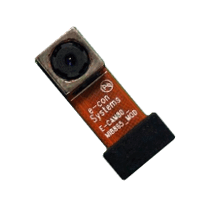 e-CAM80_MI8865_MOD is a 8 MP Autofocus MIPI RAW camera module based on Ominivision's OV8865 CMOS image sensor. The 1/3.2-inch OV8865 is a low-power high-performance color CMOS Image Sensor featuring an improved 1.4-micron with BSI technology. OV8865 is already a proven sensor in the market with dynamic range and reduced dark current that enables superior high and low light image capture.
Note: You would require an external ISP to process the data. Contact us to purchase the ISP.
Omnivision OV8865 image sensor
Focus Type – Auto Focus
2 lane/4 MIPI® CSI-2 interface
Maximum Image Transfer Rate

| | |
| --- | --- |
| Resolutions | 10 bit RAW |
| VGA | 60 fps |
| HD (720p) | 60 fps |
| Full HD (1080p) | 30 fps |
| 8MP | 11 fps |

View Angle - 74.6° ± 3°
Output Format - 10 bit RAW
Focusing Range - 10cm to Infinity
Temperature Range

Operation - -20° to 70° C
Stable Image - 0° to 50° C

Power requirements

Active - 196mW
Standby - 5uW

Max S/N ratio - 36.7 dB
Dynamic Range - 68.8 dB
Lens Size - 1/3.2"
Module Size - 25.40mm x 11.60mm x 5.20 mm
RoHS Compliant
OmniVision OV8865 Image Sensor
Pixel size: 1.4µm x 1.4µm
Optical format: 1/3.2"
Electronic Rolling Shutter
Auto Focus, Auto Exposure and Auto White Balance support
Image Area - 4614 (H) x 3444 (V)
e-CAM80_MI8865_MOD - Customization for other Application Processor platforms:
Document cameras/visualizers
High resolution OCR applications for large sheet sizes
Medical and scientific applications:

Tissue vision
Pathology examination
Microscopic applications
Download 8MP MIPI Camera Module Documents:

e-CAM80_MI8865_MOD - 8.0 MP MIPI Camera Module
Download Evaluation Kit (See3CAM_81) Documents:

See3CAM_81 - 8MP Autofocus UVC USB Camera
Download Evaluation Kit (e-CAM80_IMX7) Documents:

e-CAM80_IMX7 - 8MP MIPI iMX7 Camera Board (SABRE Development kit)
Evaluation Kit:
Customers choosing to evaluate the e-CAM80_MI8865_MOD camera module, can purchase any one of the following Camera daughter boards.
1. PC Solution
See3CAM_81 - 8MP USB 3.0 Camera:
The USB 3.0 Camera Board (See3CAM_81) can be bought by customers choosing to evaluate the e-CAM80_MI8865_MOD camera solution on your product.
For more details and sales enquiries please write to sales@e-consystems.com