e-CAM80_MI8825_MOD - 8 Mega Pixel Auto Focus MIPI Camera Module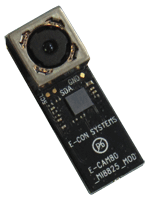 e-CAM80_MI8825_MOD is a 8 MP MIPI CSI-2 compliant, Autofocus camera module based on Ominivision's OV8825 CMOS image sensor. This e-CAM80_MI8825_MOD module can stream HD (720p) @ 60fps, Full HD (1080p) @ 30fps and 8MP @ 11fps. And it provides YUV2 format image output through its MIPI CSI-2 interface. Any processor system like i.MX6, OMAP4430, OMAP4460 that has a MIPI CSI-2 can directly interface the e-CAM80_MI8825_MOD.
e-CAM80_MI8825_MOD can be used for document cameras/visualizers, OCR applications, & in medical and scientific applications.
Omnivision OV8825 image sensor
Focus Type – Auto Focus
MIPI CSI-2 interface with sync signals
Maximum Image Transfer Rate

| | |
| --- | --- |
| | MJPEG |
| HD (720p) | 60 fps |
| Full HD (1080p) | 30 fps |
| 8MP | 11 fps |

View Angle - 55 °
Output Format - YUV2
Object Distance - 100 mm to Infinity
Temperature Range

Operation - -20° to 70° C
Stable Image - 0° to 50° C

Power requirements - 110mA
Max S/N ratio - 35.7 dB
Dynamic Range - 70.45 dB
Lens Size - 8.5mm x 8.5mm x 5.8mm
Module Size - 24mm x 8.5mm x 7 mm
RoHS Compliant
OmniVision OV8825 Image Sensor with pixel size of 1.4µm
Automatic black level calibration (ABLC) Support
Normal Flip, Mirror and crop support
Image Area - 4614 µm x 3444 µm
e-CAM80_MI8825_MOD - Customization for other Application Processor platforms:
Document cameras/visualizers
High resolution OCR applications for large sheet sizes
Medical and scientific applications:

Tissue vision
Pathology examination
Microscopic applications
Download 8MP MIPI Camera Module Documents:

e-CAM80_MI8825_MOD - 8.0 MP MIPI Camera Module (Mechanical Drawing)
Evaluation Kit:
Customers choosing to evaluate the e-CAM80_MI8825_MOD camera module, Please contact sales@e-consystems.com for the evaluation kit.