Interactive retail kiosk systems
powered with vision
Camera are used in retail kiosk systems for various purposes. Barcode/QR code reading, recognize product, recognize the customer so that brands can provide advanced personalization, security, etc. The key camera selection parameters depend on the camera usage, where it is used and where the kiosk placed. Outdoor vs Indoor kiosks and the purpose of the cameras help decide the actual module that is fixed on the kiosk.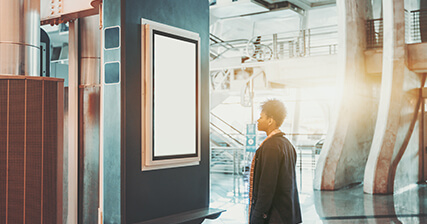 High dynamic
range

High frame
rate

Focus type
and depth-of-field

UVC-compliant
USB cameras
What e-con Systems™ offers
e-con Systems™ offers UVC-compliant USB cameras that fit into the internal or external parts of your retail kiosk. As the world's first manufacturer of the USB 3.0 UVC cameras, we ensure a small form factor and advanced auto-focus capabilities that sync with x86-based embedded platforms to get detailed images.
Reliability and customization for mechanical integration
High quality across lighting conditions in outdoor locations
High image resolution and frame rate
Explore our retail markets

Create futuristic automated checkout processes with vision-based computing systems monitor and automate the complete shopping experience, including the checkout journey.

Meet key imaging solution parameters in retail applications like vending machines, stock filling/delivery robots, and shelf inspection systems with cutting-edge camera solutions.