Propus - NVIDIA Tegra® K1 Development Board



Tegra K1 Board, Propus has eSOMTK1 - Computer on Module & carrier board. This Tegra K1 development board runs Linux/Android.
eSOMTK1 is based on NVIDIA's Tegra® K1 4-Plus-1™ ARM® Cortex™-A15 Quad core processor which can operate up to 2.2 GHz and Integrated NVIDIA Kepler™ GPU with 192 NVIDIA CUDA® cores. It has DDR3L SD RAM configurable up to 4GB and eMMC configurable up to 64GB. The eSOMTK1 module also has the Wireless LAN and Bluetooth module.
Related Blogs

Know more about Intel® Joule™ System on Module Alternative - eSOMiMX6 micro ARM SOM

eSOMTK1 can record 4K video streaming at 30 fps new
NVIDIA's Tegra® K1 4-Plus-1™ ARM® Cortex™-A15 Quad core which can operate up to 2.2 GHz and Integrated NVIDIA Kepler™ GPU with 192 NVIDIA CUDA® cores.
64 bit 2GB DDR3L SD RAM
16GB eMMC FLASH
Power Management IC
IMU

Camera

Two MIPI - 4 lane interface
One MIPI - 1 lane interface

Display

HDMI (x1)

Networking

Wi-Fi 802.11 b/g/n & Bluetooth 4.1 BLE
Gigabit Ethernet

USB

Two USB Host (3.0)
One USB OTG

Audio

Audio Codec with connectors for Mic & Headset

Miscellaneous

SATA
Mini PCIe
I2C
SPI
RTC
SD/MMC Card

Dimension - 105mm (L) x 85mm (B)
Power Supply: 12V@3A
Commercial Temperature - 0°C to 70°C
Supporting Operating Systems

Linux : Ubuntu 14.04
Android : Lollipop 5.0.1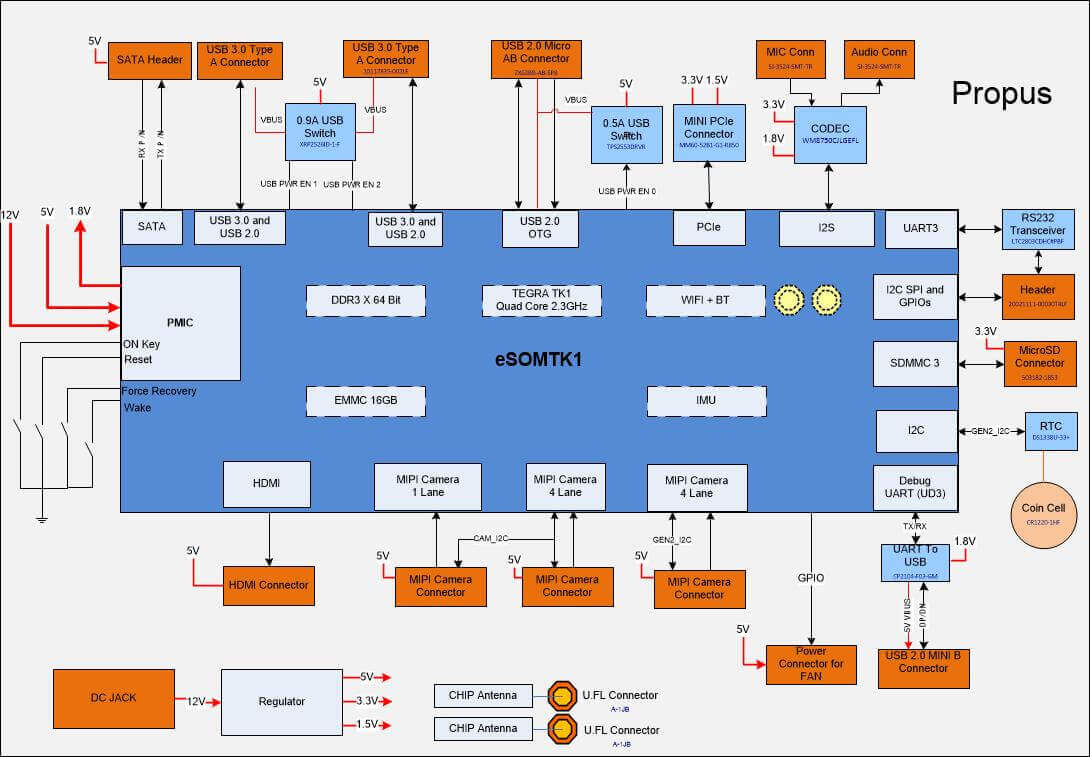 Propus - Tegra K1 development board
Download Propus TK1 development board documents:

Propus Hardware and Software documents
Propus TK1 development board kit contents:
eSOMTK1 – TK1 evaluation Kit with Linux:

Hardware:

eSOMTK1 Module
Carrier board (Propus)
USB to serial port cable
12V Power Supply

Software(Linux):

Preinstalled uboot
Preinstalled Linux Image
Linux BSP

eSOMTK1 – TK1 evaluation Kit with Android:

Hardware:

eSOMTK1 Module
Carrier board (Propus)
USB to serial port cable
12V Power Supply

Software(Android):

Preinstalled uboot
Preinstalled Android Image
Android BSP