eSOMiMX6 - i.MX6 Computer-on-Modul



eSOMiMX6 ist ein System-on-Hochleistungsmodul basierend auf NXP-Freescale i.MX6 Quad/Dual/DualLite/Solo ARM® Cortex™-A9-CPU mit Basisperipheriegeräten im kompakten Formfaktor. Das eSOMiMX6 mit i.MX6 CPU ist für 1 GHz ausgelegt - Quad Core, DDR3L SDRAM konfigurierbar bis 4 GB und eMMC flash with capacity konfigurierbar up to 32GB. eSOMiMX6-Modul mit WLAN- und Bluetooth-Modul.
Mit dem eSOMiMX6 System on Modul reduziert sich die Vermarktungszeit für unsere Kunden dank stabiler und einsatzbereiter eSOMiMX6-Module in den Anwendungen der Kunden.
Related Blog

Build AWS IoT Gateway in just 8 hours - Use eSOMiMX6 RDK Ankaa
Der NXP-Freescale ARM® Cortex™ A9 i.MX6-Prozessor arbeitet mit Geschwindigkeiten bis 1 GHz.
4GB eMMC FLASH (erweiterbar bis 32GB)
512MB to 4GB DDR3L
eSOMgears - Over-the-Air (OTA) Firmware Upgrade Solution

Verfügbar in den Temperaturbereichen

Betriebstemperatur – 0 °C bis + 70 °C
Betriebstemperatur – -40 °C bis + 85 °C (Optional)

Leistung: 3,3 V bei 3 A
Supporting Operating Systems

Linux : Kernel 4.1.15
Android : Marshmallow 6.0.1

Precertified WiFi 802.11 b/g/n & Bluetooth 4.0 BLE (Optional)
Formfaktor 70 mm x 45 mm (Benutzerdefiniert Micro Qseven®)
RoHS-konform
Verfügbarkeit - bis 2028
Schnittstellenunterstützung mit eSOMiMX6:
Kamera

MIPI – 4 Lane-Schnittstelle
Parallele Schnittstelle 1 - 10 Bit
Parallele Schnittstelle 2 - 20 Bit (nur Dual & Quad-Prozessor)

Display

HDMI (x1)
LVDS (x2)
LCD - 24bpp RGB (x1)
MIPI-DSI (x1)

Vernetzung

Wi-Fi 802.11 b/g/n & Bluetooth 4.0 BLE
1 Gigabit Ethernet über On-SOM Gigabit Ethernet PHY (x1)

USB

USB Host 2.0 (x1)
USBOTG 2.0 (x1)

Verschiedenes

Bis 5 UART
I2C (x3)
SPI (x1)
FLEXCAN (x2)
GPIOs (bis 50)
PCIe Gen 2.0 (x1)
SATA II (x1) - only for Quad/Dual
PWM (x3)
SPDIF IN & OUT (x1)
SD/MMC (4bit) (x1)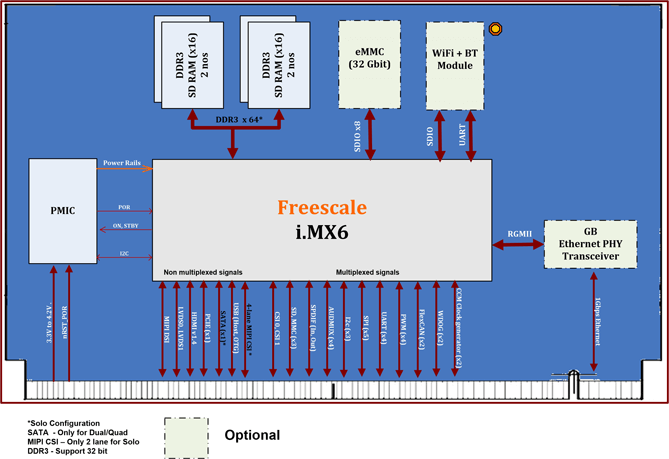 Please contact sales@e-consystems.com for any customization.
e-con bietet ein Schnellentwickler-Kit für eSOMiMX6 an: Ankaa - i.MX6 Entwickler-Kit. Dieses Entwickler-Kit bietet eine Trägerkarte für das eSOMiMX6-Modul, mit Peripheriegeräteunterstützung, u. a. HDMI, LVDS, USB 2.0 Host. Ebenfalls enthalten sind kapazitiver 7-Zoll-Touchscreen, SDIO, SPI, I2C, GPIO, USB Highspeed-Client, 4-Lane MIPI/Parallel-Kameraschnittstelle.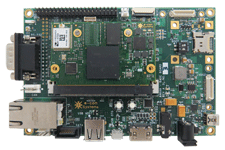 Ankaa - Referenzdesign für eSOMiMX6 SOM
Android Entwickler-Kit

Für das Schnellentwickler-Kit bietet e-con Systems™ detaillierte Schaltpläne, ein Hardware-Anwenderhandbuch, eine Stückliste und App-Hinweise an, die die Kunden bei der schnelleren Entwicklung des eigenen Boards und beschleunigten Vermarktungszeiten unterstützen.
e-con Systems™ bietet Linux / Android / WEC2013 BSP mit Gerätetreibern für alle Peripheriegeräte an.
Weiterführende Informationen finden Sie unter iMX6-Entwickler-Board.asp
Download eSOMiMX6 Computer-on-Modul-Dokumente:
Bestellinfo:
eSOMiMX6 kann mit der folgenden Konfiguration angepasst werden. Standardmäßige Teilenummer eSOMiMX6-Cxx-Pxxx-Fxx-Rxxx-WB-E-Fx-SWxx-IT; x-Varianten können aus der folgenden eSOMiMX6 Teilenummer-Codierungstabelle ausgewählt werden.
Die Mindestbestellmenge (MOQ) 100. Weiterführende Informationen erhalten Sie unter sales@e-consystems.com
Feature
Optionen
P/N-Code
CPU
Solo Core
CS
DualLite Core
CDL
Dual Core
CD
Quad Core
CQ
GESCHWINDIGKEIT
800 MHz
P800
1 GHz
P1G
DDR SIZE
512 MB (Only for Solo Core)
R512
1 GB
R1G
2 GB
R2G
4 GB (Only for DualLite/Dual/Quad core)
R4G
eMMC


4GB expandable




up to 32 GB

Present
F4G *
Absent
Wi-Fi/BT
Present
WB
Absent
1G Ethernet
Present
E
Absent
Fuse to Boot
Fuse to boot from eMMC
FE
Fuse to boot from SD
FS
Fuse to boot from SPI
FP
Not Fused
Firmware version
Firmware version to be loaded into eMMC
(xx – Running number starts from 01)
SWxx
Temperature
Industrial
IT
Commercial
* - Available in 8GB (F8G), 16GB (F16G), 32GB (F32G) versions.