e-CAM27_CUMI290_MOD - 2MP Sony STARVIS® IMX290 ultra-lowlight Kameramodul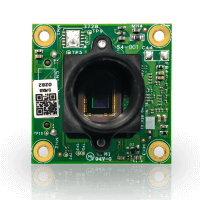 Die e-CAM27_CUMI290_MOD ist eine 2MP hochempfindliche Tageslichtkamera mit einem gut abgestimmten Image Signal Processor (ISP). Diese Kamera basiert auf einem 1/2,8" SONY STARVIS IMX290 Bildsensor mit 2,9 μm Pixelgröβe. Der groβe Dynamikbereich der Kamera ermöglicht das Fotografieren sowohl in sehr hellen als auch in dunklen Bereichen. Die effektive Technologie zur rückwärtigen Pixelbeleuchtung und verbesserter Empfindlichkeit im sichtbaren Licht und im nahen Infrarot ermöglicht es den Benutzern, Bilder auch in absoluter Dunkelheit aufzunehmen.
Schlüsselfunktionen
2MP Colour camera with 4-lane MIPI CSI-2 interface
1/2.8" optischer Formfaktor
S-Mount-Wechselobjektivhalter für Flexibilität bei der Auswahl eines Objektivs gemäβ den Anwendungsanforderungen
RGB RAW 10-bit/12-bit Daten pro Pixel
Maximale Bildübertragungsrate

| | |
| --- | --- |
| Beschlüsse | UYVY |
| VGA (640 x 480) | 30 fps & 60 fps |
| HD (1280 x 720) | 30 fps & 60 fps |
| Full HD (1920 x 1080) | 30 fps & 60 fps |

Temperaturbereich

Funktionstemperaturbereich: -30°C to 85°C

kleinem Formfaktor
Gröβe 30 x 30 mm. Die Höhe hängt von der Linse ab
Einhaltung
Launched on:
Sensor:1/2,8" Optisches Format CMOS Bildsensor
Fokus Type:Fixierter Fokus
Auflösung:2,0 MP
Pixelgröβe:2,9 µm x 2,9 µm
Aktive Sensorfläche:1945H x 1097V
Empfindlichkeit G:1300 mV für den HCG-Modus und 650 mV für den LCG-Modus
Ausgabeformat:RAW 10/12 bit
Verschlusstyp:Elektronischer Rollladen
Halter:S-Mount
ISP:Externer ISP
DFOV :132°(mit der Linse von e-con zur Verfügung gestellt)
Download e-CAM27_CUMI290_MOD Dokument:

e-CAM27_CUMI290_MOD - 2MP Sony® STARVIS™ Ultra Lowlight MIPI Kameramodul
Evaluierungskit herunterladen (e-CAM20_CUiMX8) Dokument:

e-CAM20_CUiMX8 - 2MP Sony® STARVIS™ IMX290 Ultra-Lowlight kamera
Bewertungs-Kit:
1. ARM-basierte Lösung (Toradex Apalis i.MX8QM)
Die MIPI-Kamera-Tochterkarte (e-CAM20_CUiMX8) kann von Kunden gekauft werden, die die Kamera-Lösung e-CAM21_CUMI290_MOD mit einer direkten Schnittstelle auf dem NVIDIA® Jetson TX2/TX1 developer kit auswerten möchten.
Kunden, die an der Anpassung desselben Kameramoduls oder der Verwendung eines anderen Kamera- / Sensormoduls interessiert sind, können sich an sales@e-consystems.com wenden und ihre Anforderungen erläutern.
e-CAM21_CUMI290_MOD - Anpassungs- und Portierungsdienste für andere Application Processor-Plattformen:
e-con Systems bietet die Entwicklung, Anpassung und Portierung von Kameratreibern für e-CAM21_CUMI290_MOD auf jeder Anwendungsplattform nach Kundenanforderungen. Wenden Sie sich für Treiberanpassungs- oder Portierungsdienste oder für die Verwendung dieser 2-Megapixel-Kamera mit Ihrer Anwendungsprozessorplattform an sales@e-consystems.com mit Ihren Anforderungsdetails.
e-CAM21_CUMI290_MOD - Anpassung
e-con bietet Anpassungs-, Entwicklungs- und Portierungsdienste für folgende Anforderungen:
PCB-Formfaktor-Anpassung für jede Form, Stecker und Ausrichtung
Anpassung des Objektivhalters für den C / CS-Mount-Objektivhalter
Treiberentwicklung für OS: Linux
Schnittstelle zu jedem Anwendungsprozessor: NVIDIA® TX1 / TX2, jeder andere Prozessor mit ISP
Zusätzliche Anpassung der Kamera basierend auf spezifischen Anforderungen
Bitte kontaktieren Sie sales@e-consystems.com mit Ihren individuellen Anforderungen und wir freuen uns auf die Zusammenarbeit mit Ihnen!