e-CAM51_USB - 5,0-Megapixel Autofokus-HD-USB-Kameramodul
e-CAM51_USB ist ein 5,0-Megapixel UVC- und UAC-Autofokus USB HD-Hochleistungskameramodul auf Basis des OV5640 CMOS-Bildsensors von OmniVision Inc.
Die High-Definition-OEM-USB-Kamerakarte ist vollständig kompatibel mit den Standards USB Video Class (UVC) 1.0 und USB Audio Class 1.0. Das heißt, Videostreams über UVC und Audiostreams über UAC ohne spezielle Treiber für Betriebssysteme, die diese UVC- und UAC-Standards unterstützen.
e-CAM51_USB für 5MP-Standbildaufnahmen mit 720p-Videostrams.
Mit integriertem e-CAM52A_5640_MOD - 5,0 MP-Autofokus Kameramodul
Plug-and-Play-Einrichtung (UVC und UAC konform)
Eingebautes Mikrofon mit 16-Bit-PCM-Unterstützung
4 Allzweck-Pins

GPIOs vom Benutzer konfigurierbar (ein Eingang/ein Ausgang)
1 externer Hardware-Auslöser für die Standbildaufnahme
1 vordefinierter GPIO Eingang für drehen/spiegeln

Bildrate : Streamt HD mit 30 fps und 5 MP mit 15 fps - Siehe Datenblatt für den vollständigen Rahmen Tarifdetails.
Temperaturbereich -0° bis +50° C stabiles Bild**
Betriebsspannung - 5 V ± 250 mV
Leistungsbedarf - 400 mA (max.)
Unterstützte Betriebssysteme - Windows 10 *, Windows 8, Windows 7 & Linux
Leicht, vielseitig und tragbar
Gefällig mit CE / FCC / RoHS
Größe in mm (LxBxH) - 71 x 13 x 7,8
Weight - 4.5 Grams (with module)
Gestartet am:
* Frame-Rates abhängig von den Lichtbedingungen
** Nachlassende Bildqualität bei Überschreibung dieses Bereichs
Sensor Features:
Sensor:Omnivision OV5640-Bildsensor
NIR:Optional* – With and without IR filter available
Fokustyp:Autofokus
Fokusentfernung:100mm bis unendlich
Blickwinkel:60 ° Diagonal
Ausgabeformat:YUV4:2:2, YCbCr422 und Kompression
Effektive Brennweite:3.42 mm
Max S/N-Verhältnis:36 dB
Linsengröße:Optische Größe von 1/4
Modulgröße:8.5mm x 8.5mm x 5.15mm
Dynamikbereich:68 dB
DFOV :5MP - 67.2° (mit der Linse von e-con)
* - e-CAM51_USB is with IR. e-CAM51_USB_NIRFS is without IR Filter can be purchased directly from our webstore
Unterstützte Betriebssysteme - Windows 10, Windows 8, Windows 7 & Linux
Musterapplikation :

e-CAMView - Windows Applikation für die Videovorschau und Standbildaufnahme.
eCAMGUVCView - Linux-Applikation für die Videovorschau und Standbildaufnahme.
Bestellinfo:
Kunden mit USB 2.0-Highspeed-Plattformunterstützung, die das 5,0-Megapixel-USB-HD-Kameramodul bewerten möchten, können das die e-CAM51_USB von e-con Systems™ erwerben.
Part No
Description
Sample Price

Volume Price
(5000s Pack)
Purchase
e-CAM51A_USB
5.0 MP HD USB Camera Board
US

$

89
US

$

35
e-CAM51_USB_NIRFS
5.0 MP HD USB Camera Board (without IR filter)
US

$

79


(MOQ: 100 Units)

US

$

35
Zusätzlich zu e-CAM51_USB ist das Evaluation-Kit mit e-CAMView (Windows) / eCAMGUVCView (Linux) - Musterapplikationen für die Videovorschau und Standbildaufnahme und UVC-Erweiterungsfunktionen ausgestattet, u. a. AF-Auslöser, manuelle Fokus-GPIO-Umschaltung etc. (für Windows 7, Windows 8, Windows 10 & Linux) Weitere Informationen, entnehmen Sie bitte dem Evaluation-Kit-Inhalt auf der rechten Seite.
Für weiterführende Informationen und Verkaufsanfragen wenden Sie sich bitte an sales@e-consystems.com.
Kit-Inhalt: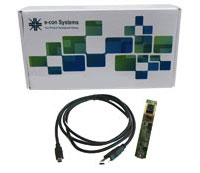 Kit Contents
Hardware:

e-CAM51_USB - 5,0 Megapixel HD USB-Kamerakarte
USB-Kabel

Software:

Unterstützte Betriebssysteme: Windows 7, Windows 8, Windows 10 & Linux
e-CAMView (Windows) / eCAMGUVCView (Linux) - Videovorschau- und Standbildapplikation

Dokumentation: