e-CAM83_CUMI415_MOD - 4K@90fps Sony® STARVIS™ IMX415 Hochempfindliche Tageslichtkamera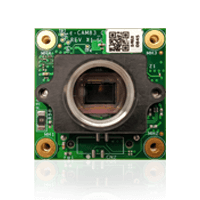 ist ein 8MP hochempfindliche Tageslichtkamera mit MIPI CSI-2, das 4K @ 90 Bilder/s streamen kann. Dieses 4K-Kameramodul basiert auf dem SONY STARVIS™ IMX415 CMOS-Bildsensor. Seine geringe Lichtempfindlichkeit liefert auβergewöhnlich klare Farbbilder auch bei extrem schlechten Lichtverhältnissen oder sogar ohne Licht (fast 0 Lux). Die Kamera verfügt über eine hohe Bildrate (90 Bilder/s) bei einer Auflösung von 4K (3840 x 2160). Diese 4K-MIPI-Kamera eignet sich für Anwendungen, die ein hohes Maβ an Bilderkennung und -erfassung erfordern, wodurch sie sich für Intelligent Video Analytics (IVA) eignet. Weniger lese »
Bewerten Sie e-CAM83_CUMI415_MOD mit,
8MP SONY STARVIS™ Raw-Bayer-Kamera mit 4-Lane MIPI CSI-2 Schnittstelle.
1/2,8" Optischer Formfaktor.
S-Mount-Wechselobjektivhalter für Flexibilität bei der Auswahl eines Objektivs je nach Anwendungsanforderungen.
RGB RAW 10-bit/12-bit Daten pro Pixel
Maximale Bildübertragungsrate

Auflösungen
4-Lane MIPI-Lösung
(NVIDIA® Jetson AGX Xavier)
2-Lane MIPILösung
(NVIDIA® Jetson Xavier™ NX)
1920 x 1080
90 B/s
70 B/s
3840 x 2160
90 B/s
44 B/s

Betriebstemperaturbereich: -30° to 85° C
Stromverbrauch: ~950mW
kleinem Formfaktor
30mm x 30mm Gröβe. (Die Höhe hängt vom Objektiv ab)
Einhaltung
Launched on:
Sensor: : 1/2,8" Optisches Format SONY STARVIS™ IMX415 CMOS Bildsensor
Fokustyp:Fixfokus
Auflösung:8MP
Pixelgröβe:1.45 µm x1.45 µm
Aktive Fläche des Sensors:3864H x 2192V
G-Empfindlichkeit:2376mV für HCG-Modus und 921mV für LCG-Modus
Ausgabeformat: RGB RAW 10/12-Bit
Verschlusstyp:Elektronischer Rolling Shutter
Halterung:M12 (S-Mount)
DFOV :Voll-HD - 132°(mit dem von e-con gelieferten Objektiv)
Herunterladen e-CAM83_CUMI415_MOD Dokumente:

e-CAM83_CUMI415_MOD - 8MP Datenblatt des Kameramoduls
Einhaltung:

Konformitätserklärung für e-CAM83_CUMI415_MOD
Evaluationskit:
Product Code
Supported Platforms
Sample Price
qSmartAI80_CUQ610


Kit-Inhalt

VVDN SOM based on Qualcomm® QCS610 SoC
Carrier board
SONY IMX415 camera with lens
Micro coaxial cable
USB 3.1 Gen 1 Type-A to Type-C cable (1m)
12V 3A AC to DC wall mount power adapter

» Qualcomm® Kameras
e-CAM80_CUNX


Kit Content

e-CAM83_CUMI415_MOD - 8MP MIPI Camera Module with lens
Adaptor board
Flex Cable (15 cm)
SD Card

» NVIDIA® Jetson Xavier™ NX / Nano Dev Kit

USD 149

e-CAM82_USB


Kit Content

8.0 MP Ultra HD USB Camera Board
USB 2.0 Cable - USB A Type
eCAMView (Windows)/eCAMGUVCView (Linux)

» USB 3.0 Camera Solutions

USD 129

e-CAM80_CUOAGX


Kit Content

e-CAM83_CUMI415_MOD - Full HD MIPI Camera Module with Lens
Adaptor board
Flex Cable (15 cm)

» NVIDIA® Jetson AGX Orin™ Dev Kit
Benutzer, die das gleiche Kameramodul benutzerdefinieren möchten oder die ein anderes Kamera-/Sensormodul verwenden möchten, können sich an sales@e-consystems.com wenden und ihre Anforderungen erläutern.
e-CAM83_CUMI415_MOD - Anpassung für andere Anwendungsprozessoren
e-con bietet Anpassungen für diesen e-CAM83_CUMI415_MOD auf jeder Anwendungsplattform gemäβ den Kundenanforderungen.
e-CAM83_CUMI415_MOD Anpassung:
e-con bietet Anpassungsmöglichkeiten für die folgenden Anforderungen:
Anpassung des PCB-Formfaktors für jede Form, jeden Anschluss und jede Ausrichtung
Anpassung des Objektivhalters für C / CS-Objektivhalterungen
Treiberentwicklung für jedes Betriebssystem: Android/li>
Schnittstelle mit jedem Anwendungsprozessor: Freescale i.MX8, NVIDIA Jetson TX2 / Xavier und jedem anderen Prozessor
Kamera- und ISP-Funktionen können an spezifische Anforderungen angepasst werden
Für eine benutzerdefinierte Anpassung oder Portierung des Kameratreibers auf Ihre Anforderungen wenden Sie sich bitte ansales@e-consystems.com