e-CAM40_CUTK1 - 4MP RGB-IR Camera Board for NVIDIA Tegra K1 (Jetson Dev Kit)

e-CAM40_CUTK1 is a 4.0 Mega Pixel, 4-lane MIPI CSI-2 Camera solution for NVIDIA Tegra K1 CPU. This is based on the OV4682 CMOS Image Sensor, a popular RGB-IR pixel format CMOS image sensor from OmniVision. The e-CAM40_CUTK1 has 4MP camera module and an adapter board to connect the camera with the Jetson TK1 developer kit.
e-con provides the full-fledged MIPI CSI-2 camera driver for this module that enables the customers to take full advantage of 4-lane MIPI CSI-2 interface supported by the NVIDIA Tegra K1 CPU. The e-CAM40_CUTK1 camera is exposed as a standard V4L2 device and customers can use the V4L2 APIs to access this camera and control the same.
Customer Speaks:
We bought e-CAM40_CUTK1. I recommend this board for two main features: its size and framerate – both of them were perfectly suitable to our needs. Read More..
- R&D Engineer, AGD Systems Ltd.
Houses e-CAM40_CUMI4682_MOD - 4.0 MP Camera Module with S-mount lens holder
High-speed 4-lane MIPI CSI-2 interface to connect with the CPU
Plugs in to NVIDIA Jetson TK1 Development Kit
Leverages the 4-lane CSI-2 interface for maximum frame rate across all resolutions
Linux camera driver (V4L2) for 4MP MIPI CSI-2 camera module
Android camera driver *
Sample application for image capture & Preview
Board size( L x B x H): 65.27 mm x 55 mm x 27.3 mm
Board Weight - 30.5 Grams (without lens)
35.5 Grams (with lens)
125pin through hole mating connector
* - Under development
4Mega pixel camera module e-CAM40_CUMI4682_MOD with S-mount lens holder
Based on Omnivision OV4682 RGB IR - 1/3" Optical format CMOS Image sensor
Supports uncompressed RGB-IR format
High-speed 4-lane MIPI CSI-2 interface
S-mount lens holder for interchangeable lenses as per application requirement
Small form-factor camera module
Maximum Image Transfer Rate

| | |
| --- | --- |
| Resolutions | 10 bit RAW format |
| VGA | 330 fps |
| HD (720p) | 180 fps |
| Full HD (1080p) | 120 fps |
| 4MP (2688x1520) | 40 fps |

Field-of-View: Changes with the resolution and aspect ratio for the same lens. Please refer the datasheet for more information
Pixel Size - 2 µm x 2 µm
Max S/N ratio- 38.3 dB
Dynamic Range - 64.6 dB
Power requirements: Approximately 2.5W
Temperature Range

Operation : -30° to 70° C
Stable Image : 0° to 50° C

Module Size:

Length x Width :30mm x 30mm
Height depends on the lens
Full-fledged Linux camera driver for MIPI CSI-2 camera module. The driver supports e-con's e-CAM40_CUTK1 on Jetson developer kit. The camera driver source code can be ported to any NVIDIA Tegra K1 platform and even to support the secondary MIPI CSI-2 interface of Tegra K1.
V4L2 Linux driver for MIPI CSI-2 camera module

Video preview
Still Image capture

Sample application with source Code for Linux:

Video Preview
Still Image capture at selected resolutions

Camera Controls:

Brightness
Exposure (manual)
Please contact sales@e-consystems.com for any customization requirements.
Kit Contents:
Hardware:

e-CAM40_CUTK1 - 4 MP MIPI Camera board (contains the e-CAM40_CUMI4682_MOD Camera module)

Software:

V4L2 - Linux driver
Sample View finder Application with Source Code

Please contact sales@e-consystems.com for any customization requirements.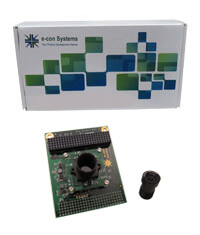 Ordering Info:
The e-CAM40_CUTK1 evaluation kit can be bought by customers who have the NVIDIA Jetson TK1 developer Kit and are considering integrating camera on their product. They can evaluate the features of the camera and also build custom applications around it. Please see the kit contents in the next tab.
Customers interested in customizing the same camera module or planning to use a different camera/sensor module can contact sales@e-consystems.com and explain their requirement.