Acacia - eSOMiMX7 Development Kit


Acacia, eSOMiMX7 Development Kit is a dual board solution that features eSOMiMX7 - Computer on Module & carrier board.
eSOMiMX7 is based on NXP / Freescale's i.MX7 Solo / Dual core ARM® Cortex™-A7 @ 1GHz along with dedicated real time ARM® Cortex™-M4 MCU. It has LPDDR3 RAM configurable up to 2GB and eMMC flash with capacity configurable up to 64GB and 8GB NAND Flash. The eSOMiMX7 module also has the Wireless LAN and Bluetooth module.
Related Blogs

eSOMiMX7 based IoT gateway

Build Smart Gateway Using eSOMiMX7
NXP/Freescale ARM® Cortex™-A7 i.MX7 processor
Upto 2GB 32 bit LPDDR3
Upto 4GB NAND flash
Upto 64GB eMMC Flash
eSOMgears - Over-the-Air (OTA) Firmware Upgrade Solution


Camera

2 lane MIPI CSI-2 Interface

Display

HDMI (upto 1080p Resolution)
MIPI DSI (x1)
EPDC Display (e-Ink Display)

Networking

Wi-Fi 802.11 b/g/n & Bluetooth 4.1 BLE
Gigabit Ethernet (X2)

Serial Ports

Quad SPI
SPI
I2C
RS232 / RS485

USB

USB 2.0 Host(x1)
USB 2.0 OTG(x1)

Audio

Audio Codec with Stereo Audio Jack

Miscellaneous

Flex CAN
SPI
Programmable GPIO
ADC Inputs (X8)
PCIe Gen2.0 (X1)

SD/MMC Card Support

Micro SD

Dimension - 105 mm(L) x 80mm (B)
Supporting Operating Systems

Linux

Kernel - v4.9.11
RootFS - Yocto Poky v2.2(Morty) based custom RootFS

Free RTOS on M4 Core - Version 8.0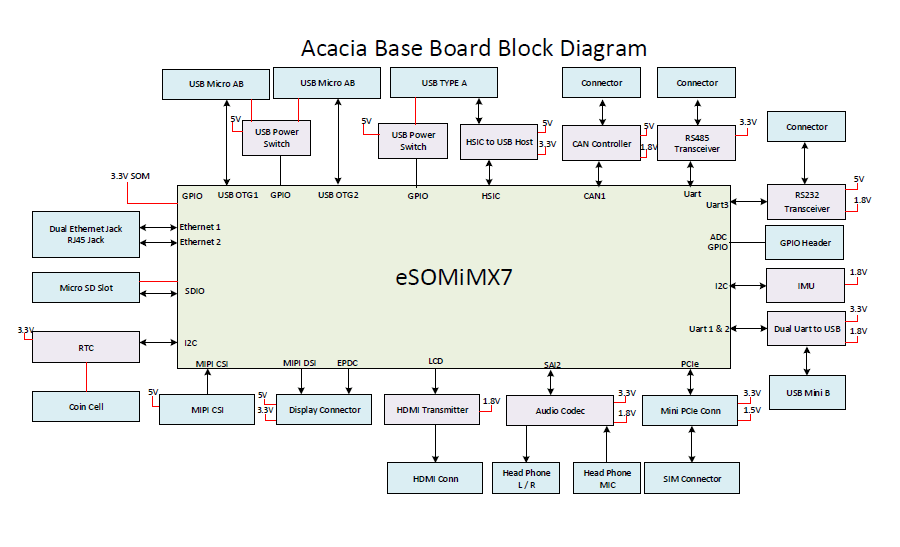 Acacia eSOMiMX7 development kit
Download Acacia eSOMiMX7 development Kit documents:

Acacia Hardware and Software Documents
Acacia i.MX7 development kit contents:
eSOMiMX7 evaluation Kit with Linux Without LCD
Hardware:

eSOMiMX7 Module (Dual core with Dual Ethernet 2GB DDR and 4GB eMMC)
Carrier board (Acacia)
USB Mini B Cable (Debug Cable)
12V Power Supply

Software(Linux):

Preinstalled uboot
Preinstalled Linux Image
Linux BSP
eSOMiMX7 evaluation Kit with Linux With MIPI LCD
Hardware:

eSOMiMX7 Module (Dual core with Dual Ethernet 2GB DDR and 4GB eMMC)
Carrier board (Acacia)
USB Mini B Cable (Debug Cable)
12V Power Supply
3.97-inch Mipi LCD with Capacitive touch (Resolution - 480x800)

Software(Linux):

Preinstalled uboot
Preinstalled Linux Image
Linux BSP

eSOMgears - Over-the-Air (OTA) Firmware Upgrade Solution