e-CAM57_MI5640_MOD - 5MP OV5640 MIPI Camera Module (70mm Flex Cable)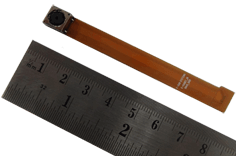 e-CAM57_MI5640_MOD is a Omnivision camera module (MIPI) with 70mm Flex Cable featuring OV5640 image sensor. This OV5640 camera module streams HD @ 60fps, Full HD @ 30fps & 5MP @15fps. Any processor system like i.MX6, OMAP4430, OMAP4460, that has a MIPI CSI-2 can directly interface the e-CAM57_MI5640_MOD.
Check out the other 5MP OV5640 MIPI camera module with 20mm flex cable - e-CAM52A_MI5640_MOD. Customization of flex cable length is possible.
Omnivision OV5640 1/4 " 5MP CMOS image sensor
Focus Type – Auto Focus (VCM driven)
2 lane MIPI® CSI-2 interface
Maximum Image Transfer Rate

| | |
| --- | --- |
| | MJPEG |
| VGA | 60 fps |
| HD (720p) | 60 fps |
| Full HD (1080p) | 30 fps * |
| 5MP | 15 fps |

View Angle - 60 ° Diagonal
Output Format - YUV422
AF Working Distance - 100mm to Infinity
Effective Focal Length - 3.42 mm
Temperature Range

Operation - -30° to 70° C
Stable Image - 0° to 50° C

Weight - 1 Grams
Power requirements

Active - 150 mA
Standby - 20 µA

Max S/N ratio- 36 dB
Dynamic Range - 68 dB
Lens Size - 1/4"
Module Dimensions (in mm)

excluding flex cable - 8.5 x 8.5 x 5.15
with flex cable - 78.5 x 9.6 x 5.15

Launched on:
* - The frames are cropped. Additional information is available at sales@e-consystems.com
Omnivision OV5640 Image Sensor with pixel size of 1.4µm
Electronic Rolling Shutter
Auto Focus, Auto Exposure and Auto White Balance support
Normal Flip, Mirror and Rotate support
Image Area - 3673.6 µm x 2738.4 µm
e-CAM57_MI5640_MOD is particularly suited to the following applications:
Camera for handhelds / Tablets
Biometrics (IRIS Scan)
Low Vision
Electronic Microscope
Surveillance
OCR readers
Download e-CAM57_MI5640_MOD Documents:

e-CAM57_MI5640_MOD - 5MP 70mm Camera module (Mechanical Drawing)
Download Evaluation Kit (ACC-iMX6-MI5640CAM) Documents:

ACC-iMX6-MI5640CAM - 5MP MIPI Camera board for iMX6 (Requires Ankaa kit)
Download Evaluation Kit (e-CAM51IMX6) Documents:

e-CAM51IMX6 - 5MP MIPI Camera board for iMX6 (Requires Wandboard)
Download Evaluation Kit (e-CAM50IMX6) Documents:

e-CAM50IMX6 - 5MP MIPI Camera board for iMX6 (Requires SABRE Lite Development kit)
Evaluation Kit:
Customers choosing to evaluate the e-CAM57_MI5640_MOD camera module, can purchase any one of the following Camera daughter boards
Customers interested in customizing the same camera module or planning to use a different camera/sensor module can contact sales@e-consystems.com and explain their requirement.