e-CAM58_MI5680_MOD - 5MP RAW MIPI Camera Module (Bayer)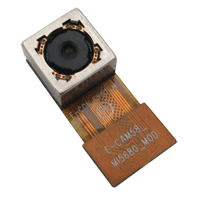 The e-CAM58_MI5680_MOD is a 1/3.2" optical format, 5MP RAW MIPI Camera Module based on OmniVision's OV5680 CMOS image sensor and it provides RAW Bayer format image output through its 2-lane MIPI CSI-2 interface. Combined with the 1.75 micron pixel size and the OmniVision's OmniBSI-2 pixel technology, this autofocus camera module provides best-in-class sensitivity and excellent noise performance. The small form-factor camera module also contains the voice coil motor (VCM) based lens mechanism for adjusting the focus position of the built-in lens and the same can be used with an external back-end ISP to implement the autofocus capability.
OmniVision® OV5680 CMOS image sensor
Focus Type – Auto Focus (VCM driven)
2 lane MIPI® CSI-2 interface
Maximum Image Transfer Rate

| | |
| --- | --- |
| Resolutions | RAW |
| VGA | 120 fps |
| HD (720p) | 60 fps |
| Full HD (1080p) | 30 fps |
| 5MP | 30 fps |

Output Format - RAW RGB (Bayer pattern)
View Angle - 63 ° Diagonal
Object Distance - 100mm to Infinity
Effective Focal Length - 3.42 mm
Max S/N ratio- 38 dB
Dynamic Range - 73 dB
Temperature Range

Operation - -30° to 70° C
Stable Image - 0° to 50° C

Power requirements

Active - 250 mW

Module Dimensions (in mm)

excluding flex cable - 8.5 x 8.5 x 5.15
with flex cable - 20 x 9.6 x 5.75
OmniVision OV5680 Image Sensor
OmniBSI-2™ pixel technology
Pixel size: 1.75µm
Sensitivity: 1380 mV/lux-sec
Optical format: 1/3.2"
Active Array Size: 2592 x 1944
Active Array Area: 4592 µm x 3423 µm
e-CAM58_MI5680_MOD is particularly suited to the following applications:
High resolution microscopic imaging
Surveillance
Low light video capture
Cameras for handhelds and tablets
Biometrics
Download e-CAM58_MI5680_MOD Documents:

e-CAM58_MI5680_MOD - 5MP MIPI Camera module (Mechanical Drawing)
Download Evaluation Kit (ACC-CX3RDK-5680) Documents:

ACC-CX3RDK-5680 - 5.0 MP MIPI Camera board (Requires See3CAM_CX3RDK)
Evaluation Kit:
1. PC Solution
Customer choosing to evaluate the e-CAM58_MI5680_MOD can purchase ACC-CX3RDK-5680, a 5MP MIPI camera add on board for e-con's Denebola – UVC USB 3.0 Reference Design Kit developed using EZ-USB® CX3 USB 3.0 Peripheral controller from Cypress Semiconductors.
Customers interested in customizing the same camera module or planning to use a different camera/sensor module can contact sales@e-consystems.com and explain their requirement.