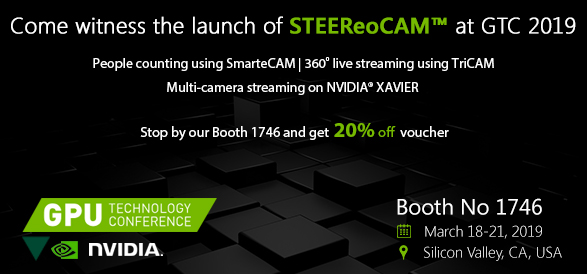 We are pleased to invite you to join us for the launch of our new STEEReoCAM™ - the high resolution MIPI stereo camera with improved accuracy and depth range for NVIDIA Jetson AGX Xavier/TX2 at our Booth # 1746 at GPU Technology Conference (GTC) - 2019, Silicon Valley, California, USA.
We would like to present you, our complete range of NVIDIA Jetson cameras, especially People Counting and Tracking using SmarteCAM, the smart camera with Artificial Intelligence on the edge, 360 degree live streaming using three 4K Cameras and Four Synchronized Camera for Jetson AGX Xavier. Our Booth will not just host live demos, but you could also get a consultation from our experts.
LOCATION
San Jose McEnery Convention Center,
150 West San Carlos Street, San Jose, CA 95113.
Expo Hall Hours:
MARCH 18, 2019-MARCH 21, 2019
(09:00am – 18:00pm)
Introducing our New STEEReoCAM™ at GPU Technology Conference'19, USA

| | | | |
| --- | --- | --- | --- |
| We are launching our new STEEReoCAM™ - 2MP Global Shutter MIPI stereo camera for NVIDIA Jetson AGX Xavier/TX2 with improved accuracy and depth range, powered by proprietary CUDA® accelerated Stereo SDK that runs on the GPU of NVIDIA® Tegra processors. It supports (2*(1600 x 1300)) at 30 fps. | | | |

See the below LIVE demos at the GPU Technology Conference (GTC)
| | | | | | | |
| --- | --- | --- | --- | --- | --- | --- |
| | We demonstrate our e-CAM130_CUXVR_Quad streaming 1080p@60fps with Deep Neural Network on Xavier. Our demo detects and tracks multiple instances of cars, road signs, two-wheelers and pedestrians using DeepStream SDK 3.0. | | We showcase the 360 degree live panoramic streaming demo using our TriCAM, three synchronized 4K cameras on the NVIDIA Jetson TX2 without Stressing the CPU by offloading the work load to the Pascal GPU. | | The People Counting and Tracking software enable SmarteCAM to detect people, count and track entry and exit of people. An essential for every smart security and analytics. | |