e-CAM20_CUMI290_MOD - 2MP Sony IMX290 ultra lowlight Camera Module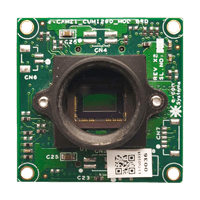 The e-CAM20_CUMI290_MOD is a 2 MP ultra-lowlight RAW MIPI camera module with the S-mount (M12) lens holder. This HD camera module is based on Sony IMX290, a 1/2.8" rolling shutter sensor with 2.9 µm pixel size. It is one of the most popular Sony's STARVIS® series CMOS sensor and its effective pixel back-illuminated technology with improved sensitivity in the visible-light and near infrared light that enables to capture images even in starlight.
Key Features
2MP Colour camera with 4-lane MIPI CSI-2 interface
1/2.8" Optical Form-factor
S-mount interchangeable lens holder for flexibility to choose a lens as per application requirements
Maximum Image Transfer Rate

Resolutions
MIPI Solutions (NVIDIA Jetson TX2/TX1)
12 bit RGB
10 bit RGB
HD (720p)
60 fps
120 fps
Full HD (1080p)
30 & 60 fps
120 fps

Small form-factor pluggable camera module with S-mount lens holder
30mm x 30mm size. Height depends on the Lens
RoHS Compliant
Note: e-CAM20_CUMI290_MOD camera launching soon, the specifications are subject to change in the final product release.
Sensor:1/2.8" Optical format CMOS Image sensor
Focus Type:Fixed focus
Resolution:2.0 MP
Pixel size:2.9 µm x 2.9 µm
Sensor Active Area:1920(H) x 1080(V)
Dynamic Range:0 - 72 dB
Output Format:RAW 10/12 bit
Shutter type:Electronic Rolling Shutter
Holder:S-Mount
ISP:External ISP
DFOV : 2M - 132°(with the lens provided by e-con)
Evaluation Kit:
1. ARM Based Solution (NVIDIA TX2/TX1 based Jetson DevKit)
The MIPI Camera daughter card (e-CAM21_CUTX2) can be bought by customers choosing to evaluate the e-CAM30_CUMI0330_MOD camera solution with a direct interface on the NVIDIA Tegra X1 based Jetson DevKit.
Customers interested in customizing the same camera module or planning to use a different camera/sensor module can contact sales@e-consystems.com and explain their requirement.
e-CAM20_CUMI290_MOD - Customization and Porting Services for other Application Processor platforms:
e-con Systems provides camera driver development, customization and porting services for e-CAM20_CUMI290_MOD on any application platform as per customer requirements. For any driver customization or porting services or for using this 2MP camera with your application processor platform, please contact sales@e-consystems.com along with your requirements details.
e-CAM20_CUMI290_MOD - Customization
e-con provides customization, development and porting services for the following requirements:
PCB form-factor customization for any shape, connector and orientation
Lens holder customization for C/CS mount lens holder
Driver development for OS: Linux, Android
Interfacing with any Application Processor : NVIDIA TX1/TX2, Any other processor with ISP
Additional camera customization based on specific requirement
Please contact sales@e-consystems.com with your customization requirements and we will be glad to happy to work with you!