See3CAM_81 - 8MP Autofocus UVC USB Camera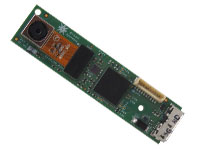 See3CAM_81 is a high performance 8MP autofocus UVC USB camera module based on OV8865 CMOS Image sensor from OmniVision and is compatible with USB 3.0 SuperSpeed interface on the target platform. See3CAM_81 is fully compliant with USB Video Class (UVC) 1.0 Standard. So, video streaming through UVC is possible without any special drivers on Operating Systems that have built-in support for UVC standards.
Houses e-CAM81_MI8865_MOD - 8.0 MP OV8865 Color Camera Module
Focus: Autofocus
Shutter type: Electronic Rolling Shutter
Output Video format: YUY2
Frame Rate

Resolution
USB 3.0
USB 2.0
YUY2
YUY2
VGA
60 fps
30 fps
HD (720p)
60 fps
60 fps
Full HD (1080p)
30 fps (Cropped) *
5 fps
8MP
11 fps
3 fps
Support OS:Windows (both 32bit and 64bit) and Linux
Connector/Interface type:USB 3.0 device with USB 3.0 Micro-B connector
Operating Temperature Range:-20° to 70° C
Operating Voltage:-5V ± 250mV
Power requirements:Min : 0.9W, Max : 1.1W
GPIO:10-pin GPIO header for standard and custom operations support
Trigger Size:External Trigger support for still capture
Board Size (lxb):65 mm x 16 mm x 9.6 mm (Including PCB Thickness)
Certifications:RoHS Compliant
* - The 1080p @ 30 fps (cropped) will have 55% FOV and 12 fps (binned) will have 90% FOV.
Sensor Features:
Sensor:OmniVision OV8865 Color 1/3.2" Optical format CMOS Image sensor
Focus Type:Auto Focus
Resolution:8MP
Focusing Range:10 cm to Infinity
Effective Focal Length:3.69 mm
Sensor Type:Bayer RGB raw sensor
Pixel Size:1.4 µm x 1.4 µm
Sensor Active Area:4614.4 x 3472 µm
Responsivity:940mV/lux sec
Signal to Noise Ratio (SNR):36.7 dB
Dynamic Range :68.8 dB
Output Format:10 bit RGB RAW
Shutter Type:Electronic Rolling Shutter
ISP:External ISP
FOV:74.6°
Supported OS - Windows 7, Windows XP (with Service Pack 2),Window 10, Linux
Sample Application for Video Preview and Still Capture

e-CAMView - Windows USB Camera application
QtCAM - Linux USB Camera application