See3CAM_81 - 8MP Autofocus UVC USB Camera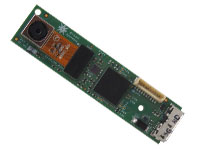 See3CAM_81 is a high performance 8MP autofocus UVC USB camera module based on OV8865 CMOS Image sensor from OmniVision and is compatible with USB 3.0 SuperSpeed interface on the target platform.
This 1080p USB camera is fully compliant with USB Video Class (UVC) 1.1 Standard. So video streaming through UVC is possible without any special drivers on operating systems that have built-in support for UVC standard.

Check out the readily available See3CAM_130 – 13MP Autofocus USB Camera with AR1335 Image Sensor
Houses e-CAM80_MI8865_MOD - 8.0 MP Auto Focus MIPI Camera Module
Plug-and-Play setup (UVC compliant)
USB 3.0 interface (backward compatible with USB 2.0)
Frame Rate (YUV2)
USB 3.0:

VGA – 60 fps
HD (720p) – 60 fps
Full HD (1080p) – 30 fps
8MP – 11 fps

USB 2.0:

VGA – 30 fps
8MP - Need to measure

Temperature Range

Operation - -20° to 70° C
Stable Image - 0° to 60° C

Operating Voltage - 5V ± 250mV
Light weight, versatile, Portable Design
Board Size in mm (lxb) - 65 x 16
RoHS Compliant
Sensor Features:
Sensor:OmniVision OV8865 image sensor with pixel size 1.4 µm x 1.4 µm
Focus Type:Auto Focus
View Angle:77.2 °
Output Format:10 bit RGB RAW
Object Distance:100mm to Infinity
Max S/N ratio:36.7 dB
Lens Size:8.5mm x 8.5mm x 5.2mm
Module Size:25.4mm x 11.6mm x 5.2mm
Dynamic Range:68.8 dB
Sensitivity:940mV/Lux-Sec
Supported OS - Windows 7, Windows XP (with Service Pack 2),Window 10, Linux
Sample Application for Video Preview and Still Capture

e-CAMView - Windows USB Camera application
QtCAM - Linux USB Camera application