See3CAM_81 - 8MP Autofocus UVC USB Camera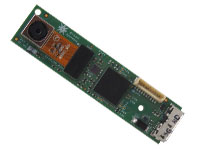 See3CAM_81 is a high performance 8MP autofocus UVC USB camera module based on OV8865 CMOS Image sensor from OmniVision and is compatible with USB 3.0 SuperSpeed interface on the target platform. See3CAM_81 is fully compliant with USB Video Class (UVC) 1.0 Standard. So, video streaming through UVC is possible without any special drivers on Operating Systems that have built-in support for UVC standards.
Houses e-CAM80_MI8865_MOD - 8.0 MP OV8865 Color Camera Module
Focus: Autofocus
Shutter type: Electronic Rolling Shutter
Output Video format: YUY2
Plug-&-Play (UVC compliant - No drivers required)and Backward compatibility with USB 2.0 hosts with limited features and capabilities
Frame Rate

Resolutions
USB 3.0
USB 2.0
YUY2
YUY2
VGA
30 fps
30 fps
HD (720p)
30 fps
16 fps
Full HD (1080p)
30 fps* & 12 fps*
5 fps
8MP
11 fps & 5 fps
3 fps

Supported OS - Windows (both 32bit and 64bit), Linux, Android ** and MAC ***
Connector/Interface type - USB 3.0 device with USB 3.0 Micro-B connector
Operating Voltage : 5V
Operating Temperature Range : -20° to 70° C
Power requirements
10 pin GPIO header
External Trigger support for still capture
Board Size (lxb) : 65 mm x 16 mm x 9.6 mm (Including PCB Thickness)
Board Weight: 8 Grams
RoHS compliant
Lightweight, versatile, and portable single-board solution
Unique ID for each camera
Launched on: 12 Apr 2017
* - The 1080p @ 30 fps (cropped) will have 55% FOV and 12 fps (binned) will have 90% FOV.
** - Customers interested to work on Android would require e-con SDK (Webeecam)
*** - For MAC OS support, please contact sales@e-consystems.com
Camera Module Features:
Sensor:OV8865 from OmniVision
Sensor Resolution and Optical Format:8MP CMOS Image Sensor. 1/3.2" Optical format
Sensor type:8MP CMOS Electronic Rolling Shutter Sensor
Image Signal Processor:External ISP
Output Format:Uncompressed YUY2 format
Sensor Features:
Pixel size:1.4μm x 1.4μm pixel
Sensor Active Area:4614.4 x 3472
Responsivity:0.94 V/lux-sec (550 nm)
SNR:36.7 dB
Dynamic Range:68.8 dB
Shutter type:Electronic Rolling Shutter
Focus Type:Auto focus
Focusing Range:10 cm to Infinity
Effective Focal Length:3.69 mm
DFOV:8M – 74.6°(with the lens provided by e-con)
Supported OS - Windows 7, Windows XP (with Service Pack 2),Window 10, Linux, Android * and MAC **
Sample Application for Video Preview and Still Capture

e-CAMView - Windows USB Camera application
QtCAM - Linux USB Camera application

Still Image Resolutions
Still Capture

External trigger signal control
Software trigger

UVC Controls

Brightness
Contrast
Sharpness
Saturation
Gain
White Balance (Manual and Auto)
Pan
Tilt

Autofocus

Continuous Autofocus
Manual Autofocus
Single trigger Autofocus
ROI selection by user

Effects
Additional Capabilities

Support for external trigger
LED Strobe control
GPIO Controls

* - Customers interested to work on Android would require e-con SDK (Webeecam)
*** - For MAC OS support, please contact sales@e-consystems.com
Ordering Info:
Customers who own platforms that support USB 3.0 SuperSpeed interface and are interested in evaluating the 8.0 MP UVC USB camera module can directly buy the See3CAM_81 - Windows/Linux USB camera.
Part No
Description
Sample Price
(1 Unit)
Volume Price
(1000s Pack)
Purchase
See3CAM_81
8.0 MP Autofocus UVC USB Camera for Micro-B Connector
$139
$69
In addition to See3CAM_81 , the evaluation kit comes with e-CAMView (Windows) / QtCAM (Linux) - Sample application for Video Preview and Still Capture along with the UVC Extension features (for Windows 10, Windows 8, Windows 7, Linux, Android * and MAC **). For more details, please refer the evaluation kit contents below.
For all enquiries please write to sales@e-consystems.com
Kit Contents: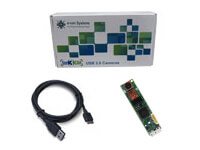 Hardware:

See3CAM_81 - 8.0 MP USB Camera with M12 Lens (S-Mount) Holder
USB 3.0 Micro-B Cable

Software:

(Customers will have to download the software from e-con Developer Resource)

Supported OS: Windows 10, Windows 8, Windows 7, Linux, Android * and MAC **
e-CAMView (Windows) / QtCAM (Linux) - Video Preview and Still Capture Application

Documents:
* - Customers interested to work on Android would require e-con SDK (Webeecam)
** - For MAC OS support, please contact sales@e-consystems.com