How we future-proofed our client's warehouse


with vision-powered excellence
The first use of robots in the supply chain can be traced way back to the 1950s. Usage of robots in warehouses has exploded in the last few years with the improvements in Computer Vision and AI. Autonomous Mobile Robots (AMR) is one such innovation which is gaining momentum. Taking advantage of indoor, fixed-route and known environment, AMRs are the only autonomous rovers that can be deployed quickly.
Building an AMR has 2 main parts namely the mechanical rover section and a vision computing section. Cameras are key in the vision computing part along with a host of other sensors.
Challenges of accelerating
customer expectations
The customer, a leading warehouse automation company approached e-con Systems™ to provide camera module for its vision computing sections of its AMR. The customer requirement was on both the cameras and processing hardware. They wanted to implement a visual SLAM algorithm using a stereo vision camera and wanted e-con Systems™ to offer a Stereo Camera hardware integrated with a NVIDIA GPU enabled hardware platform to perform the depth processing onboard.

Stereo Vision
camera

GPU enabled Computing
Hardware

High Frame Rate and
avoiding Blur

Depth Measurement
Algorithms
Selection of the camera module
e-con Systems™ STEEReoCAM™ hardware was a close match for the customer as it uses a sensor that is designed for automotive semi-autonomous vehicle designs. With its global shutter properties, it is an ideal choice for imaging during movement. The STEEReoCAM™ has a hi-speed MIPI connection to the NVIDIA Jetson Series (Nano, AGX Xavier, TX2) and also all the software required for development right away.

OV2311 with 3μm
pixel size

Manual exposure and
gain controls

No blur - capturing
materials on conveyer

Algorithms for anomaly
detection
How e-con Systems™ delivered a
hassle-free solution
e-con Systems™ had the STEEReoCAM™ readily integrated with the NVIDIA Jetson Xavier platform and the customer was able to start the evaluation of the camera for his AMR. Post the evaluation, the development of the algorithm and fine-tuning started on the Xavier + STEEReoCAM™ platform. The OEM part of the STEEReoCAM™ was integrated into the AMR robot and the necessary hardware customization required was done by e-con Systems™. Integrated the dual camera sensors to the NVIDIA from a hardware and software standpoint, synchronization and performance were the key responsibilities of e-con Systems™ in the overall integration effort. Once this was completed, e-con Systems™ also helped with the design and testing for the long term functioning of the camera modules.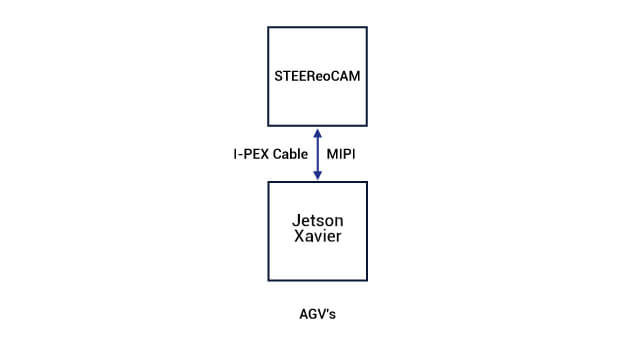 There were specific pixel drift problems that were identified, solved and calibration was fine-tuned to suit this specific use case. The product development was completed and the product is being sold in the market.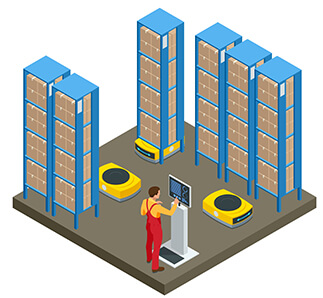 Over 70% of order fulfillment operations and warehouses that deploy Autonomous Mobile Robots (AMRs) have noted double-digit improvement in KPIs like cycle time, productivity, and inventory efficiency.