How we accelerated our client's path to


build smart surveillance solutions
Camera Surveillance has been there for many decades. The industry moved from analog cameras and CRT displays to digital cameras and Cloud server which could record the surveillance videos. Today, the surveillance has moved from video-enabled human surveillance to completed automated smart surveillance. This case study is about a customer who wanted to create a smart camera that could do some of the smart surveillance on the edge itself.
Challenges of accelerating
customer expectations
The customer, a surveillance camera manufacturer wanted to make a smart camera with a sensor and processor all packed into one unit. The requirement was to run vision algorithms on the camera and detect threats and act on them in real-time. The customer was particular that the camera should work as a normal network surveillance camera and send the video over the network to a Cloud server and in parallel perform the smart surveillance on board as well. This was an add-on feature that they wanted to include in their premium versions of the cameras.

HDR for wide
luminance levels

Super wide-angle, with
less distortion

Sensitive to visible light and
infrared light

Intelligent AI
analytic tools
Apart from normal surveillance camera challenges like wide dynamic range, wide-angle lenses, etc. there were challenges of finding a module that could be integrated with the processor that the customer had chosen.
Selection of the camera module
e-con Systems™ suggested the e-CAM20_CU0230_MOD off the shelf module which has amazing HDR performance and image quality for the customer to integrate into his smart surveillance camera. The camera module has a custom lens option and a wide FOV lens could be fit in easily. The OEM camera module had support for NVIDIA and iMX series of processors with readily available production quality drivers optimized for performance and quality.

Excellent images under Visible
and NIR light spectrum

Dust and water
proof

Auto white balance
and exposure

Wide temperature
range (-40 to 105°C)
How e-con Systems™ delivered a
hassle-free solution
The e-CAM20_CU0230_MOD module was used as an OEM camera module and the customer designed the smart camera board. e-con Systems™ camera team worked with the customer to fine-tune the ISP to meet some of the low light and NIR requirements the use case demanded. Apart from that, the e-con Systems™ camera product team reviewed the customer hardware design and layout and helped with the faster development of the product. The drivers were integrated with the NVIDIA platform that the customer had chosen and also the software part required to take the camera stream, encode and stream over a network, and in parallel also fork the stream for vision processing was done by e-con Systems™ team.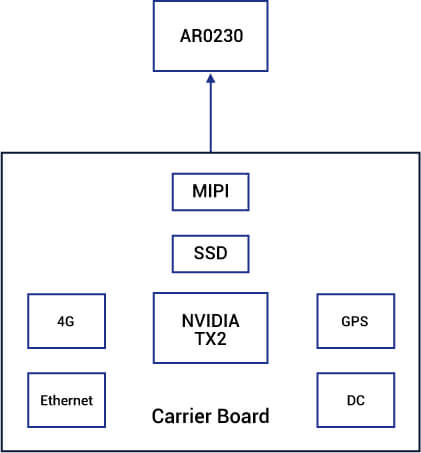 The customer's technical team worked on the AI and Vision side of the surveillance smart camera implementation.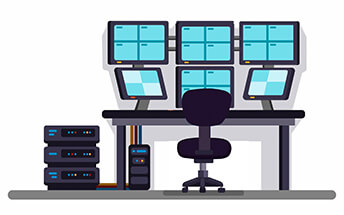 Surveillance is no more a watching game. Gone are the days when you will have security personnel eyeing rows of monitors looking for the odd one. Today surveillance systems have to be smart, know where something odd is happening, capture it, raise an alarm, change focus, etc. This is real-time surveillance and action with lesser manpower than the old surveillance systems. So these cameras are not just the eyes anymore, they have the brain to boot as well