How we enabled a client to power their


vehicles to see better - on the move
Cameras on vehicles today play a vital role in situational awareness functions like blind spot detection, reverse parking assistance, proximity alert, driver monitoring, etc. For a large vehicle where the driver has more blind areas to cover and where the impact of accidents are huge, cameras and image processing become immensely useful.
Challenges of accelerating
customer expectations
The customer, a leading mining vehicle and equipment-making company wanted to use cameras to increase the safety of their big mining vehicles. The vehicles need alarms of people in proximity. The main challenge was the size of the vehicle and the need for multiple cameras to cover the whole vehicle. The lighting in the mining areas were not very bright or constant and so the cameras have to work with reasonable clarity even in dark conditions. This becomes a critical challenge as it deals with the safety of people.

Multi-camera support,
with enclosures

HDR for varied
lighting

Synchronization at 1080p
resolution

upto 15 meter
cable
Selection of the camera module
e-con Systems™ decided on using the STURDeCAM for this purpose. This Full HD IP67 HDR GMSL2 camera along with low light performance was the ideal fit for this application. These features were critical in a mining environment.

360 deg Coverage

Low Light Performance / HDR

Rugged Enclosure

Platform Support and
Device Drivers
e-con Systems™ could support this STURDeCAM on the NVIDIA Jetson AGX platform through the GMSL2 interface. The Jetson platform is needed to run the algorithms. The camera could go up to 15 meters which was needed for this application.
How e-con Systems™ delivered a
hassle-free solution
The solutions team at e-con Systems™ first worked with the customer to run tests with NVIDIA Xavier AGX board and it was readily deployed because of the fact that there was an evaluation kit available for the STURDeCAM for Xavier AGX. The customer was happy that they could deploy the STURDeCAM and test it out. They needed something that was readily deployable to test out. Next the camera module, e-CAM20_CU0230_MOD, low light performance was evaluated. This needed ISP fine tuning and that was done. Once the proof of concept was completed, e-con Systems™ went ahead with designing a carrier board for the NVIDIA AGX Xavier Jetson SOM.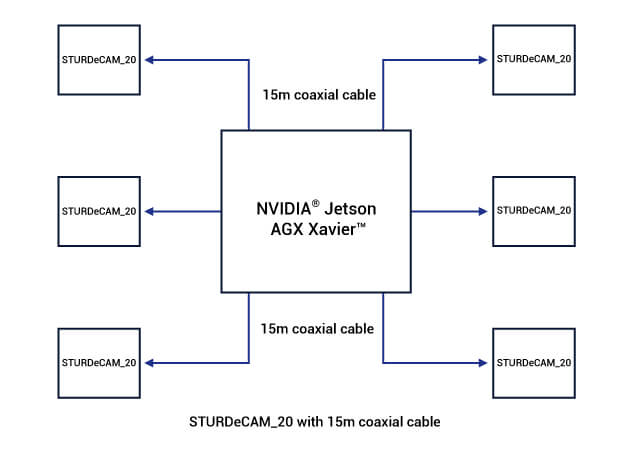 With the GMSL2, the carrier board had 6 STURDeCAMs connected to it and the synchronization support was enabled. The deserializer that was outside is now part of the carrier board along with other new peripherals that the customer wanted to add.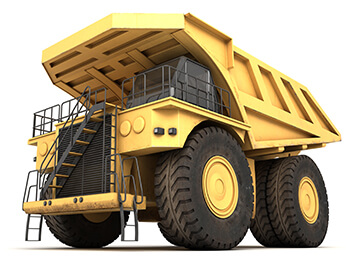 Cameras are an unavoidable part of safety systems in large vehicles. However, due to low light and dark environment limitations cameras are also challenging to implement in safety-critical scenarios. Today with the processing platforms available on the edge, it is possible to combine cameras with other sensors to implement reliable safety-critical systems for large trucks, mining vehicles, etc.