How we enabled a client to reinvent their


fish recognition and counting approach
Cameras are used to in monitoring, preserving and also maintaining sensitive natural ecosystems. There are many marine ecosystems that need continuous monitoring and maintenance. This case study is how one of our customers successfully used camera modules to implement a solution for such a use case.
Challenges of accelerating
customer expectations
The customer a company that makes underwater monitoring equipment and solutions wanted us to provide a camera and processing system combination that would be able to capture images in real-time and process the images to make decisions on the marine life population, growth, species count, density, pollutants on the water, etc. and mark areas that are vulnerable and areas that are secure on a map. There were multiple challenges in arriving at a solution like image quality in underwater conditions, enclosures, processing system selection, etc.

Image quality in
underwater

Mechanical casing for
underwater implementation

Connectivity between
HOST and Camera

Custom control of
camera parameters
Selection of the camera module
e-con Systems™ gave a solution for this use case based on See3CAM_CU55 module. It is based on On Semicondutor® AR0521 sensor. The sensor with a 2.2μm pixel size and a powerful onboard ISP is a ideal fit for underwater image capture use case. The module could output an optimal uncompressed YUV422 image stream that could be used for processing.

2.2µm pixel BSI
technology

High quality images in
different lighting

Compatible with OpenCV,
TensorFlow, etc.

S-Mount lens holder for
wide range of M12 lenses
How e-con Systems™ delivered a
hassle-free solution
e-con Systems™ arrived at the solution with off the shelf products See3CAM_CU55, USB 3.1 Gen1 camera and an Intel X86 platform. he actual implementation required the camera modules underwater in a proper enclosure and the processing platform out of the water on a boat. The customer took the OEM camera module from e-con Systems™ and designed an underwater enclosure for this use case. The default 1 metre USB 3 cable is not good enough. So e-con Systems™ provided 5 metre USB 3 cable.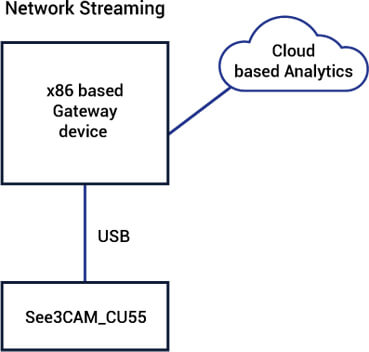 e-con Systems™ USB 3 cameras are plug and play. It can work with both Linux and windows Operating system without any additional drivers. The customer implemented his Vision and AI algorithms for the real-time fish monitoring. The project is a success and it is currently deployed in field.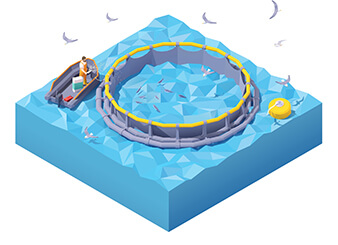 Using cameras in underwater scenarios is challenging. There are times when the processing is well above water and sometimes within. So in addition to waterproofing the camera, the length of the cable that connects the camera to the host also becomes important. Our GMSL cable solutions in combination with our USB 3.0 cameras have been ideal in such scenarios.