How we delivered a high performance,


miniature dental loupe camera
Since the dentists have been capturing 'before' and 'after' photographs to ensure better diagnostic and treatment planning. With the evolution of digital imaging and video recording, the ability to capture, store, and process multiple images has become a vital part of dentistry. Today, all over the world, they are used for other purposes like legal and insurance verification, specialist and laboratory communication, and patient education or communication, as well.
The challenges on accelerating a
Customer Expectation
The customer, a leading digital dental documentation company, wanted to overcome the hassles of procedure interruptions while capturing images. Their traditional handheld digital camera options also took a lot of time for every patient. Hence, they required e-con Systems™ to find the right camera module, customize the product to suit their requirements, manufacture, and supply in volume.

4K Video Recording

13MP High-Res Image Capture

Windows, Linux and MAC

High Quality Sensor for Image Magnification

Light Weight and Wearable dimensions

Connection to PC over USB
Selection of the camera module
We selected the See3CAM_CU135 USB 3.0 camera module since it was a high-resolution and high-performance camera. Based on a CMOS image sensor, it came with advanced 1.1μm pixel BSI technology from ON Semiconductor® and a dedicated ISP for auto functions like auto white balance, exposure control, etc. Some of its key features that fit the customer requirements were:

USB 3.0 for 4K video

Compressed MJPEG and RAW (UYVY)

Windows, Linux, and MAC

Pan, Tilt and Zoom
How e-con Systems™ delivered a
hassle-free solution
Since See3CAM_CU135 was large-sized, we miniaturized the board and customized the original product to meet the loupe requirements. We conducted thermal analysis and designed a compact aluminium heatsink to dissipate the energy and reduce the camera temperature. The heatsink also acted as a spacer to replace the individual spacers, which optimized production time.

The product was a big success for the customer, and it has been deployed in thousands in the market with solid performance, reliability, and functionality.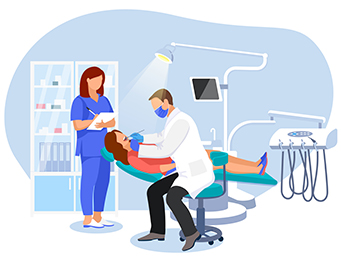 Cameras in dentistry have stringent requirements on the size and heat dissipation. Mostly as they are worn in by dental practitioners the weight, size, and heat are serious considerations. Another problem area is the cable length and how that is designed to be connected with the Computer. The customization that e-con offers along with its optimization of performance vs power has helped customers meet their requirements clearly.