How we delivered a cost-effective camera solution in


AI-based unmanned stores
Cashier-less technology is one of the latest trends to dominate retail automation. Retailers and startups are using a range of technologies to support cashier-free and human-free retail, including machine vision, facial recognition, shelf sensors, barcodes, QR codes, and RFID tags. As the accuracy of computer vision has taken off in the past few years, turning checkout over to cameras and AI has become the focus of several startups.
Challenges of accelerating
customer expectations
The customer, a US-based startup, wanted a solution for checkout-free stores - powered by AI technologies that enable shoppers to walk into the store, grab what they want off the shelves, and walk out. They wanted to give consumers a checkout system to shop and pay without waiting in line, scanning, or stopping to check out. There were multiple challenges in this right from camera choice, position, FOV, quality, etc.

Minimal
sensors

Outdoor lighting
conditions

Person tracking and product
recognition/tracking

Low power, with PoE
support
Selection of the camera module
e-con Systems™ provided the multi-camera solution using the Xavier NX module that comes with both low cost and power consumption advantages, and an optimized hardware platform solution. It has a custom carrier board that is designed to support PoE, camera interface, and sensors like weight and light sensor support.

Unpredictable lighting
conditions

Fixed lens with
hyperfocal focus

NVIDIA
platform

Working distance of
1 to 5 meters
How e-con Systems™ delivered a
hassle-free solution
To enable tracking and product tracking, we ensured that streaming at 1080p at 30 fps was possible. For keeping the store structure and the shelf door, product material reflections, we recommended going with an HDR sensor. e-con Systems™ integrated the complete system into a rugged enclosure, with a rooftop mounting option and connected to the internet through PoE.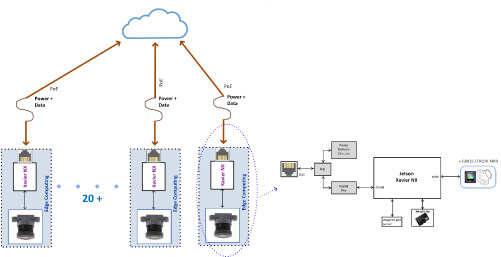 The customer successfully completed Proof of Concept and running field trial in a few stores. Now, they are targeting 3000 stores this year!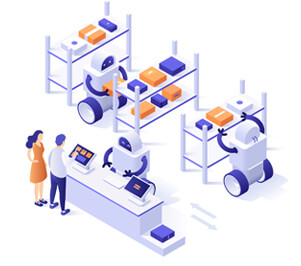 The global self-checkout systems market size was valued at USD 2.8 billion in 2019 and is expected to register a CAGR of 13.3% from 2020 to 2027. The increase in the influx of retail consumers and a consequent rise in their waiting time during the checkout process is a significant factor driving the adoption of self-checkout systems.