How we helped a client build a


complete fuel kiosk
Interactive smart kiosks are becoming an emerging touchpoint to meet modern retail expectations. With unmanned digital kiosks, they can avail of services that would normally require human presence, which can be costly, time-consuming, and labor-intensive. In the fueling industry, smart dispensers are using AI vision systems to offer quick solutions, as well as options to see what else is up for sale.
Challenges of accelerating
customer expectations
The customer, a leading global provider of customer-focused technologies in the fuel and convenience retail industries, wanted to build a next-generation, interactive fueling kiosk. With AI-led vision, the system was expected to use facial analysis technology to identify customers and biometric facial identifiers provide information or advertising based on emotions and behavior.
The unit was an outdoor all weather unit and so it had its challenges with lighting and other aspects of imaging

Wide operating
temperature range

1080p with YUV
format

Day / night lighting
conditions

AI algorithms for
facial recognition
Selection of the camera module
e-con Systems™ selected See3CAM_CU20, a 2MP HDR camera that came with a wide operating temperature range (-40°C to 85°C) and a wide Vertical FOV to recognize people up to 30 feet distance. With a high dynamic range and controls for auto white balance and exposure control, it was perfect for outdoor lighting conditions. We also completed the pre-compliance emission testing processes and helped procure clear FCC certifications.

AR0521 with 2.2μm
pixel size

Wider
FOV

No blur - capturing materials
on conveyer

Algorithms for anomaly detection
How e-con Systems™ delivered a
hassle-free solution
To achieve the 2 to 8-feet coverage at 2 feet working distance, we placed the camera mechanically by rotating 90-degree to get the Full FOV on vertical side and rotate the image 90-degree in the application. Additionally, we also implemented the lens focus to hyperfocal length to ensure image sharpness at 30 feet. The gluing method used to fix the lens helped avoid any lens misalignment due to vibration. e-con Systems™ team was with the customer during every step of his product development. The mass volume orders are in production.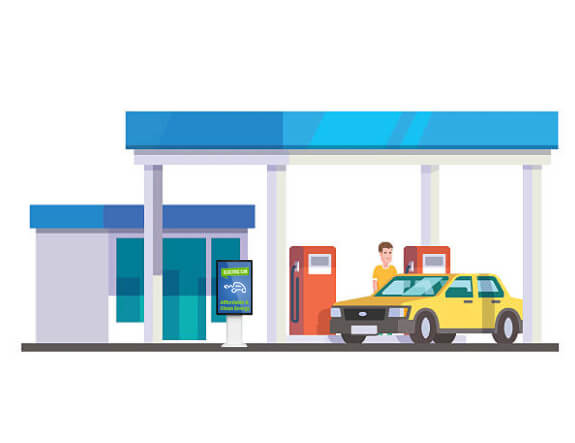 Automated Self service Kiosks have come a long way. From just eating coins and dispensing soda cans, vending machines and self service kiosks are today used for a variety of purposes like dispensing money, gadgets, food and in some cases making keys and exchanging mobile phones. There are a number of cameras in a kiosk. It is necessary for the computer vision part of the automation and robotic controls. It is also necessary for analytics, security, etc. e-con Systems™ understands the needs of such Kiosk cameras and has thousands of its cameras in Kiosks across the USA.