e-CAM1M_CU10630_MOD - 1MP OV10633 Custom Lens Camera Module
e-CAM1M_CU10630_MOD is a High Dynamic Range (HDR), Wide Dynamic Range (WDR), custom lens camera module targeted for surveillance and security applications. This HDR camera module based on the OV10633 sensor from OmniVision is e-con's first Wide Dynamic Range (WDR) camera module that can stream 1280x720p video at 30fps over its 8-bit digital video parallel interface.
This 1MP WDR/HDR camera module is compatible with almost all of the popular Application Processor families such as TI OMAP, TI Sitara, NXP/Freescale i.MX, Marvell Xscale, Samsung etc and also compatible with Digital Signal/Media Processors such as TI OMAP35x, TI DaVinci DM37x, DaVinci DM3xx etc.
The camera module is mounted with an industry-standard S-mount M12P0.5 lens holder allowing our customers to choose a lens of their choice.
Small form-factor pluggable HDR 720p camera module
Wide Dynamic Range 1/3 inch Optical format Image sensor
8-bit Parallel Video Port with SYNC signals
M12P0.5 S-Mount Lens holder
Compatible with standard M12P0.5 Lenses from various suppliers
Flexibility to choose a lens as per application requirements
Supports 8-bit YUV422 format output
32.8mm x 26.3mm size with mounting holes for fastening to application board. *
40-pin SMT Connector to plug in to the application boards
RoHS Compliant
* - Lens assembly height is excluded.
Omnivision OV10633 1/3 Inch Optical Format image sensor with pixel size of 4.2 µm
Supports 720p @ 30fps (1280x720) over the Parallel Video Port
Still capture at 1280x720 in both JPEG and BMP formats
Electronic Rolling Shutter
Dynamic range Greater than 100dB
AWB (Auto White Balance) and Auto Exposure Control
Normal, Mirror, Flip and Rotate support
Package Dimensions: 7160x7440 µm
e-CAM1M_CU10630_MOD is particularly suited to the following applications:
This camera module with 2.7" optical format image sensor is ideally suited for high-end surveillance, automobile lane departure warning applications, IP Cameras, HD CCTV applications, etc. With the Wide Dynamic Range of 100dB and 4.2micron pixel size, this camera module is ideally suited for any environment including low ambient light scenes or high-contrast lighting conditions.
An image of an office roof-lamp fitted with the grid captured using our e-CAM1M_CU10630 camera module is shown below. In such challenging high-contrast environments, the grid pattern or the text written, those are difficult to capture, have been captured pretty well with our camera modules.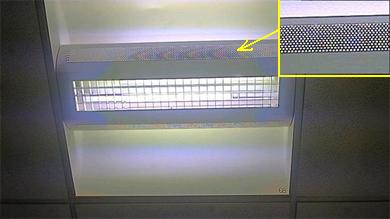 This WDR capability and low light performance makes it an optimal sensor solution in outdoor environments, particularly automotive applications where the outdoor scenes are normally characterized by high-contrast lighting from various light sources such as Sunlight, headlamps of vehicles, street lamps and advertising boards.
Interfacing
Direct Interface to various application processors including OMAP35x, DM37x, AM35x etc
Daughter card for OMAP35xTM DM37x, AM35x EVMs available immediately
Customers can directly integrate on their final products
Download e-CAM1M_CU10630_MOD Documents:

e-CAM1M_CU10630_MOD - 1MP HDR Custom Lens Camera Module Datasheet
Download Evaluation Kit (ACC-3730-CU10633CAM) Documents:

ACC-3730-CU10633CAM - 1.3MP Custom Lens Camera Board (Requires Almach kit)
Evaluation Kit:
1. ARM Based Solution
The daughter card (ACC-3730-CU10633CAM) can be bought by customers choosing to evaluate the e-CAM1M_CU10630_MOD camera solution with a direct interface on the Almach - Development Kit for DM3730 Processor.
The evaluation kit comes with Sample application for Video Preview and Still Capture (Windows CE 6.0 / WEC7 / WEC2013 / Linux / Android).
Customers interested in customizing the same camera module or planning to use a different camera/sensor module can contact sales@e-consystems.com and explain their requirement.