e‑CAM24_CUNX: color global shutter camera to capture fast moving objects
Today, there are several vision applications that require cameras to capture fast-moving objects without any rolling shutter artifacts. They include license plate recognition, advanced driver-assistance systems, robotic vision, drones, factory automation, gesture recognition, traffic monitoring, and barcode scanning. e‑CAM24_CUNX from e-con Systems is a color global shutter camera designed to be used for these applications to capture images without any distortion for various monitoring and analysis purposes.
Key features and highlights
e-con Systems' e‑CAM24_CUNX is an AR0234-based color global shutter camera that can capture images at a high frame rate of up to 120fps. It has an in-built high-performance ISP that delivers best-in-class video in uncompressed UYVY format. Some of the key highlights and features of e‑CAM24_CUNX are:
Based on AR0234 - a 1/2.6-inch 2MP global shutter CMOS digital color image sensor
High-quality color images of fast moving objects without any shutter artifacts.
Comes with external trigger support enabling fusion with external sensors like IMU, LiDAR, GPS etc.
MIPI-CSI2 Interface to plug into NVIDIA® Jetson Xavier™ NX developer kit. Can also be connected using the GMSL2 interface for transmission of data beyond a distance of 3 meters (up to 15 meters) from the host processor.
Also compatible with AverMedia's EN715 carrier board for Jetson Nano™ & Xavier NX and Connect Tech's Photon AI camera platform.
Supported by 2 decades of customization, integration, and deployment expertise from e-con Systems.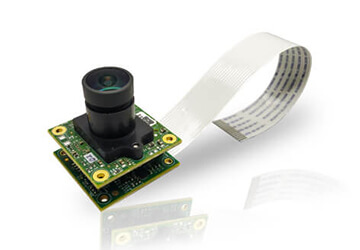 Want to know how you can leverage e‑CAM24_CUNX to enhance the performance of your product? Please write to e-con Systems at sales@e‑consystems.com.
Related videos