Home >>USB 3.0 Camera >>1.3 MP USB 3.0 NIR Camera >> 1.3 MP USB 3.0 NIR Camera
FAQ
Frequently asked Questions (FAQ)

1. See3CAM_12CUNIR Camera Basics
1.1 What is See3CAM and what is See3CAM_12CUNIR?
The See3CAM is a family of USB 3.0 UVC compliant cameras launched by e-con Systems. The See3CAM_12CUNIR is the member of this See3CAM family using a 1.3MP sensor optimized for NIR applications. The NIR camera is mounted with S-mount lens holder (also known as M12 lens mount) for use with interchangeable lenses as the application demands.
1.2 How the See3CAM_12CUNIR is constructed?
The See3CAM_12CUNIR is a two board solution: one board contains the camera sensor and the other board contains USB 3.0 controller and the interface. These two boards are connected back-to-back with the board-to-board connector.
1.3 I am also seeing another NIR camera, e-CAM51_USBNIRFS in your website, which is also attractive with respect to pricing. How the See3CAM_12CUNIR is different from the e-CAM51_USBNIRFS?
The important difference is that the e-CAM51_USBNIRFS is a USB2.0 UVC camera using OV5640 image sensor, which is not a highly-optimized image sensor for NIR applications. In addition to that, there are lot of other parameters where these cameras differ. These differences are given in the table below.
| | | |
| --- | --- | --- |
| Parameter | e-CAM51_USBNIRFS | See3CAM_12CUNIR |
| Sensor and type | OV5640 from OmniVision, 1/4 inch CMOS Color sensor. | AR0130CS from Aptina / ON Semiconductor, 1/3 inch CMOS Monochrome sensor |
| Spectral efficiency of sensor in NIR | Not well optimized for NIR range. | Optimized for good sensitivity in NIR range with about 30% quantum efficiency in 850nm range. |
| Sensor resolution | 5MP (2592x1944 pixel) color. The supported format is YUV422 (equivalent to 8bits per pixel). | 1.3MP (1280x960 pixels) monochrome. The supported format is 12bits per pixel. |
| USB Interface | USB 2.0 UVC. No USB 3.0. | USB 3.0 UVC, backward compatible with USB 2.0 |
| Lens Type | Similar to Autofocus cell phone camera with lens assembly. No interchangeable lens option. VCM Autofocus lens in mobile phone cameras. The NIR blocking filter of this camera is removed while assembling this camera. | Interchangeable lens option with M12 (S-mount) lens holder. Allows to use different lenses and filters. |
| Flexibility | Not much flexibility with respect to lenses or filters | Highly flexible to use any M12 lens and to use any lens filter. |
| Lens and filter options | Not possible to change the lens or lens filter. The e-CAM51_USBNIRFS camera has no IR cut-off filter and allows both the visible spectrum and IR spectrum. | Interchangeable M12 lens mount allows any kind of lens for meeting application requirements. There are variety of M12 lenses available off-the-shelf. There also lot of filters that can be used with: for example, visible-block & IR-pass, IR Band-pass, IR Narrow band filters etc. |

1.4 Can I order the camera sensor board alone?
We do supply only the camera sensor board. However, as this camera sensor board alone does not allow you to test or verify the camera, we support selling only camera sensor board only for large quantities. Please write to sales@e-consystems.com along with your product name, product application, design/production schedule, estimated annual usage quantity etc and we would be able to discuss with you on the same.
1.5 If I have to use the camera sensor board alone (without USB 3.0 interface) on my embedded processor board, how it is possible?
e-con is a leading provider of camera solutions and we can supply only the camera sensor board and help you to integrate this camera with any application processor. The choice of your application processor can be any, say NXP/Freescale i.MX series, Marvell, Texas Instruments, Samsung etc. We can integrate our camera module with these boards and develop custom DirectShow camera for you. We can port Linux, Windows and Android camera drivers for this sensor.
1.6 I like this See3CAM_12CUNIR camera, but I would like to get it customized to my mechanical dimensions. Is this possible?
Yes, we can customize the See3CAM_12CUNIR camera to meet your mechanical dimensions or requirements. We can also customize for different lens mounts. Please contact sales@e-consystems.com for further discussion.

1.7 I want to have single PCB containing the camera sensor and USB interface, similar to your See3CAM_10CUG camera. Is this possible?
Yes, we can customize the See3CAM_12CUNIR to be of single PCB that contains everything. This will be a customization effort. Please contact sales@e-consystems.com for further discussion.
1.8 I would like to get C or CS-mount lens holder instead of S-mount lens holder. Can I get the See3CAM_12CUNIR with CS-mount holder?
For volume orders, we can support with CS-mount lens holder. Please contact sales@e-consystems.com for further discussion.
1.9 I don't want monochrome version of See3CAM_12CUNIR camera, but I need color version of the same. My application requires color data and also IR data?
We don't have the color version of See3CAM_12CUNIR. We can customize the See3CAM_12CUNIR for color output. This requires NRE for customization and also volume commitment for us to build a special version. Please contact sales@e-consystems.com for further information.

2. AR0130CS Image Sensor
2.1 What is the sensor used in the See3CAM_12CUNIR?
The sensor part used in See3CAM_12CUNIR is AR0130CS CMOS image sensor from Aptina / ON Semiconductor. The link to this image sensor is http://www.onsemi.com/PowerSolutions/product.do?id=AR0130CS This is a 1.3MP CMOS sensor with enhanced NIR spectral response and superior low light performance. e-con uses the monochrome version of this image sensor in the See3CAM_12CUNIR. More information can be found from the above link.
2.2 What is Dynamic Range and SNRMAX of this sensor? Also, what is the pixel size and responsivity?
The Dynamic Range is 83.5 dB and the SNRMAX is 44dB. The pixel size is 3.75 microns and the responsivity at 550nm (for Monochrome sensor) is 6.5V/lux-sec.
2.3 What is spectral response for this AR0130 sensor in NIR range? Do you have the quantum efficiency chart of this sensor?
The monochrome version of this AR0130 sensor provides about 30% quantum efficiency. The spectral response curve is shown below.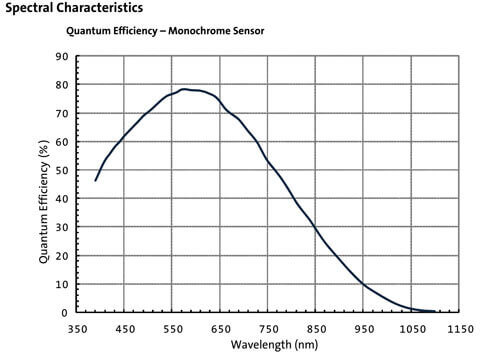 2.4 What is the difference between monochrome version and color versions of the AR0130 sensor? Are they different sensor parts with different part numbers?
Yes. The Monochrome version and Color version of AR0130 sensor are totally different in its construction and they have different part numbers. The color version of AR0130 sensor uses Bayer pattern microlens filter (also known as Bayer Color Filter Array). This microlens filter array has individual color filter for each pixel and the filter is arranged in a pattern called Bayer pattern. In Bayer pattern, the filter has 50% of filters for allowing Green light, and 25% for allowing Red light and remaining 25% for allowing Blue light. They arrangement of these filters is called Bayer Pattern.
| | | | | |
| --- | --- | --- | --- | --- |
| | | | | |
| | | | | |
| | Bayer Pattern of color filters on Image Sensor pixels | | Bayer Patterm color filters passing the R,G nd B colors on to the respective pixels. | |
The above picture shows the Bayer filter geometry. For more information please visit http://en.wikipedia.org/wiki/Bayer_filter
In the monochrome version of this AR0130 sensor, there are no color filters in the microlens array. The plain white light is passed to all pixels and all the pixels respond to the intensity of incident light of the scene.
The color version and the monochrome versions have different part numbers, sensitivity values, even though they have the sensor electronics underneath the microlens filter. Hence they are provided in two different part numbers.
2.5 The specification says the See3CAM_12CUNIR is 12bits per pixel camera. How do you display this 12bpp image?
We are converting the 12bpp image to 8bpp image before displaying on the screen. However, the camera captures and streams 12bpp data and can the same 12bpp image data can be processed inside the application.
2.6 I like this AR0130CS sensor. But this is not a global shutter sensor. I want a global shutter sensor with excellent NIR sensitivity
The AR0130CS sensor is a rolling shutter only. This does not have global shutter mode. If you need global shutter sensor, then we have to use some other sensor and build the camera for your requirement. Please contact sales@e-consystems.com for further discussion with our specialists.

3. Lens and Optical Filters for See3CAM_12CUNIR
3.1 What are the sources for S-mount lenses? From where can I buy these lenses?
There are number of sources from where we can buy M12 lenses. Some of them are:

and more.
3.2 What are the typical optical filters available and their uses?
Optical filters are available for different types and applications. Optical bandpass filters allow only a specific band of light. These are used to capture the specific bands of incident light. For example, a Green bandpass filter will allow only green light.

The Narrow-band filters allow a specific narrow band of wavelength. They can be used to capture the specific light source only. For example, an application can have IR LED at 850nm and use the 850nm narrow-band filter to avoid much of external interference.

There can be visible-block and IR-pass filters to capture the wavelengths in the IR band of spectrum.
3.3 Where can I get these optical filters?
There are multiple sources to get the optical filters. Some of them are:
1. http://midopt.com/lp645.html

4. e-CAMView and DirectShow based Application Development
4.1 What is e-CAMView Application?
The e-CAMView application is a simple video viewer application built on DirectShow framework provided by Microsoft. This video viewer application is generic and can work with almost any UVC compliant video source such as integrated webcam etc. The e-CAMView application also supports all our USB UVC camera products.
4.2 What is DirectShow?
The Microsoft DirectShow application programming interface (API) is a media-streaming architecture for Microsoft Windows. Using DirectShow, your applications can perform high-quality video and audio playback or capture.

The DirectShow headers, libraries, SDK tools, and samples are available in the Windows SDK.
4.3 Why your See3CAM_12CUNIR will not work with Skype directly? Is this See3CAM_12CUNIR not a UVC compliant or DirectShow compatible?
Yes and no. The See3CAM_12CUNIR is a UVC compliant camera and is compatible with DirectShow. However, the unique feature of this See3CAM_12CUNIR is that the pixel resolution is 12bits per pixel (12bpp) and this format of 12bpp greyscale is not understood by all DirectShow applications. The common DirectShow applications such as Skype etc would work with YUV422 format. We have DirectShow Transform Filter that converts 12bits of greyscale data to YUV422 format. With this filter installed on your PC, the Skype can automatically detect and work with See3CAM_12CUNIR. This filter is automatically installed when you install the See3CAM_12CUNIR application provided along with this See3CAM_12CUNIR camera.
4.4 What you mean by DirectShow filter?
The building block of DirectShow is a software component called a filter. A filter is a software component that performs some operation on a multimedia stream. For example, DirectShow filters can


read files
get video from a video capture device
decode various stream formats, such as MPEG-1 video
pass data to the graphics or sound card

Filters receive input and produce output. For example, if a filter decodes MPEG-1 video, the input is the MPEG-encoded stream and the output is a series of uncompressed video frames.

In DirectShow, an application performs any task by connecting chains of filters together, so that the output from one filter becomes the input for another. And hence, the DirectShow application is just a place holder where the filters are connected together to perform a particular job(s) and then offers handle to control the operation of these filters.
4.5 Can I get the source code of the e-CAMView application?
Yes, you can license the source code of the e-CAMView application by executing a Source Code licensing Agreement with e-con Systems and paying an one-time royalty fee. Please contact sales@e-consystems.com to get the copy of SLA and the quotation for one-time license fee.
4.6 I don't want to pay and license the e-CAMView. I want to build my own viewer application. What should I do?
The first step is to download the Windows SDK which also contains the DirectShow SDK. Once you download and install the Windows SDK, then you can go the samples located at

[SDK Root]\Samples\Multimedia\DirectShow folder

. There are a number of sample applications that are provided by Microsoft as part of the SDK, which are used as a starting point for custom applications.

There are two capture applications that may be of interest for you.

The first sample application is called PlayCap, which is a very basic capture application that displays the video from the first capture device it locates in your system. This sample is available at the following location of your SDK installation:



[SDK Root]\Samples\Multimedia\DirectShow\Capture\PlayCap



The second capture sample shall be AmCap. This sample application demonstrates the following tasks related to audio/video capture:


Capture to a file
Live preview
Allocation of the capture file
Display of device property pages
Device enumeration
Stream control


This sample is available at the following location of your SDK installation:


[SDK Root]\Samples\Multimedia\DirectShow\Capture\AmCap



Both the samples are available with source code and you can use these samples to build your own application. For more information and help, please refer the SDK documentation or http://msdn.microsoft.com/en-us/library/windows/desktop/dd375454%28v=vs.85%29.aspx and http://msdn.microsoft.com/en-us/library/windows/desktop/dd375849%28v=vs.85%29.aspx
4.7 What is QtCAM Application?
QtCAM is e-con's open source Linux webcam software with advanced features. This Qt Linux camera software application provides easier user interface for capturing and viewing video from devices supported by Linux UVC driver. It would also work with any V4L2 compatible device.

For more information visit QtCAM Web page.
4.8 Will I get QtCAM Source Code?
Yes. You can download the QtCAM Source Code in the following link https://github.com/econsysQtCAM/QtCAM.

5. Ordering and Logistics
5.1 How can I place an order for See3CAM_12CUNIR cameras?
You can place an order by clicking the "Buy Now" or "Order Now" button on the See3CAM_12CUNIR product page. This will take you to webstore that shows the price and the current lead time. You can place an order after reviewing that.

You will get an order confirmation after you place the order.
5.2 What is the lead time for this camera?
The lead time varies over time and the availability of stock. At the time of placing your order, you will be notified on the lead time along with the unit price. e-con will ship the cameras with that lead time.
5.3 From where the camera will be shipped?
For the sample orders, the cameras are shipped from India.
5.4 What payment modes are supported?
The payment for samples can be done through Paypal or Credit card. For volume orders, the payment should be through wire transfer. Please contact sales@e-consystems.com for volume orders.