eSOMiMX6PLUS - iMX6 SOM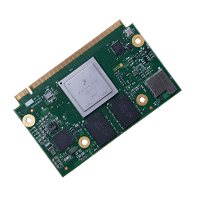 eSOMiMX6PLUS ist ein leistungsstarkes und leistungsarmes Computer / System-on-Module auf Basis des i.MX6-Prozessors von NXP Semiconductor mit den grundlegenden Peripheriegeräten in einem kleinen kompakten Formfaktor. Der eSOMiMX6PLUS hat einen i.MX6 Prozessor mit @ 1 / 1.2GHz mit QuadPlus/DualPLus/Quad/Dual/DualLite/Solo Core ARM™ Cortex-A9 und DDR3L SDRAM konfigurierbar bis zu 4 GB. Es hat auch die optionalen Peripherie-ICs wie Gigabit Ethernet PHY, Wi-Fi / Bluetooth-Modul und eMMC-Flash, die bis zu 64 GB konfigurierbar sind. Dieser eSOMiMX6PLUS wird derzeit von Linux und Android betrieben.
eSOMiMX6PLUS System on Module zielt darauf ab, die Time-to-Market für unsere Kunden zu verkürzen, indem die stabilisierten und marktreife iMX6-Module in ihren Anwendungen eingesetzt werden.

Das neue SOM von e-con unterstützt höhere GPU-Performance und 802.11ac
eSOMiMX6PLUS Eigenschaften
NXPs i.MX6 QuadPlus/DualPLus/Quad/Dual/DualLite/Solo ARM™ Cortex-A9-basierter Prozessor @ 1 / 1,2 GHz pro Kern
On-board 2GB DDR3L RAM (erweiterbar bis 4GB)
On-board 8GB eMMC FLASH (erweiterbar bis 64GB)
eSOMgears - Over-the-Air (OTA) Firmware-Upgrade-Lösung

Wi-Fi: : 2.4 GHz / 5 GHZ IEEE 802.11 a/b/g/n/ac
Bluetooth V4.2 / BLE (Doppelmodus / Smart Ready)
Gigabit Ethernet (x1) – Optional
Energieversorgung: 3.3V @ 3A
Betriebstemperatur

Kommerzielle Temperatur – 0°C to + 70°C
Industrielle Temperatur – -40°C to + 85°C

Unterstützende Betriebssysteme

Linux Kernel version 4.9.11
Android Marshmallow 6.0.1 (mit Linux Kernel 4.1.15)

Formfaktor von 70 mm X 45 mm x 4,4 mm
Verfügbarkeit - Bis 2028
Schnittstellen, die auf eSOMiMX6PLUS unterstützt werden:
Camera

MIPI - 4 lane-Schnittstelle
Parallel Schnittstelle 1 - 10 bits
Parallel Schnittstelle 2 - 20 bits

Display

HDMI (x1)
LVDS (x2)
LCD - 24bpp RGB (x1)
MIPI-DSI (x1)

Vernetzung

Wi-Fi 802.11 a/b/g/n/ac
Bluetooth V4.2/BLE (Doppelmodus / Smart Ready)
Gigabit Ethernet (x1) – Optional

USB

USB 2.0 Host (x1)
USB 2.0 OTG (x1)

Sonstiges

Upto 5 UARTs
I2C (x3)
SPI (x1)
FLEXCAN (x2)
GPIOs (upto 50)
PCIe Gen 2.0 (x1)
SATA II (x1)
PWM (x3)
SPDIF IN & OUT (x1)
UHS SD (4 bit)(x1)
e-con bietet ein Schnellentwickler-Kit für eSOMiMX6PLUS an: AnkaaPLUS i.MX6 Entwickler-Kit. Dieses Entwickler-Kit bietet eine Trägerkarte für das eSOMiMX6PLUS-Modul, mit Peripheriegeräteunterstützung, u. a. HDMI, LVDS, USB 2.0 Host. Ebenfalls enthalten sind kapazitiver 7-Zoll-Touchscreen, SDIO, SPI, I2C, GPIO, USB Highspeed-Client, 4-Lane MIPI/Parallel-Kameraschnittstelle.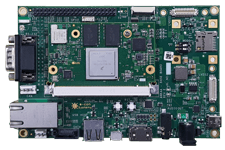 AnkaaPLUS - Referenzdesign für eSOMiMX6PLUS SOM
AnkaaPLUS Entwickler-Kit

Für das Schnellentwickler-Kit bietet e-con Systems detaillierte Schaltpläne, ein Hardware-Anwenderhandbuch, eine Stückliste und App-Hinweise an, die die Kunden bei der schnelleren Entwicklung des eigenen Boards und beschleunigten Vermarktungszeiten unterstützen.
e-con Systems bietet Linux / Android / WEC2013 BSP mit Gerätetreibern für alle Peripheriegeräte an.
Weiterführende Informationen finden Sie unter iMX6-Quad-plus-Dual-Plus-Core-Entwicklungsboard-de.asp
Herunterladen eSOMiMX6PLUS Datenblatt:

i.MX6 SOM (eSOMiMX6PLUS) Datenblatt
eSOMiMX6PLUS SOM Bestellinfo:
eSOMiMX6PLUS kann mit der folgenden Konfiguration angepasst werden.
Bestellnummernvorlage: eSOMiMX6PLUS-Cxx-Pxxx-Fxxx-Rxxx-WB-E-Fx-SWxx-IT
x Varianten können aus der folgenden eSOMiMX6PLUS-Teilenummer-Dekodiertabelle ausgewählt werden.
eSOMiMX6PLUS-CQP-P1G2-F8G-R2G-WB-E und eSOMiMX6PLUS-CDP-P1G-F8G-R2G-WB-E ist für Muster aus dem Webshop verfügbar webstore. Für die anderen Konfigurationen beträgt die Mindestbestellmenge (MOQ) 100. Weitere Informationen erhalten Sie von sales@e-consystems.com.
Feature
Options
P/N code
CPU
i.MX6 Quad Plus
CQP
i.MX6 Dual Plus
CDP
i.MX6 Solo Core
CS
i.MX6 Dual Lite Core
CDL
i.MX6 Dual Core
CD
i.MX6 Quad Core
CQ
SPEED
800 MHz
P800
1 GHz
P1G
1.2 GHz1
P1G2
DDR SIZE
512MB (Only for Solo Core)
R512
1 GB
R1G
2 GB
R2G
4 GB
R4G
Storage
eMMC 4GB
F4G
eMMC 8GB
F8G
eMMC 16GB
F16G
eMMC 32GB
F32G
eMMC 64GB
F64G
Wi-Fi/BT
Wi-Fi 802.11 a/b/g/n/ac and Bluetooth 4.2
WB
Not Present
-
Ethernet Port
Gigabit Ethernet
E
Not Present
-
Fuse to Boot
Fuse to boot from eMMC
FE
Fuse to boot from SD
FS
Not Fused
-
Firmware version
Firmware version to be loaded into eMMC
(xx – Running number starts from 01)
SWxx
Temperature
Industrial2 (-40°C to 85°C)
IT
Commercial (0°C to 70°C)
-
Anmerkung 1 - SOM mit 1,2-GHz-Prozessor ist nur in den kommerziellen Temperaturstufen Dual Plus und Quad Plus verfügbar
Anmerkung 2 - WIFI + BT-Modul von -30°C bis 85°C und alle anderen Geräte von -40°C bis 85°C