e-CAM222_CUMI2311_MOD - 2.0 MP Global Shutter Monochrome MIPI Camera Module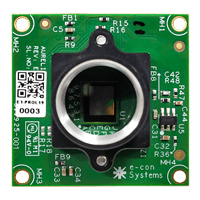 e-CAM222_CUMI2311_MOD is a 2.0 MP global shutter monochrome MIPI Camera module. This industrial MIPI camera module is based on OmniVision's 1/2.9" OV2311 monochrome Image sensor with 3μm x 3μm pixel OmniPixel® 3-GS technology. It can capture high frame rate images without any motion blur and its IR sensitivity helps to produce stunning image quality even at the Near Infrared (NIR) regions. It has S-mount (M12) lens holder which allows customers to choose and use the lens according to their requirement.
2.0 MP Global Shutter Monochrome camera with 4-lane MIPI CSI-2 interface
Superior low light performance and IR performance
1/2.9" Optical Form-factor
8-bit/10-bit Monochrome output format
S-mount interchangeable lens holder for flexibility to choose a lens as per application requirements
External Trigger input
Maximum Image Transfer Rate : Y8 (8-bit)/Y16 (10-bit) Monochrome output format

| | | |
| --- | --- | --- |
| Resolutions | Y16 (10 bit) | Y8 (8 bit) |
| QVGA (320 x 240) | 280 fps | 280 fps |
| VGA (640 x 480) | 180 fps | 180 fps |
| HD (1280 x 720) | 90 fps | 90 fps |
| 2.0 MP (1600 x 1300) | 40 fps | 60 fps |

Temperature Range

Operation - -30° to 85° C

Small form-factor pluggable camera module with S-mount lens holder
30mm x 30mm size
RoHS Compliant
Launched on:
Camera Module Features:
Sensor:OV2311 Monochrome sensor from OmniVision
Sensor Resolution and Optical Format:2.0 MP CMOS Image Sensor. 1/2.9" Optical format
Sensor type:2.0 MP CMOS Global Shutter Sensor with Monochrome output
Output Format:Y16 and Y8
Sensor Features:
Pixel size:3μm x 3μm pixel
Sensor Active Area:1600H x 1300V
Responsivity:49 Ke-/lux.sec
SNR:37.4 dB
Dynamic Range:68 dB
Shutter type:Global Shutter
Focus Type:Fixed focus
Array Size:1600 x 1300 pixels
DFOV:2.0 MP – 71.6°(with the lens provided by e-con)
Download e-CAM222_CUMI2311_MOD Documents:

e-CAM222_CUMI2311_MOD - Product brief document
Evaluation Kit:
1. PC Solution
Customers who own platforms that support USB 3.0 and are interested in evaluating the 2.0 MP monochrome camera module can directly buy the See3CAM_20CUG from e-con Systems.
2. ARM Based Solution (NVIDIA® Jetson AGX Xavier™)
The MIPI Camera daughter card (e-CAM24_CUXVR) can be bought by customers choosing to evaluate the e-CAM222_CUMI2311_MOD camera solution with a direct interface on the NVIDIA® Jetson AGX Xavier™ developer kit.
Customers interested in customizing the same camera module or planning to use a different camera/sensor module can contact sales@e-consystems.com and explain their requirement.
e-CAM222_CUMI2311_MOD - Customization for other Application Processor platforms:
e-con provides customization for this e-CAM222_CUMI2311_MOD on any application platform as per customer requirements.
e-CAM222_CUMI2311_MOD Customization:
e-con provides customization for the following requirements:
PCB form-factor customization for any shape, connector and orientation
Lens holder customization for C/CS mount lens holder
Driver development for any OS: Linux, Android
Interfacing with any Application Processor : NXP i.MX8 Series, NVIDIA Jetson Xavier NX, AGX Xavier, Nano and any other processor
Camera and features customization based on specific requirements
Please contact sales@e-consystems.com for customization requirements.