A Handheld POS Terminal
Uses e-con Systems' DM3730 SOM - eSOM3730
A retail automation company approached us to develop a handheld point of sale terminal with almost all the options required for doing a retail transaction like magnetic card reader, contact smartcard reader, contactless smartcard reader, etc. The terminal needs to encompass all possible payment options and connectivity options. As it is a payment terminal, it needs to secure as well. Once payment is completed, it is required to print receipt to customers. Apart from these, other peripherals such as GPS, LCD with touch needs to be integrated.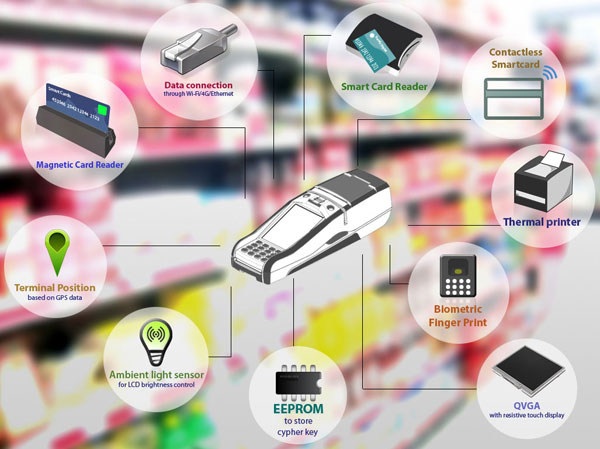 eSOM3730
based Handheld POS Terminal
Challenge
We had to integrate many peripherals for
Billing

Bar Code Reader
LCD with touch
Thermal printer
Security

Tamper detection of action
Finger Print Authentication
GPS to locate the device
All these peripherals need to be integrated in a battery powered device which had to run for one whole shift of 8 hours.
Approach
e-con Systems team based its solution on DM3730 System on Module - eSOM3730 and started with selection of peripheral devices. Initially all the devices were selected catering to the peripherals. Product architecture was then finalized after multiple discussion with customer taking into account driver availability, price and interface with processor. Customer finalized to use Android as operating system for POS terminal.
Each peripheral was then integrated and several discussion went on in finalizing the power management option. After finalization, the challenge was in fitment of all peripheral in a handheld. At this junction, e-con proposed a multi-board solution and implemented it. Several iterations of changes was done in PCB design to accommodate the mechanical limitation.
Several challenges awaited the team in driver development and integration of peripheral in the product including a separate RIL driver development for 4G, custom 2-wire driver for MSR, contactless smart card reader, protocol stack implementation for finger print and so on.
The Biggest challenge was to implement tamper detection where in there was a highest level of integration between electronics and mechanical.
With intense power management, we were able to achieve 8 hours of battery life with the use case of all peripherals.
Outcome
Our customer is very much satisfied with the product delivered. Though our customer targeted this for retail POS equipment they are also getting other customers in logistics, etc. as the device is compact for use, as a handheld device. Since POS market is moving in ascending phase and the product is getting good feedback from their retailers, our customer is extremely happy with the stable and reliable product deployed in market and is selling it in 10's of thousands.