Today, the demand for camera technology advancements is growing as quickly as the engineering processes that enable them. As a result, embedded vision systems have been at the forefront – driving cutting-edge innovation in the industrial, retail, and medical segments. So, businesses have been able to improve how they manage fleet operations, traffic monitoring, warehousing, autonomous farming, etc.
But this has led to camera interfaces like MIPI CSI-2, USB 3.0, and GigE becoming insufficient due to their inability to support key requirements which many new age embedded vision applications have to meet. These include the need for long-range coverage, low latency, and data integrity. Moreover, even interfaces such as Ethernet or CAN continue to struggle to seamlessly handle high-res digital video data.
The GMSL interface helps to address these challenges faced in camera-based applications. In this article, we look at what a GMSL camera is, how it stands out from other popular camera interfaces, and the most popular industrial use cases of GMSL cameras.
What is a GMSL interface?
Gigabit Multimedia Serial Link™ (GMSL) cameras help overcome image data transmission challenges with a blazing-fast interface to manage a high bandwidth while ensuring complete data integrity. Leveraging a single powerful coaxial cable, these cameras can frictionlessly transmit high-speed and high-resolution video output with bidirectional control of the data.
This approach used by the GMSL interface is known as the Serializer/Deserializer (SerDes) technique. It involves serializer and deserializer families, along with multiple interfaces – HDMI, CSI-2, DSI, asymmetric DSI, eDP, oLDI, and a single/dual/quad GMSL1/GMSL2 at the input or output.
To transmit, the serializer helps convert the data into a serial stream. As for the deserializer, it converts serial into a parallel word for processing on the receiving side – transferring video outputs at a speed of up to 6 Gb per second.
When is a GMSL camera used?
GMSL cameras are prominent in industrial use cases that require high data rates and long-distance support. It's one of the biggest reasons why the SerDes technique has become a catalyst for transformation in the earlier-mentioned applications.
Another competitive differentiator is that the serial link technology enables the camera to quickly transmit data – even in rugged industrial environments; that too, with low latency.
Other advantages of GMSL cameras
In addition to high bandwidth transmission, long-distance support, and low latency,
GMSL cameras
also come with the following features:
Virtual channel support
Backward compatibility
Video duplication
Automatic Repeat Request (ARQ) feature
Compatibility with ARM platforms like the NVIDIA Jetson series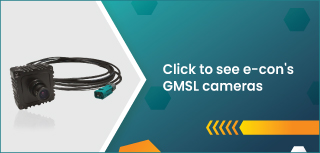 GMSL cameras offer a lot of advantages compared to MIPI cameras. To learn more about the differences between a GMSL camera and a MIPI camera, please visit the article GMSL camera over MIPI camera.
Industrial use cases of GMSL cameras
Auto Farming
Modern farmers work with heavy-duty equipment that come in large sizes. So, it's of utmost importance to have flexible cabling options to make sure that all the dimensions of agriculture robots or tractors are adequately covered. Many a time, these agricultural robots and autonomous tractors have to use a multi-camera system where the camera needs to be placed at a large distance from the host processor. A GMSL camera is a perfect solution for all these use cases. To know more about the different types of cameras suitable for auto farming, please have a look at cameras for auto farming.
You could also watch the below video to learn more about why one of e-con's GMSL cameras is suitable for auto farming:
Autonomous Mobile Robots
Autonomous Mobile Robots (AMRs) have become responsible for performing industrial tasks like material handling, transportation, and surveillance. Powered by the high-speed serial interface of GMSL cameras, applications like delivery robots, goods-to-person robots, patrol robots, robotic arms etc., can accurately observe their surroundings while executing critical tasks. GMSL cameras are becoming more popular as they make it possible to meet the complex structural requirements of robots.
If you are interested in learning more about the camera solutions suitable for autonomous mobile robots, please have a look at the page robot cameras.
You could also have a look at the below video to understand more about the features required for a camera used in AMRs. The video will also explain why e-con's STURDeCAM20 – IP67 Full HD GMSL2 HDR camera module – is the perfect solution for various types of robots.
Learn how e-con Systems helped a leading Autonomous Mobile Robot manufacturer enhance warehouse automation by integrating cameras to enable accurate object detection and error-free barcode reading.
Smart City Systems
GMSL technology helps fuel traffic monitoring, parking lot management, and street monitoring applications that deliver seamless smart city experiences. For example, many smart traffic systems have the camera mounted on a traffic/street light pole with the host processor placed at the bottom. In such cases, a GMSL camera can be leveraged to provide the adequate cable length. To learn more about the cameras that can be used in smart city systems, please visit the page smart city cameras.
Surround View Systems
Advanced Driver Assistance Systems are making waves in enabling the safe and efficient movement of large vehicles. And surround-view systems use a synchronized multi-camera system which is integral to creating a 360-degree view. GMSL cameras enable the placing of cameras on the edges of these vehicles owing to their long-distance support.
Fleet management also relies on systems that can easily transmit huge video outputs over long distances. Once again, the integrated coaxial cables in GMSL cameras can simplify this process.
If you are interested in learning more about the camera solutions suitable for fleet management, please have a look at the fleet camera page.
To learn more about the camera related features of a fleet management system, and why STURDeCAM20 from e-con Systems is best suited for fleets and large vehicles, please watch the below video:
State-of-the-art GMSL & GMSL2 cameras offered by e-con Systems
e-con Systems, with close to two decades of experience, offers world-class cameras that use GMSL/GMSL2 technology. They can transmit high-speed video and offer bidirectional control data and power over a single coaxial cable. Our GMSL cameras can be placed 15 meters away from the host processor – with guaranteed lesser latency and higher frame rate.
NileCAM21, one of our top-selling cameras, is a GMSL camera based on the AR0233 sensor from onsemi that comes with 15 meter cable support and the LFM (LED Flicker Mitigation) feature. The latest camera in the NileCAM family is NileCAM25 – GMSL2 global shutter camera module – which is based on onsemi's AR0234 sensor. e-con also offers IP67 rated GMSL2 cameras. Below is the comprehensive list of all our GMSL and GMSL2 cameras.
You could also visit the GMSL and GMSL2 cameras hub page to have a look at our complete list of GMSL cameras.
Further, you could check out our Camera Selector to have a look at e-con's entire portfolio of cameras which includes not just GMSL cameras, but MIPI, USB, and parallel cameras with a wide variety of features.
If you are looking for help in integrating cameras into your products, please write to us at camerasolutions@e-consystems.com.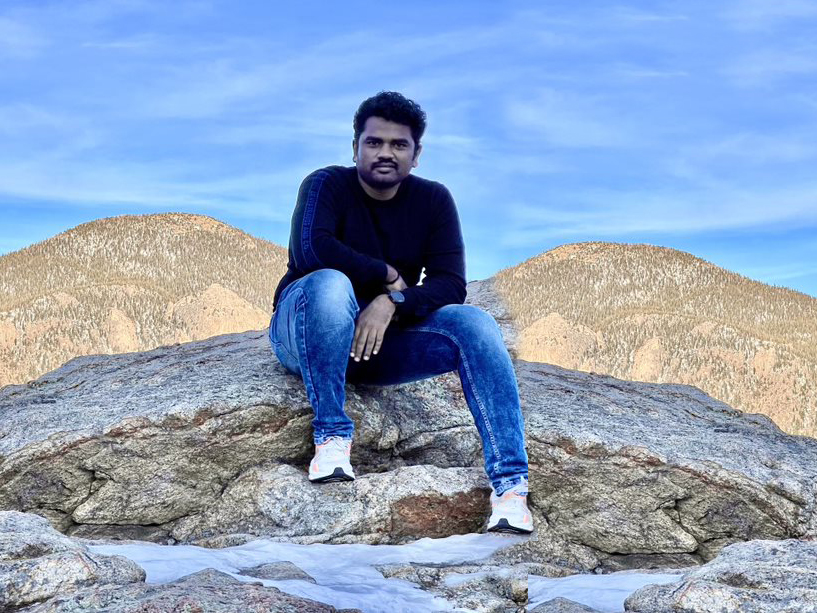 Gomathi Sankar is a camera expert with 15+ years of experience in embedded product design, camera solutioning, and product development. In e-con Systems, he has built numerous camera solutions for robots, industrial handhelds, quality inspection systems, smart city applications, industrial safety systems, and more. He has played an integral part in helping hundreds of customers build their dream products by integrating the right vision technology into them.