In recent years, sensor technology has become very advanced enabling camera manufacturers to build cutting-edge camera solutions to power new-age embedded vision applications. Sony has remained a strong player in the sensor market offering a wide range of sensors that cater to various applications across markets such as industrial, retail, agricultural, smart cities, medical, etc.
Among the different types of sensors offered by Sony, Exmor, Exmor R, STARVIS, and Exmor RS are four of the most popular series.
What are Sony Exmor, Exmor R, STARVIS, and Exmor RS sensors?
Exmor was a new sensor technology introduced by Sony with an aim to reduce noise and improve image quality. The key architectural change in Exmor compared to the previous generation of sensors from Sony was that the former focuses on digitizing the pixel data in the early stages of image data transfer. It has a front-illuminated structure that performs on-chip analog/digital signal conversion and two-step noise reduction in parallel on each column of the CMOS image sensor.
While Exmor technology kept evolving with newer generations introduced over the years, it was the Exmor R series (fifth generation of Exmor) that brought about a revolution in sensor technology by significantly enhancing sensitivity. This shift in performance was characterized by a change from FSI (Front-Side Illuminated) to the BSI (Back-Side Illuminated) technology. Generally, a BSI sensor is approximately twice as sensitive as a normal front-illuminated image sensor.
Sony STARVIS is a series of CMOS sensors within the Exmor R family that offers a sensitivity of 2000 mV/μm2 or more. It is also a back-illuminated pixel technology developed for CMOS image sensors designed to deliver a high image quality in visible light as well as NIR (Near-InfraRed) light regions.
Though the Exmor R series of sensors came with better sensitivity and lower noise, their performance in the NIR spectrum was not as good as the previous generation of sensors. The Exmor RS family overcame this challenge by increasing the pixel well depth. In addition to this change, Sony introduced a new architecture in Exmor RS called the stacked image sensor architecture. In this new design, the sensor circuitry for each pixel is arranged below the silicon substrate instead of beside it. This also helped in collecting more light in the NIR region, thereby increasing the QE (Quantum Efficiency) in that spectrum. See3CAM_160 – 16 MP autofocus USB camera – from e-con Systems™ is an example of a camera based on IMX298, one of the Exmor RS sensors from Sony.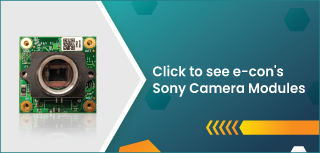 Structure and architecture of Sony Exmor, Exmor R, STARVIS, and Exmor RS sensors
As discussed above, the architectural difference between Exmor and Exmor R sensors is that the former has an FSI structure while the latter is built based on the BSI architecture. What offers BSI sensors a higher sensitivity is the fact that light falls directly on the light-receiving surface and photodiode eliminating any obstruction on the way. Also, this prevents the probable loss of image data owing to the oblique incidence of light on the sensor.
Please have a look at the below image to understand the difference between the two architectures:   
As mentioned on Sony's website, this is how Sony Exmor sensors are layered:
On-chip microlens
Color filters
Metal wiring
Light receiving surface
Photodiodes
Exmor R sensors have the same set of layers but in a different order as given below:
On-chip micro lens
Color filters
Light receiving surface
Photodiodes
Metal wiring
Sony STARVIS sensors have the same architecture as that of Exmor R sensors, only that they offer better image quality in extreme low light conditions with enhanced NIR sensitivity.
The Exmor RS family – as explained before – comes with the stacked sensor architecture. The below figure illustrates the difference between the conventional pixel architecture and the stacked architecture.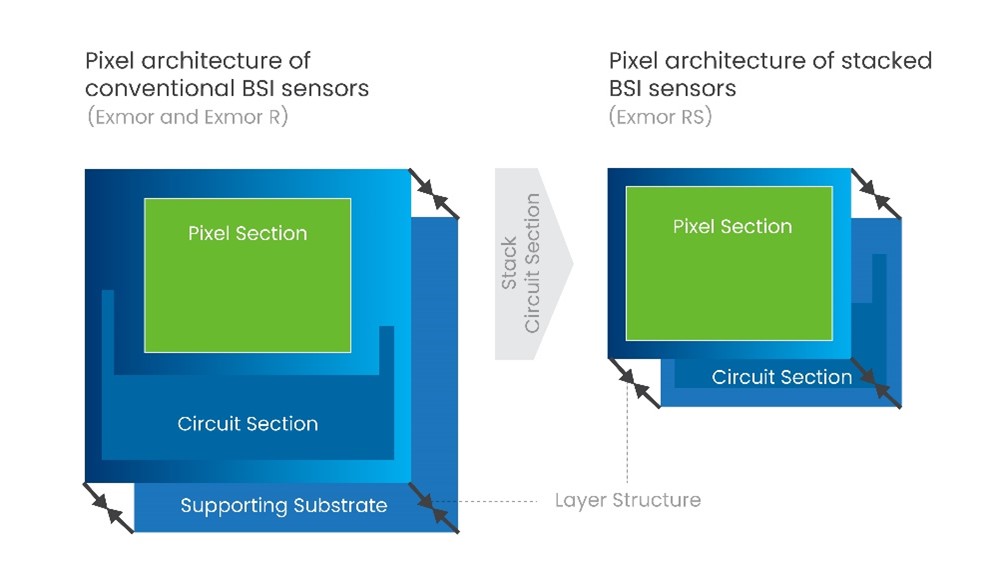 New age embedded vision applications of Sony Exmor and STARVIS sensors
Since image sensors are used in a wide variety of devices such as machine vision systems, mobile phones, embedded vision devices, etc., the number of applications a series of sensors can be potentially used for is endless. Even within the boundaries of embedded vision, Sony Exmor and STARVIS sensors are used for a wide variety of applications. Given this, here let us look at some of the new age and innovative embedded vision applications where these sensors are most commonly used.
Smart surveillance
Smart surveillance cameras are built to perform tasks such as people counting, crowd analytics, vehicle counting, etc. They have to many a time operate in low light or night conditions, in which case high sensitivity becomes critical. This is where Sony Exmor and STARVIS sensors can help.
Smart traffic systems
Smart traffic cameras can be seen as a subset of smart surveillance where the camera helps in vehicle counting, automated number plate recognition, facial recognition of passengers, etc. Depending on the particular use case, the right Sony Exmor or STARVIS sensor can be chosen.
Automated sports broadcasting
Some automated sports broadcasting cameras need high sensitivity and SNR (Signal to Noise Ratio), and Exmor and STARVIS based cameras come with these features. For instance, the Sony STARVIS IMX415 based low light camera module from e-con Systems™ is a camera suitable for sports broadcasting applications. 
Medical microscopy
Medical microscopes are one of the key applications in the medical segment where Sony cameras can be used, especially those with STARVIS sensors that offer superior low light performance. See3CAM_CU27 – Sony STARVIS IMX462 low light USB camera – from e-con Systems™ is one such camera suitable for medical microscopes since it offers high NIR sensitivity and excellent low light performance.
It is to be noted that we cannot generalize and position all Exmor or STARVIS cameras for all embedded vision applications. The right camera has to be picked based on the specific requirements of the application. For instance, majority of the smart traffic systems need an HDR camera to cater to challenging lighting conditions. So, it is always recommended to take the help of an imaging partner like e-con Systems™ to help you with the process of camera selection, integration, and mass production to ensure your product has the perfect fit camera embedded into it.
Sony Exmor and STARVIS sensor-based cameras from e-con Systems™
e-con Systems™ offers a wide portfolio of Sony cameras based on sensors such as IMX290, IMX298, IMX327, IMX412, IMX415, IMX462, and IMX485. Given below is the complete list of camera modules offered by e-con Systems™ based on Sony Exmor and STARVIS sensors:
Hope this article gave you a good idea about the key features, architecture, and applications of Sony Exmor and STARVIS sensors. If you have any queries about the topic, please leave a comment and we shall get back to you as soon as possible.
If you are looking for help in integrating a camera into your product, please write to us at camerasolutions@e-consystems.com. You could also visit the OEM camera customization page to learn more about e-con Systems' customization services.
To get a complete view of e-con's camera portfolio, please visit the Camera Selector where you can browse through our cameras by features, interfaces, applications, etc.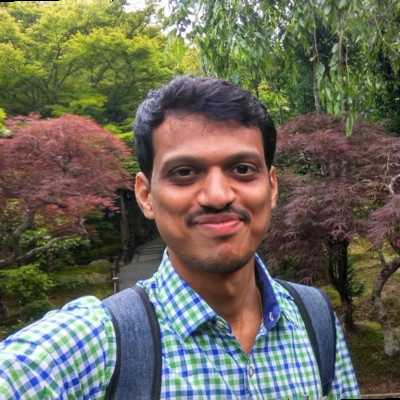 Prabu is the Chief Technology Officer and Head of Camera Products at e-con Systems, and comes with a rich experience of more than 15 years in the embedded vision space. He brings to the table a deep knowledge in USB cameras, embedded vision cameras, vision algorithms and FPGAs. He has built 50+ camera solutions spanning various domains such as medical, industrial, agriculture, retail, biometrics, and more. He also comes with expertise in device driver development and BSP development. Currently, Prabu's focus is to build smart camera solutions that power new age AI based applications.