How embedded vision is transforming last mile delivery with delivery robots
We are living in a digital era where most of the tasks are getting automated, or atleast partially automated. And last-mile delivery is no exception. We are not very far from those days when delivery robots and drones reach every household. In fact, delivery robots are already in action in various parts of the world, and are being piloted in multiple places every single day.
However, an AMR (Autonomous Mobile Robot) is a complex machine where different components like cameras, actuators, controllers, power system, etc., have to work in tandem to make it truly autonomous.  Embedded vision – which leverages camera technology and new-age processors – has been one of the key levers of this transformation in robotics. And delivery robots are a type of robot that are fast gaining traction with their ability to automate a task that typically requires a huge workforce.
In this article, we will learn in detail what delivery robots are, their functions, and the role of cameras in them.
What are delivery robots?
Delivery robots are autonomous vehicles that automate the process of last-mile delivery. This can include delivery of food, groceries, packages, etc. These robots can not only be used outdoors, but also in hospitals, restaurants, and office buildings.
Though these can navigate autonomously, for safety reasons and smooth operations, human supervision is involved. Hence, delivery robots are a perfect example of human-machine collaboration.
Following are some of the advantages of using a delivery robot:
Significant savings in the ever-increasing labor cost – a huge advantage for delivery companies.
Reduced pollution since robots replace fossil fuel vehicles used for delivery.
Reduction in traffic congestion.
Lesser number of human accidents and fatalities.
Above all these, delivery robots get various tasks done much easier and faster. With drones also entering automated delivery, this space is only going to boom in the coming years.
Customer Testimonial: Minus Zero's zPod – the revolutionary autonomous vehicle features e-con's GMSL2 HDR NVIDIA Jetson AGX Orin camera
e-con Systems is delighted to share the heart warming customer testimonial video from Minus Zero, one of our esteemed customers. They have generously appreciated our GMSL2 HDR NVIDIA Jetson AGX Orin camera – NileCAM21_CUOAGX used in their recently launched revolutionary zPod autonomous vehicle. We invite you to watch the video.
Role of embedded cameras in delivery robots
Simply put, camera modules help delivery robots perceive their surroundings. Broadly speaking, cameras perform the following functions in a delivery robot:
Navigation
Obstacle detection
Surround-view
Package tracking
Ensuring safety
Navigation
Delivery robots, whether they are deployed in an outdoor or indoor environment, have to move from one place to the other to successfully pick up and deliver packages. The depth measured using cameras in combination with GPS/SLAM is used as input for the robot to take intelligent navigational decisions. This is done using 3D depth cameras such as stereo cameras, time flight cameras, or structure light cameras.
Obstacle detection
During navigation, to avoid accidents and ensure pedestrian and other vehicles' safety, delivery robots need to ensure that any obstacle is detected with high levels of accuracy. In addition, the robot might also have to identify the obstacles – say whether the obstacle is a human or an object. This is for the purpose of ensuring that additional care is taken to avoid human injuries. An embedded camera comes into play here as well. Using images captured with cameras, the AI algorithm can identify the type of object, based on which navigational decisions can be taken.
Surround-view
Embedded cameras can be used to capture the 360-degree view of a delivery robot's surroundings for two purposes:
For preview or recording.
For data collection to analyze and understand the surroundings.
In either case, a synchronized multi-camera setup has to be used. Images captured using multiple cameras are stitched together to form the complete 360-degree frame.
Package tracking
This refers to monitoring and tracking the packages inside the robot during delivery. These cameras help to detect packages or items once they are placed in the container. Similarly, they can also detect when a package is picked up by the recipient. Cameras used for package tracking are placed inside the robot.
Ensuring safety
This involves making sure that no humans (or arms or legs) are in the vicinity when the robot closes its doors. This prevents any possible accidents due to carelessness by the users. This can also prevent the jamming of packages or other objects while closing the door. Cameras can be used to accomplish this where if they detect the presence of any object near the door, the robot controller is able to immediately stop the trigger to close the door.
How e-con Systems is transforming robotic vision
e-con Systems is an embedded camera solution provider with close to two decades of experience and expertise in the space. We offer specialized camera solutions for delivery robots (and other AMRs) including USB 3.0 cameras, MIPI cameras, GMSL cameras, and GigE cameras. With GMSL cameras, e-con can enable you to position the cameras around 15m away from the processing system and capture images at the lowest latency possible. e-con also offers a time of flight camera with the reliable and accurate 3D depth required for AMR navigation. Some of the other turnkey camera solutions for AMRs from e-con Systems are:
e-con takes pride in building a custom camera solution that precisely fits our customers' specifications. We provide a full range of imaging solutions – from form factor customization to firmware changes and ISP tuning. Our readily available and superior 180 degree stitching algorithm combined with full customization support can reduce your time to market by up to 50%.
If you are looking for help in choosing the right camera for your autonomous mobile robot, please write to camerasolutions@e-consystems.com. Our camera experts will be happy to help you. You could also visit the Camera Selector to have a look at our complete portfolio of cameras.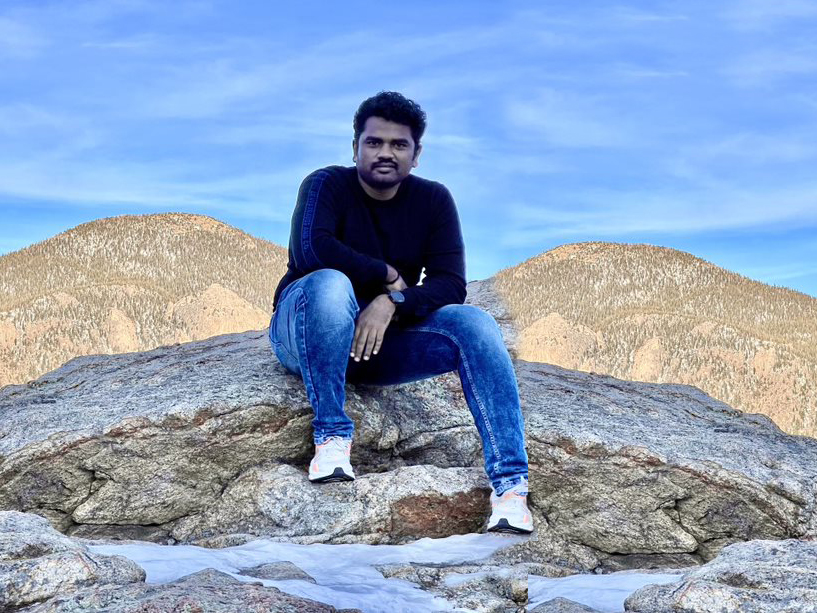 Gomathi Sankar is a camera expert with 15+ years of experience in embedded product design, camera solutioning, and product development. In e-con Systems, he has built numerous camera solutions for robots, industrial handhelds, quality inspection systems, smart city applications, industrial safety systems, and more. He has played an integral part in helping hundreds of customers build their dream products by integrating the right vision technology into them.