The global COVID-19 outbreak has disrupted traditional hospital standard operating procedures. Especially in the realm of patient care, many hospitals worldwide had to adapt quickly to the times and adopt remote strategies to treat high-risk patients. This led to the rise of Remote Patient Monitoring (RPM) as a catalyst of transformation in the healthcare industry.
According to a recently conducted research by Business Insider, the number of RPM services and tools is expected to reach 30 million patients – just in the US alone.
Benefits of Remote Patient Monitoring
The patients are certainly in favor of this trend – as a 2021 report by MSI International survey found out that 80% of Americans are ready to start leveraging RPM solutions.
It served as a catalyst for increasing patient satisfaction and a strategy to reduce the risk of staff burnout. After all, the pandemic was hard on hospital staff too – putting pressure on them to work under high-risk conditions. As per US News & World Report, "60% to 75% of clinicians had reported symptoms of exhaustion, depression, sleep disorders and PTSD."
Other benefits of RPM
Better clinical outcomes with quick and accurate processes
Increase future-readiness of the healthcare system
Optimizes the total cost of patient care
Improves self-management
Helps overcome staff shortage
Considering all these factors, hospitals are highly dependent on Remote Patient Monitoring (RPM) to continue providing care without missing a beat.
Why digital imaging solutions are the backbone of RPM
RPM is dependent on digital imaging solutions that can be integrated into hospital networks. It allows health workers to monitor multiple patients and clinical teams to assess patient conditions without being physically present in the same room. Such remote monitoring solutions involve one or more cameras capturing round-the-clock video of patients in the Intensive Care Unit (ICU) or a temporary Operating Room (OR).
In this environment, remotely operated cameras eliminate the need for human operators to adjust the camera's field of view and other settings. The staff can also remotely view the patient in the room, as well as their health-related information. Now, let's look at some of the critical camera features that are absolutely necessary for a remote patient monitoring system to function smoothly.
Must-have camera features of Remote Patient Monitoring devices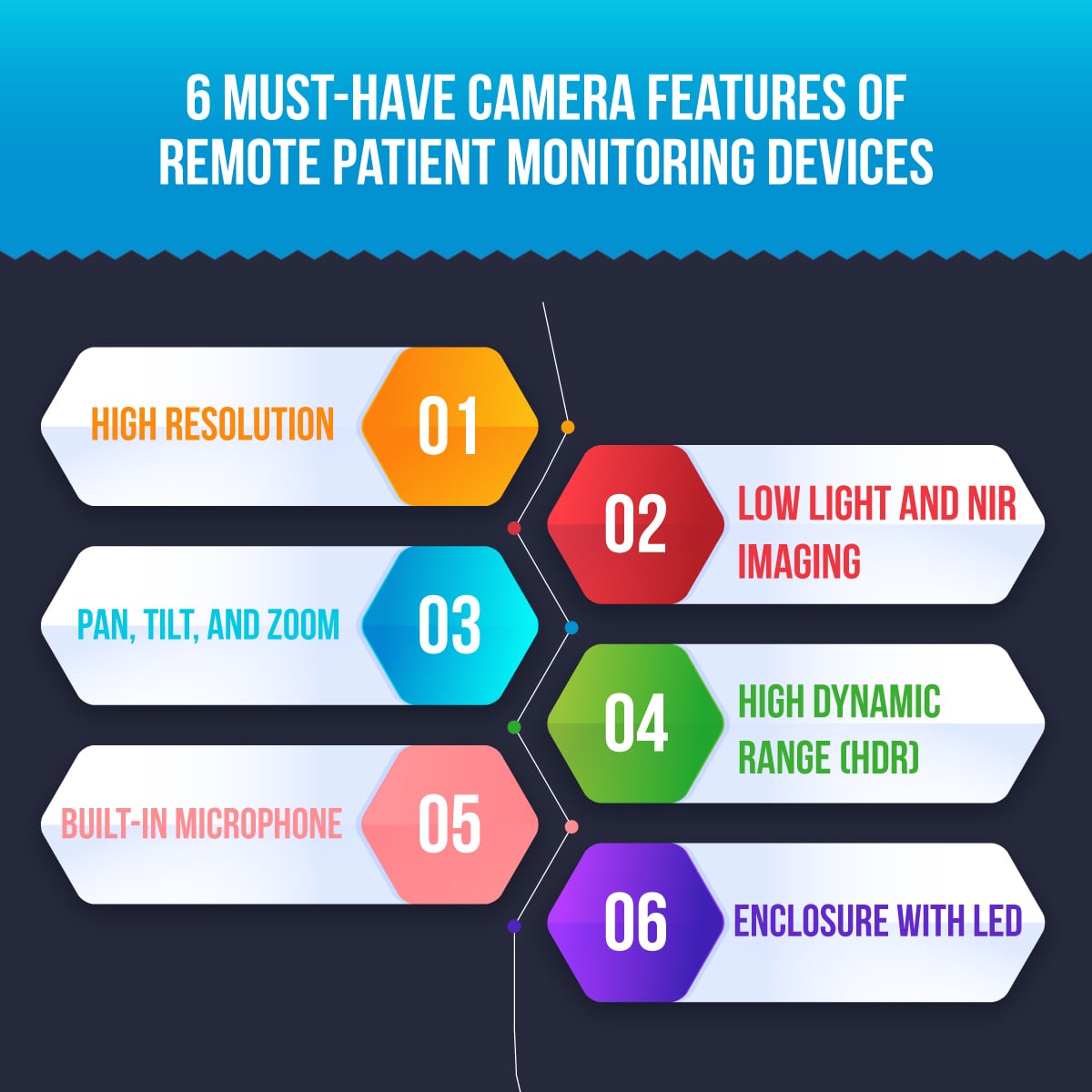 High resolution
RPM devices must be capable of high-resolution imaging – irrespective of the patient room size. It is critical since these devices cover the entire room and the patient's bed, which means any loss in detail can lead to the inability to monitor the patient's health.
Low light and NIR imaging
Low lighting and NIR capabilities are salient features for patient monitoring as the camera generally operate around the clock – both day (room light) and night (low or no light). Hence, the camera solution must always capture and deliver quality output.
Even if the camera can record images in low-light conditions, that may not be enough! So you should also ensure that it operates in complete darkness (beyond the visible light range) – as it may lead to life-saving situations.
Pan, tilt, and zoom
Sometimes, patients need to be monitored closely when there is no movement for a long time. Another scenario is when they experience a sudden fall. So, the camera must be capable of zooming and panning/tilting to have a closer look at the patient if anything seems out of place.
High Dynamic Range (HDR)
Sometimes, the window screens or doors inside the patient's room tend to bring some light variation. In such cases, the camera should have a High Dynamic Range (HDR) to cope with sudden harsh lighting conditions that can't be predicted.
However, the HDR feature isn't important for monitoring patient inside hospitals or clinics where lighting conditions are highly controlled and doesn't vary at all.
Built-in microphone
When monitoring certain patients, it is required that the camera comes equipped with a built-in microphone. It enables the device to acoustically detect coughs, snores, impact sounds, verbalizations, and other sounds related to the patient's condition.
This information, along with the video, can provide valuable insights about the patient – thereby increasing the clinical supervisor's decision-making ability in real-time.
Enclosure with LED
To deliver virtual care, the monitoring device should be installed on the ceiling or wall of the patient room. As a result, the camera and the motorized IR filter are placed inside a tamper-resistant enclosure for an extra layer of security. Basically, this ensures that no one within the hospital premises can tamper with the device.
It's also important to enable privacy LED notification on the device that illuminates and notifies the patient or anybody else in the room. In addition, it provides information that someone from the monitoring team has connected to the camera – and is streaming a live video of them.
e-con Systems – we help your RMP devices see better
e-con Systems, with over 19 years of experience, has been reinventing how healthcare applications bridge gaps in patient care – including remote patient monitoring.
Our list of relevant cameras:
To learn more about our wide portfolio of cameras, please visit our Camera Selector.
If you are looking for help in integrating world-class cameras into your remote monitoring devices, please write to us at camerasolutions@e-consystems.com.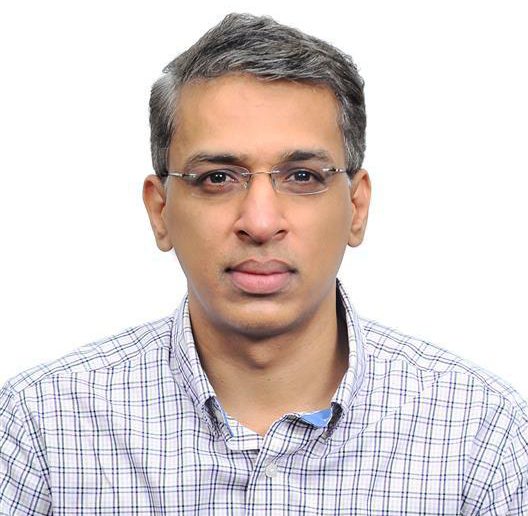 Balaji is a camera expert with 18+ years of experience in embedded product design, camera solutions, and product development. In e-con Systems, he has built numerous camera solutions in the field of ophthalmology, laboratory equipment, dentistry, assistive technology, dermatology, and more. He has played an integral part in helping many customers build their products by integrating the right vision technology into them.