NIR (Near-Infrared) is a part of the electromagnetic spectrum that is invisible to the naked eye. With an intense beam of infrared rays that ranges between 650nm to 950nm, any object can be visualized with high precision. The NIR response is free from color dependency and can be easily interpreted by a human observer. A familiar example of this technology would be MRI scans that are most common in hospitals and clinical centers.
So, what does NIR imaging do, and what is the role of NIR cameras in embedded vision applications?
Let us find out more in this article.
NIR Imaging – What is it all about?
NIR imaging is an overall combination of continuous-wave movements that happen during its operation. It has a unique sensitivity profile that helps project distant objects with a clear vision. It also incorporates optical imaging techniques to determine various complex parameters – making it perfect for accelerating analytics-based decisions across industries.
The NIR spectrum can easily penetrate any complex objects and work seamlessly during adverse conditions with longer wavelengths. NIR does not require any additional lens, and maximizes the existing optics that are available. It has other benefits like good sensitivity, high contrast during inspection of objects, cost-effective pricing compared to CCD cameras, and user-friendly features.
But NIR imaging comes with its challenges too. Objects beyond the wavelength of 700 nm to 1000 nm may not be visible. And NIR may need extra illumination at night due to the lack of visible light.
However, the large spatial resolutions go a long way to ensure overall surveillance – as they can locate issues on complex surfaces.
How is NIR Imaging achieved?
The term "Near-Infrared" (NIR) refers to the region of the electromagnetic spectrum immediately adjacent to the visual spectrum. Hence, it cannot be perceived by the human eye. So, Near-Infrared cameras – like night vision USB cameras – are used for applications that require this wavelength range. Some of these applications include smart traffic monitoring, biometrics and access control systems, digital microscope, etc.
Until recently, these implementations were only possible with expensive infrared cameras leveraging the CCD sensors. However, the new CMOS technology offers sensors with heightened susceptibility in the near-infrared range above 850 nm.
NIR imaging can be accomplished by implementing a thicker substrate layer (higher than the monochrome sensor layer) for the visible spectral region. Through a line of industrial cameras with outstanding near-infrared responsiveness, the new CMOS technology makes NIR optimization more convenient.
The growing demand for near-infrared imaging:
The demand for NIR imaging grows on a large scale due to the surge of applications that need to detect photons in the night using NIR cameras. As per recent reports from Statista, the market size of NIR imaging is expected to double from 285 million USD (in 2019) to USD 485 million USD (in 2030). With advancements in this technology, more new-age vision-based applications that leverage NIR imaging are likely to emerge.
How do NIR cameras work?
High-resolution NIR cameras capture wide-ranged shots. With a high QE (Quantum Efficiency), you can extract quality images in a quick time. With the RGB color filters, the palette selection is much more simplified. You should also check for exposure compensation and aspect ratios to get a distortion-less image. Even in RAW images with the best IR filters, you can get crystal-clear pictures.
These NIR cameras are widely available in the market and can be customized to meet your unique application or business requirements. For instance, See3CAM_CU27 – one of the recently launched cameras from e-con Systems – comes with superior NIR performance making it suitable for night vision and low light vision applications. We will talk more about the product in an upcoming section.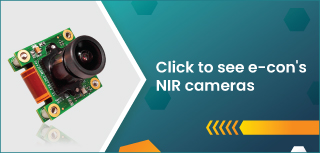 What are the major embedded vision use cases of NIR cameras?
In one of the previous sections, we listed down some of the most popular applications of NIR imaging. However, broadly speaking, embedded vision applications that require NIR imaging can be categorized into five – research and development, medical diagnostics, biometrics and access control, surveillance, and industrial applications.
Let's look at each of them in detail now.
R&D applications: As most materials have distinguishing characteristics that can be seen in the NIR spectrums, research laboratories frequently leverage NIR cameras to determine the specific physical or chemical properties of these materials.
Medical diagnostics: NIR imaging is used in laboratory equipment to determine the properties of a specimen or sample in order to diagnose various medical conditions.
Biometrics and access control: NIR imaging is useful in biometric and access control systems primarily for the purpose of iris recognition.
Surveillance: Surveillance applications such as traffic monitoring, crowd monitoring, parking lot management, etc. leverage NIR imaging to capture images in low light and night conditions.
Industrial applications: NIR cameras are being used for assessment and quality control across several manufacturing and warehousing processes.
See3CAM_CU27: A perfect match for NIR imaging
e-con Systems, with 18+ years of experience and expertise in embedded vision, has empowered multiple cutting-edge applications with NIR cameras. One of our popular releases in the NIR portfolio, See3CAM_CU27 – Full HD Sony STARVIS IMX462 ultra low light USB camera – can easily capture high-quality images in near-infrared regions.
See3CAM_CU27 also comes with high IR sensitivity for night vision applications and medical microscopes to operate – even in extremely low lighting conditions (0 lux).
If you need help in integrating the right camera for your application to deliver superior NIR imaging, please write to camerasolutions@e-consystems.com. Our camera experts will be happy to help you!
Other cameras from e-con Systems with superior NIR performance
See you again next Thursday!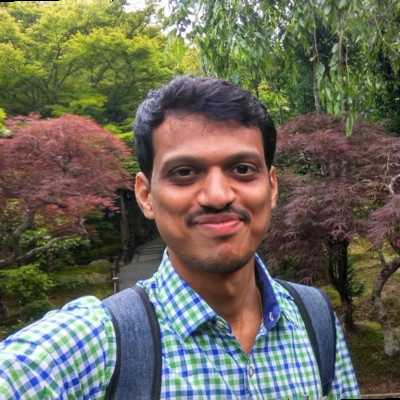 Prabu is the Chief Technology Officer and Head of Camera Products at e-con Systems, and comes with a rich experience of more than 15 years in the embedded vision space. He brings to the table a deep knowledge in USB cameras, embedded vision cameras, vision algorithms and FPGAs. He has built 50+ camera solutions spanning various domains such as medical, industrial, agriculture, retail, biometrics, and more. He also comes with expertise in device driver development and BSP development. Currently, Prabu's focus is to build smart camera solutions that power new age AI based applications.