See3CAM_81 – e-con's 8 MP USB 3.0 autofocus camera is ready to hit the market soon. When we listed See3CAM_81 in our webpage, we knew that this will generate more interests and enquiries from our customers around the world. To prove us right, enquiries started filling our inboxes and slowly, within a few weeks, responses from our customers were massive. Believe it or not we are getting an incredible number of pre-orders day by day!
You may wonder why do our customers rush to get See3CAM_81? What's so special in it? Sensor? Resolution? ISP? Frame rate?
We think it is time for us to reveal why See3CAM_81 became so popular before the launch.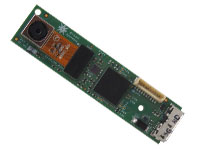 Fig. See3CAM_81 – 8 MP USB 3.0 autofocus camera
See3CAM_81 is based on OV8865 CMOS Image sensor from OmniVision. The 1/3.2-inch OV8865 is a low-power high-performance color CMOS 8-megapixel (3264×2448) Image Sensor featuring an improved 1.4-micron with BSI technology. OV8865 is already a proven sensor in the market with dynamic range and reduced dark current that enables superior high and low light image capture.
The resolution of this camera is also an important factor of its success. 8 Megapixel is the maximum resolution of See3CAM_81.  8 MP has become an industrial standard resolution. Not so high, not so low. Most of the applications requires 8 MP Camera. See3CAM_81 can stream 8MP @ 11 fps over USB 3.0. It can also stream Full HD (1080p) @ 30 fps and HD (720p) @ 30 fps for high speed capturing.
Being a replacement of previous version See3CAM_80, we've really concentrated on few main factors like quality of the image and power consumption to enhance the performance of See3CAM_81. See3CAM_81 consumes considerably less power when compared to See3CAM_80. See3CAM_80 is still a popular and high-demand product amongst most of our customers. It has been used in many industries like Medical, Agriculture, Transport, scientific etc.
See3CAM_81 has a highly effective and powerful on-board ISP, which helps to perform all the auto functions like auto white balance, auto exposure and other camera controls such as exposure, brightness, contrast, saturation, white balance, gamma, gain, sharpness, etc.
Finally, the brand – "e-con Systems™" – a leading manufacturer of advanced camera and SOM products with more than 12 years of experience in the embedded industry. Our cameras and SOMs are integrated in thousands of end customer products across the globe.
For more information please contact camerasolutions@e-consystems.com